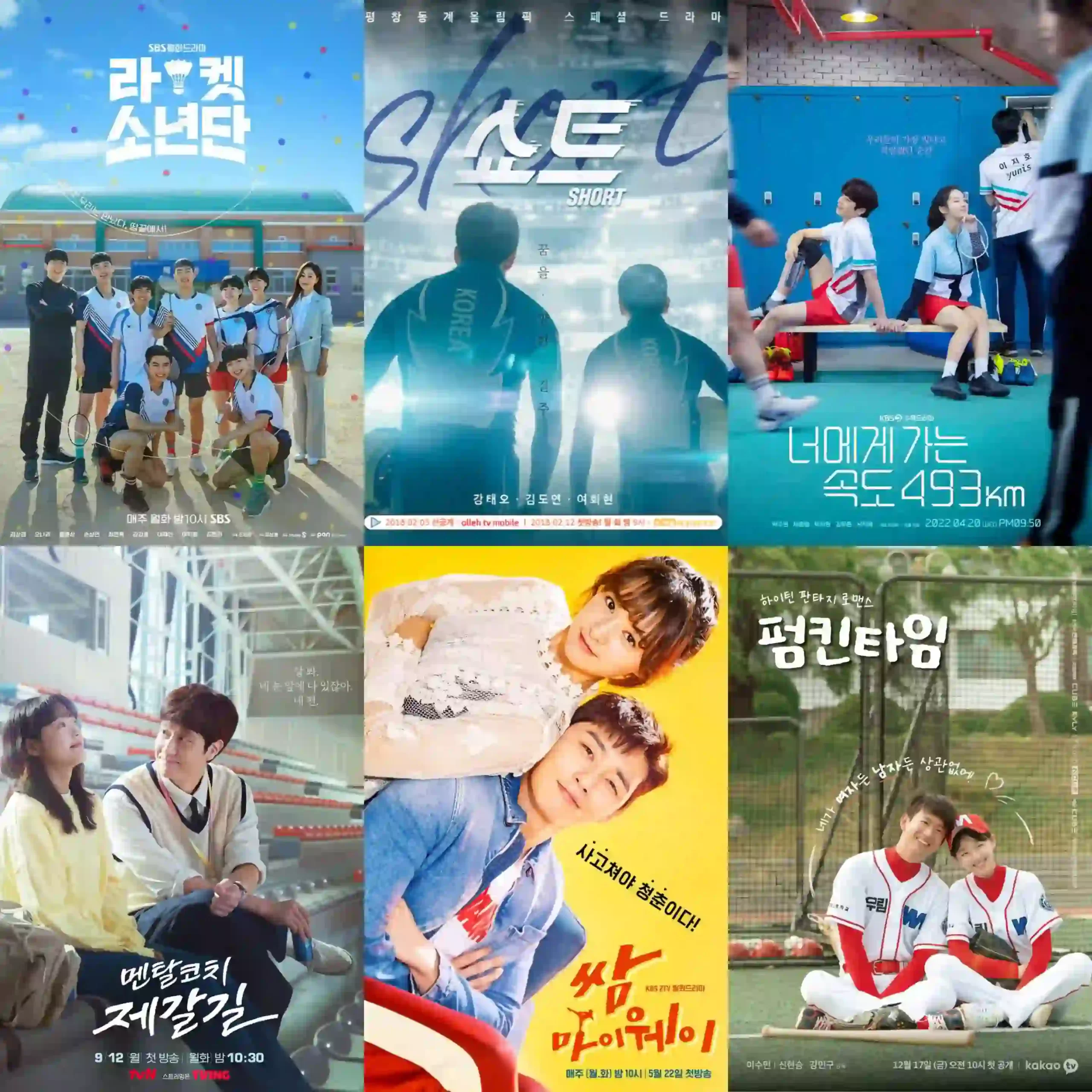 Top 19 Inspiring Sports-themed Kdramas for Motivation
They say sports has the power to bring people together, and that sentiment holds true even in the world of K-dramas.
The best Kdramas that revolve around sports are sweet, inspiration, and chock-full of pulse-pounding adventure – absolutely a treat that shouldn't be missed.  
From underdog tales to fierce rivalries, these shows not only showcase the thrill of athletic competitions but also delve deep into the lives, dreams, and relationships of their characters.
Here are some of the best sports Kdramas that will make your heart sing: 
1. Run On
Ki Sun Gyeom, a former national team sprinter facing legal issues, unexpectedly crosses paths with Oh Mi Joo, a passionate translator in the movie industry. As they meet, a sense of fate fills the air, igniting a connection between them. 
Meanwhile, Seo Dan Ah, a determined CEO, fights against gender barriers in her quest to reclaim her rightful position in the Seomyung Group.
Along her journey, Lee Young Hwa, an art-loving university student, enters her world.
Sweet, romantic, and emotional on all the counts that matter, this is one fantastic drama that you absolutely do not want to miss out on. 
2. Hot Stove League
In the world of major league baseball, a struggling team gears up for an extraordinary season under their new general manager.
With each episode, they tackle different challenges, striving to transform into a formidable force. 
Se Young is the determined and passionate head of the management team for the cellar-dwelling Dreams, and Seung Su is an unlucky but experienced general manager who faces an uphill battle. 
Park Eun Bin from Extraordinary Attorney Woo and Nam Koong Min from Awaken star in this absolutely amazing drama. Koong Min and Eun Bin have mad range and nowhere is it more evident than in this sports Kdrama – don't miss it!
3. Weightlifting Fairy Kim Bok Joo
Bok Joo, a determined weightlifter with her eyes set on the gold medal, unexpectedly discovers love, turning her world upside down. 
Balancing her intense training with her newfound romance proves to be a challenge for this strong yet feminine woman.
At the tender age of 20, Bok Joo embarks on a journey to find the perfect harmony between love and glory.
In this Korean drama about sports, these elite athletes in weightlifting, swimming, and rhythmic gymnastics navigate their coming-of-age stories, forming relationships amidst the whirlwind of their hectic lives.
4. Racket Boys
Yoon Hyun Jong, once a skilled badminton player, now faces financial struggles, and when offered the chance to coach a middle school team, he seizes the opportunity, only to discover a team on the brink of disbandment, with just three players: Bang Yoon Dam, Na Woo Chan, and Lee Yong Tae. 
Together, they face challenges head-on, fueled by the arrival of Yoon Hae Kang, Yoon Hyun Jong's son, and Jung In Sol. Finally having enough players to compete, they set their sights on soaring to new heights.
Meanwhile, Ra Young Ja, Yoon Hyun Jong's wife and former top badminton player, coaches the girls' team at another Haenam middle school.
Led by the formidable Han Se Yoon, the number one junior female player in Korea, and supported by Lee Han Sol, Se Yoon's closest friend, they establish themselves as one of the finest teams in their league.
5. Love All Play
Get ready for a captivating sports romance Kdrama that delves into the fervor and love for badminton shared by a dynamic duo.
Park Tae Joon, entangled in the badminton industry through his parents' business, starts seeing the sport as mere work. However, his perspective shifts when he discovers a woman who sparks his desire to excel once again.
Meanwhile, Park Tae Yang, a talented player with Olympic aspirations, faced a tumultuous three-year hiatus from badminton following a bribery scandal.
6. Short
Kang Ho Young is a talented short-track speed skater who honed his skills in a humble countryside rink. When he is scouted by the renowned Kangbaek University, fate leads him to encounter Park Eun Ho, hailed as "The King of Short Track Speed Skating."
Eun Ho, from a prestigious sports family, battles a slump in his career. As they compete against each other, a remarkable friendship blossoms between them.
However, their bond is tested when they both develop feelings for Yoo Ji Na, an aspiring girl group member auditioning for her dreams.
7. Thumping Spike
Kang Se Ra is a promising young volleyball player who faces a sudden slump in form after an unfortunate incident. In an unexpected turn of events, she takes on the role of coaching a struggling men's high school volleyball team, led by the talented Hwang Jae Woong.
While Jae Woong shines on the court, the rest of the team lags behind, resulting in a dismal win record. Yet, when these two volleyball talents collide, sparks ignite both on and off the court. Beyond Jae Woong's sarcastic facade, Se Ra discovers a tender side to this volleyball ace.
With love in the air, could their connection ignite a transformation in the team's performance? And will Se Ra rediscover her passion to reclaim her place at the pinnacle of volleyball?
Prepare for an exhilarating journey where love and sports intertwine, leading to thrilling possibilities both on and off the volleyball court.
8. Just Dance
This sports Kdrama takes inspiration from the eponymous documentary, unveiling the vibrant tale of girls from Geoje Girl's Vocational High School. 
Amidst the recent shipyard restructuring, these determined young women chase their individual dreams while preparing for future job opportunities. Despite facing academic challenges, their commitment to becoming exceptional dancers knows no bounds.
Witness their unwavering determination and boundless passion as they strive to overcome obstacles and embrace the transformative power of dance.
Get ready to be swept away by their inspiring journey of self-discovery, resilience, and the pursuit of their dreams.
9. Twenty-Five Twenty-One
Amidst challenging times where dreams seem distant, a teenage fencer embarks on a remarkable journey while crossing paths with a determined young man seeking to rebuild his life.
Na Hee Do is a spirited member of her high school fencing team, only to face its disbandment due to the South Korean financial crisis.
Undeterred, she perseveres through hardships, eventually earning a spot in the national fencing team.
Simultaneously, the crisis engulfs Baek Yi Jin's family, plunging them from affluence to poverty. Balancing studies with part-time jobs, he delivers newspapers until a new opportunity arises as a sports reporter for a broadcasting network.
Also see: Top 16 Must-See Romantic Kdramas On Netflix
10. Mental Coach Jegal
This uplifting sports drama follows the journey of a former national athlete who finds a new purpose as a mental coach, guiding retired professionals and struggling current athletes to reclaim their glory.
Je Gal Gil is a charismatic and hardworking former Taekwondo prodigy. After an unfortunate scandal, he is expelled from the athlete's village but returns as a mental coach, overcoming his own trauma along the way.
Enter Cha Ga Eul, a once-golden short-track speed skating champion facing a slump. The "Ice Princess" battles self-doubt until she crosses paths with Je Gal Gil, who becomes her guiding light.
Meanwhile, Gu Tae Man, a power-driven figure, plays a pivotal role in transforming Je Gal Gil's life. As the director of the Human Rights Center, he stops at nothing to secure his position.
Witness the unfolding story as Park Seung Ha, a compassionate member of the mental health support team, encounters unexpected challenges while assisting Je Gal Gil. Their paths intertwine once again when she joins the athlete's village, creating an unlikely partnership.
11. Heading To The Ground
The ambitious Cha Bong-Kun dreams of making it big in English premier league football while playing in the Korean minor league, and as he chases his aspirations, Bong-Kun faces near-death experiences not once, but three times. 
Amidst his thrilling journey, he also finds himself falling head over heels for soccer agent Kang Hae-Bin.
Determined, Bong-Kun defies the odds, pursues his passion, and navigates the unpredictable world of football, where dreams collide with love, resilience, and the pursuit of greatness.
12. Blue Of Winter
Ji Seok, Do Jin, and Hyeon Woo meet during a high school judo competition in Seoul. Hyeon Woo's reckless fighting style impresses them, despite the risks involved. 
Do Jin, an elite judo prospect, faces bullying in the club, but Hyeon Woo comes to his aid, and they have a strong bond. Ji Seok starts as a friend and becomes Hyeon Woo's lover, and Do Jin falls for Hyeon Woo but faces a dilemma. 
Before parting ways, Hyeon Woo rejects Do Jin's confession and prays for his Olympic success, and six years later, they reunite, navigating college life and cherishing their memories.
Also see: 15 Must Watch Asian BL Dramas Of 2023 (So Far) To Add To Your Watchlist
13. Matching: Boys Archery
In search of artistic inspiration, Hong Shi Ah (Kei) sets her sights on the Boys Archery Club.
Captivated by the club's attractive members, she becomes their team manager, hoping to find material for her webtoons. 
Little does she know that she will get entangled with two members, Joo Seung Joon (Baek Chul Min) and Yoo Ji Wan (Seo Ji Hoon).
This incredibly sweet Kdrama about sports had my nostalgic senses tingling and I daresay anybody will feel the same way – it's that good!
14. Pumpkin Time
Kang Tae Joo and Shin Hae Won were inseparable childhood friends, bonded by their love for baseball.
But when Tae Joo's parents announced his move to the United States, they were forced to part ways. Determined to reunite someday, Tae Joo holds onto hope as the years go by. 
Finally, back in Korea, he set out to find Hae Won. To his surprise, she was no longer the kid he had in his memory.
Instead, she was a beautiful high school girl and he had to grapple with his new feelings. Another utterly sweet high-school childhood friends-to-lovers romance that I'll forever recommend.
Also see: 10 Friends To Lovers Kdramas With Heartwarming Romance
15. Our Baseball
This fantastic webdrama about sports follows the lives of ordinary adults as they navigate their everyday routines while pouring their hearts into their beloved baseball club. 
From work to personal relationships, they find solace and purpose in the game they love. Witness their passion and dedication as they give their all to the world of baseball, creating a heartwarming tale of perseverance and friendship. 
16. The Final Match
Lee Dong Min and Yoon Chul Joon, once inseparable friends, now find themselves on rival university basketball teams. As they pursue their individual dreams of success on the court, their friendship is tested and strained. 
The fierce competition fuels their determination to outshine each other, creating a thrilling rivalry that captivates spectators.
With their skills and passion for the game, they push each other to new heights, showcasing their talents and leaving audiences in awe. 
17. Love On Green
Another sweet webdrama on Youtube that could very well give you cavities, this sports drama follows Yeoju Orong, a person who startles easily and always finds herself in a series of mishaps. 
From botched assignments to accidentally hitting a customer at a cafe, her luck seems to be against her. Even her part-time job gets terminated.
Feeling overwhelmed, she wonders if she can endure any more setbacks. However, determined to turn things around, she enters a new company. 
18. Reply Pyeongchang, 100⁰F
Ji-hoon, an aspiring Olympic athlete, misses his chance to join the national team for Rio Olympics due to an injury, and determined to make a comeback, he sets his sights on PyeongChang, where the next Olympics will take place. 
Meanwhile, Hye-won, feeling down after job rejections, joins her brother In-joon on a trip to Pyeongchang. Their plans take an unexpected turn when their bicycles break down, but they hitch a ride and cross paths with Ji-hoon.
From there, a thrilling adventure unfolds as they navigate the challenges and excitement of their journey together.
19. Breathless
In the pursuit of his dreams, a young man fearlessly takes on any task that comes his way, fueled by boundless energy that eclipses his poverty and troubled past.
The world may mock him, but he remains undeterred, sprinting toward his aspirations and the love he craves.
She, on the other hand, possesses a unique allure and unyielding self-reliance. Failure is a foreign concept to her, as she has always triumphed with the world on her side.
She discards anything deemed unnecessary but cannot deny the power of love that shapes her destiny. Like an expansive prairie, she radiates youth and openness.
Their love intertwines, transforming their lives as they fearlessly embrace the uncertain future ahead.
---
When it comes to sports Kdramas, there's always this twang of nostalgia that always makes them memorable. And with such a fantastic mix of athletic competition, compelling characters, and the emotional storytelling, these unforgettable dramas will definitely hold a special place in your heart. 
So, make sure to add these sports K-dramas to your watchlist, and prepare to embark on an exhilarating journey filled with triumphs, defeats, and the indomitable spirit of those who dare to chase their dreams.
If you're in the mood for more recommendations, you can start with the related posts below. I just know you'll find something to love!