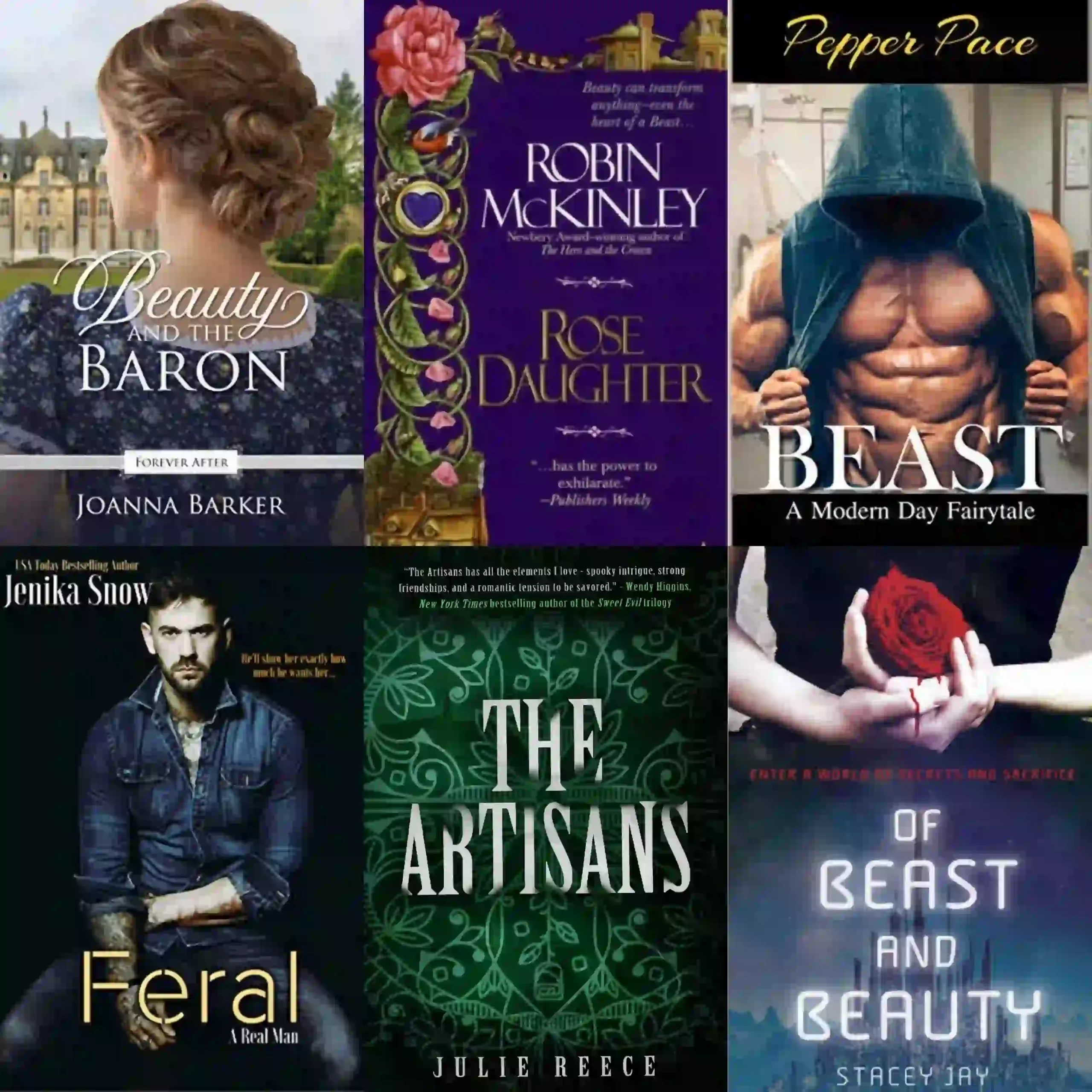 22 Beauty and the Beast Retellings That Will Make You Fall in Love All Over Again
Beauty and the Beast is one of those fairytales that have been told in many cultures and times. 
The story of a monstrous prince and a kind-hearted beauty who break his curse is one of the most romantic and moving stories ever written, and there are so many books that revisit this story in new and exciting ways. 
If you've been on the lookout for awesome beauty and the beast retellings that will sate your thirst for romance, you're in the right place!
Here are some of the best Beauty and the Beast retellings that will transport you to different worlds and different times:
1. The Wish Collector by Mia Sheridan 
In New Orleans, Clara Campbell, a homesick ballet dancer, discovers a mysterious plantation with a tragic past.
There, she meets a man who lives behind the wall, hiding his scars and his pain, and although he doesn't believe in hope, she inspires him. 
They overcome many challenges, and their hearts manage to find each other despite the darkness.
The Wish Collector is a fantastic retelling of Beauty and the Beast which tells a fascinating story of redemption from shame, connection from loneliness, and miracles from barriers.
2. Making Faces by Amy Harmon
Fern Taylor loves romance novels, but she never dreamed of having one with Ambrose Young.
He was too handsome, too perfect, too untouchable, and then war changed him – He came back scarred, broken, and angry. 
This beautiful book tells how Fern and Ambrose find each other in a small town where everyone is hurting, and it's a story of love, loss, and finding beauty in unexpected places.
3. The Bad Guy by Celia Aaron
Sebastian Lindstrom is a rogue through and through – he clings to his vices like a lifeboat and when he meets Camille, he abducts her and claims her heart.
If you're in the mood for beauty and the beast retelling with romance that skirts the edges of wicked, you're going to enjoy this one.
4. Uprooted by Naomi Novi
Agnieszka cherishes her peaceful valley home with its forests and river, but a dark Wood threatens her village with its evil magic.
Only the Dragon, a cold wizard, can stop it, and every ten years, he takes a young woman as his servant. Agnieszka dreads losing her best friend Kasia, who is perfect for him.
But when the time comes, he surprises everyone by choosing Agnieszka instead.
5. Entreat Me by Grace Draven
Ballard of Ketach Tor is doomed by a curse that breaks his mind and soul.
One day, his son comes home with a stunning woman who could break the spell, but her sister, Louvaen, has a different plan.
She tracks them to a castle stuck in time, where dark magic and hungry roses await, and when she meets him, Ballard, a man deformed by hate and must decide: love him or destroy him?
6. When Beauty Tamed The Beast by Eloisa James
A beauty who bewitched a prince, Linnet Berry Thrynne is promised to Piers Yelverton, Earl of Marchant, a man who lives secluded in a castle in Wales.
He has a bad reputation and a mysterious wound that makes him immune to women's charms. But Linnet is not afraid of him. 
She believes she can win his love in two weeks. She doesn't know that she is playing with fire and that her own heart is in danger of being burned by a man who may never love her in return.
This is another amazing historical retelling of the Beauty and the Beast story, complete with a brooding hero, a determined heroine, and lots and lots of steam. 
7. The Merchant's Daughter by Melanie Dickerson 
Trapped as Lord Ranulf's servant, Annabel dreams of a nunnery. She needs to protect her faith and herself from the bailiff.
But Lord Ranulf surprises her with his kindness and joy. When he faces a peril, Annabel has a dilemma: stick to her old plan or follow God and her heart.
8. To Beguile A Beast by Elizabeth Hoyt
In his castle, Sir Alistair Munroe lives alone, haunted by his scars and sorrows. Helen Fitzwilliam, a former beauty of the ton, escapes her mistakes and becomes his housekeeper, and she sees beyond his rough exterior and his pain. 
Soon, they find comfort and desire in each other's arms, but Helen's past looms over them. Will they risk their hearts for a chance at happiness?
9. A Tale of Beauty And The Beast by Melanie Cellier
After saving her sister and Marin, Sophie embarks on a perilous quest to free Palinar from its beastly prince.
She explores the magic castle and encounters Dominic, the enigmatic master, and he tempts her to abandon her duty and stay with him. 
But time is running out for the trapped people. And a familiar foe threatens to destroy everything.
Sophie must decide: break the curse or follow her heart? This beauty and the beast retelling expertly blends romance and fantasy, and you're in for a rollicking ride once you start reading. 
10. Beast In Shining Armor by Cassandra Gannon
Avenant is a handsome prince with a beastly temper. He's always been called a monster and he acts like one, and he hates Belle Ashman, the bookworm who stole his throne.
Belle is fed up with Avenant's cruelty and mischief. She wants to keep him away from power. 
Now they must compete in a deadly labyrinth to claim the kingdom. They have to face riddles, traps, a minotaur, a murderer, and each other.
Can they survive the maze and their rivalry? Or will they discover that opposites attract?
11. Brazen and The Beast by Sarah Maclean
Hattie has big dreams of independence and adventure. But her Year of Hattie is disrupted when she rescues a gorgeous lord from her carriage.
He is Beast, a king of Covent Garden, who tempts her with a night of ecstasy for a price.
But soon, they clash in both business and pleasure. They are fierce and determined, but they don't see that they might risk everything – including their hearts.
12. Lair Of The Lion by Christine Feehan
Nicolai DeMarco is a lion-shifter who commands the elements and the animals, but he has a dark fate: his wife will die by his claws.
Isabella Vernaducci is a fearless lady who ventures into his spooky castle to rescue her brother.
She encounters Nicolai and is captivated by his blazing eyes and his tender roar. He offers her his hand and she accepts, wanting to calm his spirit. 
This fantastic retelling of Beauty and the Beast should be on your list if you like retellings and romance bundled up in one nice and neat package. 
13. The Bride and The Beast by Teresa Medeiros
Gwendolyn, a fearless virgin, is left alone by the Highlanders of Ballybliss. Brandon, a dragon in human form, dwells in the ruined Castle Weyrcraig.
He imprisons her, but she defies dragons. He hides a man's heart behind his monstrous mask, and he will reveal to her the magic of true love.
14. Mistress To the Beast by Eve Vaughn
Lila cherishes her father's shop. It's where she grew up and found her bliss. But a ruthless developer plans to demolish it, and she confronts him boldly.
Hunter Jamison is a wounded man. A horrible accident and a bitter breakup have ruined his trust in women, and when he encounters Lila, he proposes a deal: he'll spare the shop if she agrees to be his mistress for three months.
They seal the bargain, but emotions run high, and their affair is passionate and intense, but can it mend Hunter's heart or only inflict more hurt?
15. Beast by Asha King
After his mobster father burned him, Joseph Li hides from the world, trusting no one, until Belle comes into his life. She's a housekeeper and undercover Seven Security Agent with a mission: to investigate a murder at the Li mansion. 
She thinks Joseph is the killer, but she can't help falling for him. He loves her too, but he thinks he's a monster.
Murder and romance abound in this spectacular retelling of this Beauty and the Beast story, and you're absolutely going to enjoy reading it!
16. Bargain With The Beast by Naima Simone
Gwendolyn Sinclair loves the community center. Xavier St. James can save it. But he wants something in return: her body for seven days.
Xavier is lonely and bitter after a terrible accident, and he longs for the woman he once desired. Can Gwendolyn see past his scars and love him?
17. Of Beast and Beauty by Stacey Jay
Isra is a blind Smooth Skin who must die to keep Yuan alive, while Gem is a Monstrous who risks his life to feed his people in the wasteland. He falls into Isra's hands when he raids Yuan's enchanted roses. 
She befriends him and the Banished, who are like him but rejected by Yuan.
But, she doubts her role and her faith as she sees again and learns secrets. Can she betray her city or her heart?
18. The Artisans by Julie Reece
Fashion is Raven Weathersby's passion, but her mother's death crushes her hopes.
Now, she survives as a seamstress in South Carolina, making amazing clothes that outshine famous brands.
Her stepdad's drinking puts him in debt to the rich Gideon Maddox, and Raven agrees to work for Maddox Industries to save him.
She has to live in Gideon's house for a year and create clothes for him, losing her creative rights.
Gideon is rude and annoying, and Raven can't stand living with him. But he hides a secret that might surprise her. Can Raven look past his facade and find the real him?
19. Feral by Jenika Snow
Dillon is a wild and lonely man who shuns society, and Lexi is fascinated by him and his mysterious ways and she feels a connection with him that she can't explain. 
He has secretly desired her for years, but he knows he should stay away from her, for her own good.
He can't hold back any longer, and he is determined to make her his, even if he has to unleash his primal side.
This is another equally amazing romantic Beauty and the Beast retelling that everybody should read at least twice. 
20. Beast by Pepper Pace
In this adult romance by Pepper Pace, Ashleigh and Lt. Christopher Jameson face their insecurities and prejudices.
Ashleigh is a plus-size beauty who doubts herself, and Lt. Jameson is a Marine with a facial deformity. 
They discover the true meaning of beauty in this modern version of the Beauty and the Beast fairytale, and it was beyond beautiful. 
21. Rose Daughter by Robin McKinley
In the Beast's palace, a glasshouse of lifeless roses is losing its spark.
But Beauty finds joy and wonder in this magical realm, and soon she notices a faint and powerful heartbeat in the barren stems. 
Rose Daughter is Robin McKinley's new take on the classic tale of Beauty and the Beast, with a fresh and mature voice.
This is her most heartfelt and captivating work–a story of love that transforms everything.
22. Beauty and the Baron by Joanna Barker
Rose Sinclair is a determined young woman who turns to the mysterious Baron Norcliffe to save her father from jail. But there's a catch – she must work as a maid in his secluded mansion. 
Despite the baron's cold exterior, Rose sees a glimmer of hope in him and sparks begin to fly.
However, a dark plot from the baron's past threatens their budding romance. Will they be able to overcome the danger and find their happy ending?
---
If you're a fan of Beauty and the Beast, you won't want to miss out on these absolutely amazing retellings. 
Each of these books brings a unique twist to the classic and timeless tale, featuring unforgettable characters and unexpected plot twists. 
So, grab your favorite book and get lost in the enchanting world of Beauty and the Beast!
If you're in the mood for more retellings, here are a few posts to get you started:
■ 27 Peter Pan Retellings That Will Transport You to a Different Time and Place
■ 15 Cinderella Retellings That Will Make You Believe in Happily Ever After
■ 28 Best Snow White Retellings For Romance Lovers