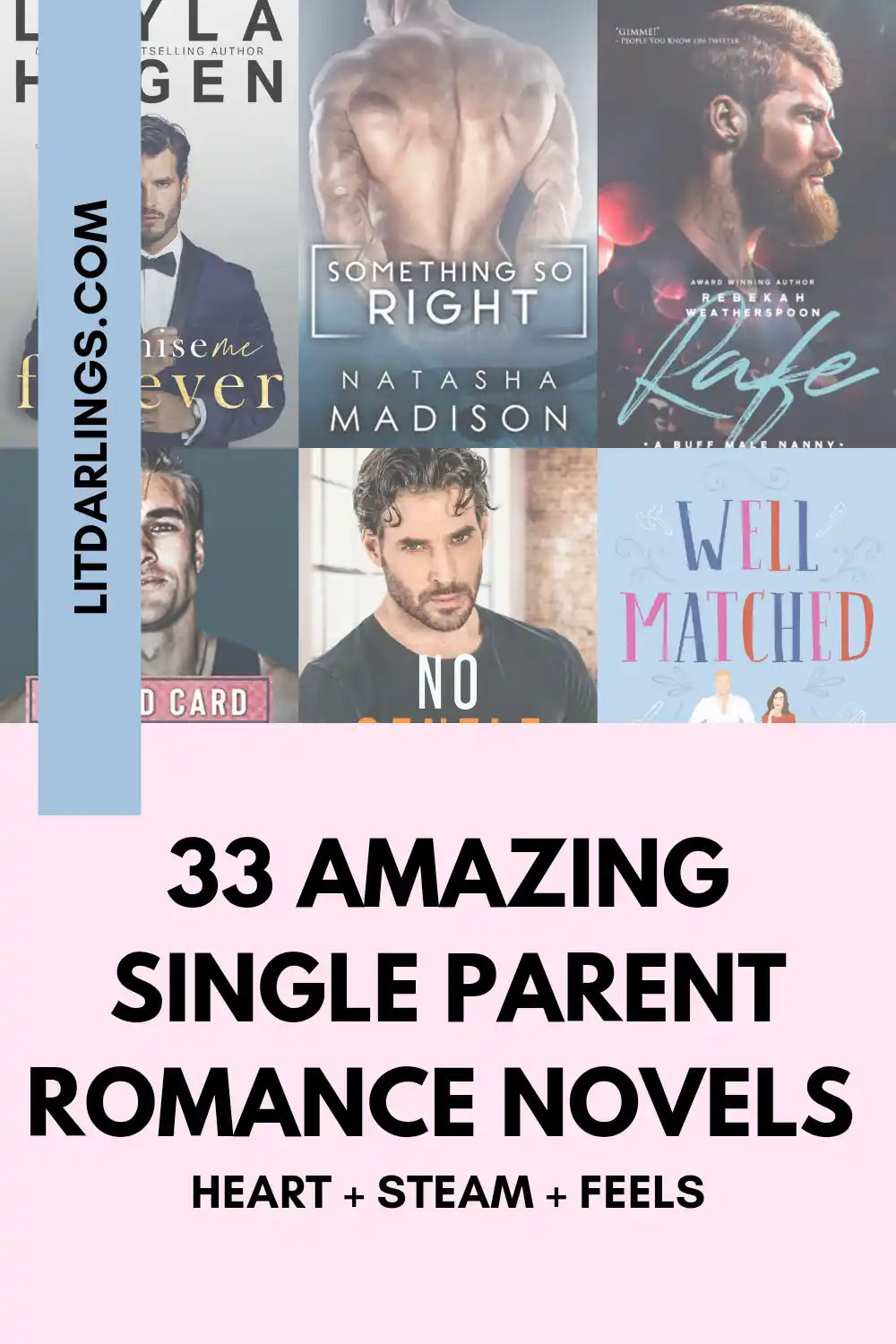 33 Enchanting Single Parent Romance Novels
Love has a way of showing up at the most unexpected times, and this is particularly true with the amazing single parent romance novels on this list. 
These stories capture the complexities of parenting and the unique journey of finding love amidst the joys and struggles of raising a child alone. 
From stories about blended families and wounded protagonists to soul-stirring moments and relatable characters, there's something for everyone to love on this list. 
So, sit back, and prepare to find your next great read!
---
Single Parent Romance Novels To Read
1. The Match by Sarah Adams.
When Evie meets Jacob Broaden, a single dad looking to match his daughter with a service dog, she's not prepared for the sparks that fly between them. The Match is a heartwarming, single parent rom-com with a sizzling romance that you'll love.
2. Promise Me Forever by Layla Hagen.
Tate is a single dad who loves his daughter more than anything, so he only cares about his winery and his daughter's future. But when he hires Lexi as a nanny, he can't resist her charm and warmth. And, while he knows he shouldn't pursue her, he realizes he's already breaking his rules.
3. Wait For It by Mariana Zapata.
Diana Casillas is a single mom who has her hands full with two boys, a dog, a job, and a house. She doesn't have time for romance, but when a new neighbor moves in next door, he might just change her mind. He's handsome, funny, and good with kids. He's also off-limits. But Diana can't resist his charm and soon finds herself in a complicated situation.
4. Something So Right by Natasha Madison.
Parker's world shatters when she catches her husband cheating on her, so she gives up on men and love, dedicating herself to her kids and her hockey rink. But then she meets Cooper Stone, an NHL star who makes her pulse race. He's handsome, arrogant, and persistent. He's also from a different world and a different phase in life. But when their hearts connect, they can't ignore the chemistry.
5. Rafe by Rebekah Weatherspoon.
Dr. Sloan Copeland is a single mom who needs a nanny for her twin girls, and she finds one in Rafe Whitcomb, a kind, bearded, skilled, tattooed, muscular, and sexy man who makes her heart race. They soon fall for each other and she realizes that Rafe is more than a nanny – he's the man of her dreams.
6. A Wildcard Kiss by Laura Blakely.
Kate abandons her wedding after she catches her groom kissing her mom. She seeks solace at a bar, where she meets Harlan, a charming local football hero who is a single dad. They have a one-night stand, but Harlan becomes off-limits when Kate's yoga studio is hired by his football team. 
7. No Gentle Giant by Nicole Snow.
Felicity is a small-town girl with big problems, and Alaska is a former SEAL with a huge heart. When Alaska saves her coffee shop and her soul with his kindness and his kiss, she wants to push him away. She has too many secrets and he deserves better. 
But he won't give up on her. He wants to give her the happily ever after she never dreamed of. This small-town single parent romance is a full-length standalone with a swoon-worthy single dad and a heroine who learns to love again.
8. Summer Sky by Jenna Startly.
Summer's dating disasters have made her wary of relationships, but when Cole, a former Marine and single dad, moves to Lake Lyla, her peaceful life is turned upside down. Cole is focused on stability for his daughter, and Summer, his daughter's soccer coach, challenges him with her sexiness and spontaneity. 
And, as they explore the wonders of Lake Lyla together, their connection grows stronger. With banter, secrets, and long-held angst, their story unfolds as they realize that love is a challenging but rewarding choice.
9. Things We Never Got Over by Lucy Score. 
Bearded bad-boy barber Knox prefers a solitary life, with only his loyal basset hound, Waylon, for company. But when a runaway bride, Naomi, arrives in Knockemout, Virginia, seeking her estranged twin, Tina, Knox gets drawn into the drama. 
Tina leaves Naomi with an unexpected niece to take care of, and Knox begrudgingly offers to help, because, despite his aversion to complications and high-maintenance women, Knox can't resist Naomi's plight. As he assists her, Knox's peaceful life gets disrupted by the real danger that threatens them both.
10. Well Matched by Jen De Luca. 
Single mother April enlists kilt-wearing friend Mitch to help her sell her house in Willow Creek. He asks her to be his fake girlfriend at a family dinner, but their chemistry feels real. And as Faire season arrives, April volunteers and pretends to be Mitch's girlfriend again to deceive his family members. 
Despite their connection, April insists it's all an act, until she has to decide if she's willing to open her heart to the man who might just be the love of her life in this whimsical, contemporary single parent romance filled with Renaissance Faire fun.
11. Pipe Dreams by Sarina Bowen.
Mike Beacon, a widower and single father, sees a chance to make things right when his ex, Lauren Williams, reappears during the playoffs. Lauren, who hates traveling with the team she used to work for and the man who broke her heart, is focused on her plans for the future. 
So, despite undeniable sexual tension, she's determined not to go down that road again. But when the game moves to Florida, things heat up on the beach. And, while Mike's teenage daughter disapproves,  he's ready to lay everything on the line for his happiness.
12. Reckless Abandon by Ashley Cade.
Single and pregnant at eighteen, Brynlee's life took an unexpected turn when her fiancé skipped town on their wedding day. Three years later, his best man, Macon, is now her best friend, and while she's hopelessly in love with him, she can never tell him. 
A drunken kiss threatens to reveal her secret, forcing her to choose between confessing her feelings or pretending to forget. Playing it safe could mean missing out on love, while telling the truth risks their friendship. This is one of the most romantic single parent romances I have read, and if you like the friends-to-lovers trope, then you're going to enjoy this one. 
13. Penthouse Prince by Virginia Nelson.
Single mom Jeanie Long finds herself in a surprising situation when she reports her manager to the company owner, only to be greeted warmly by CEO Camden James. She's suddenly hired as his fake fiancée, with a hefty pay raise, to prove to his father he's ready for marriage. 
Camden doesn't believe in love, but Jeanie's beauty and bluntness captivate him. Their staged kisses feel all too real, leaving them questioning if they've fallen for their own charade. This is the fake relationship and the single parent romance tropes at their bests – you don't want to miss this!
14. The Suite Spot by Trish Doller.
When Rachel, a single mom, is unexpectedly fired from her job, she impulsively applies for a management position at a brewery hotel on Kelleys Island in Lake Erie. Despite the challenges of the dilapidated hotel and a moody co-worker named Mason, Rachel sees an opportunity to rebuild her life from scratch. 
With her daughter in tow, Rachel embarks on a journey of self-discovery, aided by Mason's expertise in brewing beer and a chance to start anew on Kelleys Island. This single parent romance is a heartwarming tale of unexpected connections and healing. 
15. One Last Time by Corinne Michaels. 
Kristin, a divorcee and single parent, lands a celebrity blogging job but is flustered when she meets her first assignment, Noah Frazier, in the flesh. Despite embarrassing moments, they spend more time together and Kristin starts falling for him. But, a turn of events leads to heartbreak, making her question if Noah is worth it. 
16. Seven Days in June by Tia Williams.
Single mom and bestselling erotica writer, Eva Mercy, crosses paths with reclusive literary author Shane Hall at a literary event in New York. Sparks fly, reigniting their past love affair and catching the attention of New York's literary scene. 
And, as they reconnect over seven days in a steamy Brooklyn summer, Eva struggles to trust Shane, who broke her heart years ago. Yet, their undeniable chemistry and shared secret of writing to each other in their books keep them entwined. This second-chance romance is beautifully coupled with the single parent romance trope, and I relished it!
17. Irresistible by Melanie Harlow. 
As a busy single dad and CFO, Mack has no time for love, but when Frannie, his boss's daughter and his new part-time nanny, enters his life, he's immediately smitten. Despite the age gap and work-related complications, their chemistry is undeniable. 
Mack can't resist her and they eventually share a passionate kiss which leads to more. Frannie makes him feel alive again and reminds him of what he's been missing. But, Mack must choose between his desires and what's best for Frannie. 
18. Down Too Deep by J. Daniels.
After losing his wife, Nathan Bell struggles to connect with his daughter, Marley. When Jenna Savage, a capable single mom, offers to help, Nathan is hesitant but agrees and soon finds himself falling in love. However, facing his fears and opening up his heart also means risking potential loss. 
And, as attachments are formed and hearts are on the line, Nathan must confront his fears and learn to embrace love once again for the sake of his family.
19. A Nordic King by Karina Halle.
After being hired as a nanny for Clara and Freja, two princesses in the royal palace of Copenhagen, Aurora meets Aksel, the widowed King of Denmark, who proves to be moody and distant. Despite his cold demeanor, she is drawn to him, and their shared moments and intense glances ignite a forbidden attraction. 
But, everything is complicated, and with the palace walls and social conventions separating them, Aksel and Aurora must navigate their feelings in a situation where love seems impossible. This age-gap single parent romance is perfect if you like angsty, steamy romance. 
20. Damaged Goods by Talia Hibbert.
Laura Burne, desperate to escape her abusive husband, finds solace in reuniting with her long-lost teenage sweetheart, Samir Bianchi. Despite her baby bump, Samir treats Laura like a goddess with his kind eyes and caring demeanor. The man she once knew as a wild boy has become a responsible man willing to care for her and her family. However, Laura's secret threatens their fairytale ending. 
21. Return to Us by Corinne Michaels.
At eighteen, Jessica left Willow Creek Valley and Grayson Parkerson, her first love. Fourteen years later, a crash brings her back home to recover and she reconnects with Grayson, now a single dad. 
One night together reignites their passion, but Grayson is guarded, and Jessica is determined to convince him to give their first love a second chance, as she imagines a new future for them in their small town.
22. Sustained by Emma Chase.
As a defense attorney in Washington, DC, Jake Becker is known for his cold and intimidating demeanor. Complications don't work for him, until Chelsea McQuaid and her six orphaned nieces and nephews come into his life. Chelsea is sweet, innocent, and in need of help, and Jake is determined to be there for her and the kids.
Suddenly, he finds himself navigating Mommy & Me classes, One Direction concerts, and the emergency room. But, he's ready to step up to the challenge, even if it means letting his guard down and showing his softer side.
23. Cups of You by Karmen Lee.
Amber Jones is back home with plans to return to her big city life in six months. But when she meets Benjamin Murphy, a newcomer with a captivating voice and a welcoming smile, her plans are suddenly in question. 
Benjamin moved to Millensville for his ex-wife and is now a single father to a teenage daughter. And, despite Amber's initial reluctance, Benjamin's charm and genuine kindness draw her in. This single parent romance novel is the quintessential grumpy and sunshine romance, and it's oh, so interesting. 
24. Worth The Fall by Claudia Connor.
In this heartwarming romance, Abby Davis and Matt McKinney meet on a beach, but they're not looking for love. While Abby is a busy single mom, Matt is a Navy SEAL recovering from an injury. 
With only a week together, they never expected to find something so special. But as they open up to each other, their connection grows deeper, and they realize that what they have is worth fighting for.
25. Ride Steady by Kristin Ashley.
Carissa Teodoro, once a believer in happy endings, is now a struggling single mom, disillusioned by her past mistakes. Stranded with a flat tire, she's rescued by a familiar face on a motorcycle. Carson Steele, aka Joker, was the bad boy loner in high school who had always admired Carissa from afar. 
Now, as a member of the Chaos Motorcycle Club, he's drawn to her, but their differences are glaring. And as his secrets come to light and the club faces external threats, he must decide if he can hold back or if he's willing to ride steady with Carissa, even if it defies all expectations.
26. Last On The List by Amy Daws.
In need of a nanny for his young daughter, CEO Max Fletcher meets Cozy Barlow, and despite their initial differences, Max hires her and sparks fly between them. But, Cozy has her own issues with corporate greed and power, which Max represents, and one stormy night, as they bond over a power outage, Max realizes that Cozy's fantasies involve him. 
Determined to make those fantasies a reality, Max must convince Cozy to let go of her past and take a chance on love with him. This single dad romance novel is amazing if you're in the mood for steam, love, and the warmest fictional kid in history. 
27. One Plus One by Jojo Moyes.
Jess Thomas is a hardworking single mom, juggling two jobs and two children. Her gifted daughter, Tanzie, needs support to shine, and her stepson, Nicky, is struggling with bullies.
Ed Nicholls is a handsome stranger with his own chaotic life. Despite his uncertain future, Ed has time on his hands and a desire to help. As he becomes involved in Jess and her children's lives, a heartwarming story of hope, friendship, and love unfolds. 
28. Raising Kane by Lorelei James.
Ginger Paulson is a busy attorney and a single mom who doesn't need any help – until she slips on ice and lands in the hospital. Kane McKay is a rancher and a mentor to her son, who has always admired her from afar. 
He decides to take care of her and her family, and show her his dominant side in the bedroom. And, while Ginger is wary of his past and his intentions, she can't resist his charm and his body.
29. Fresh Meet by Jasmine Miller.
In this sports single parent romance novel, Jace is a professional swimmer who has dedicated his life to his sport. He doesn't let anything get in his way, until he finds out he has a son he never knew about and a beautiful nanny who comes with him. 
Now he has to choose between his career and his heart, between his medals and his family. He has to ask himself what matters and how much he is willing to sacrifice for it.
30. The Mixtape by Brittany Cherry.
Emery is a bartender and a single mom who barely gets by, while Oliver is a grieving rock star who drowns his sorrows in alcohol. They cross paths in a bar, where Emery saves Oliver from the media, and as they connect over their shared pain and their desire for healing, they fall in love, but their relationship is tested by their circumstances.
31. Getting Real by Emma Chase.
Connor is a busy doctor and a single dad who decides to give dating another try. Violet is a young nurse who has always had a crush on him. They start dating and discover they have a lot in common, and realize they love each other and want to be together through it all.
32. A Little Too Close by Rebecca Yarros.
Sutton is a single mom who works at a resort in Colorado, where she moved to nine years ago, when she was pregnant and heartbroken, and Weston gave her a job. Weston is a grumpy pilot who returns to his family's resort to launch a heli-skiing operation. 
He discovers he has to live with Sutton and her daughter in a duplex. And, while they try to be civil roommates, they feel a strong attraction, so they make some rules – which they end up breaking them.
33. Rosaline Palmer Takes The Cake by Alexis Hall.
Rosaline is a single mom who joins a renowned baking show, hoping to win the money for her daughter. On the show, she meets two men: Alain, a suave and educated contestant, and Harry, a sweet and shy electrician. 
She is drawn to them both, but with the prize money looming in her periphery, she has to decide what matters to her in life. 
---
These reads celebrate the joys of parenthood, the resilience of the human spirit, and the transformative quality of love. And, despite the challenges of single parenthood, love can conquer all. 
If you're craving more romance reads, be sure to check out these other posts:
23 Rivals Turned Lovers Romance Novels That Will Make You Fall In Love
18 Small-Town Romance Novels Set In Picturesque Communities
27 Sweet Fake Relationship Romance Novels That Will Make Your Heart Melt