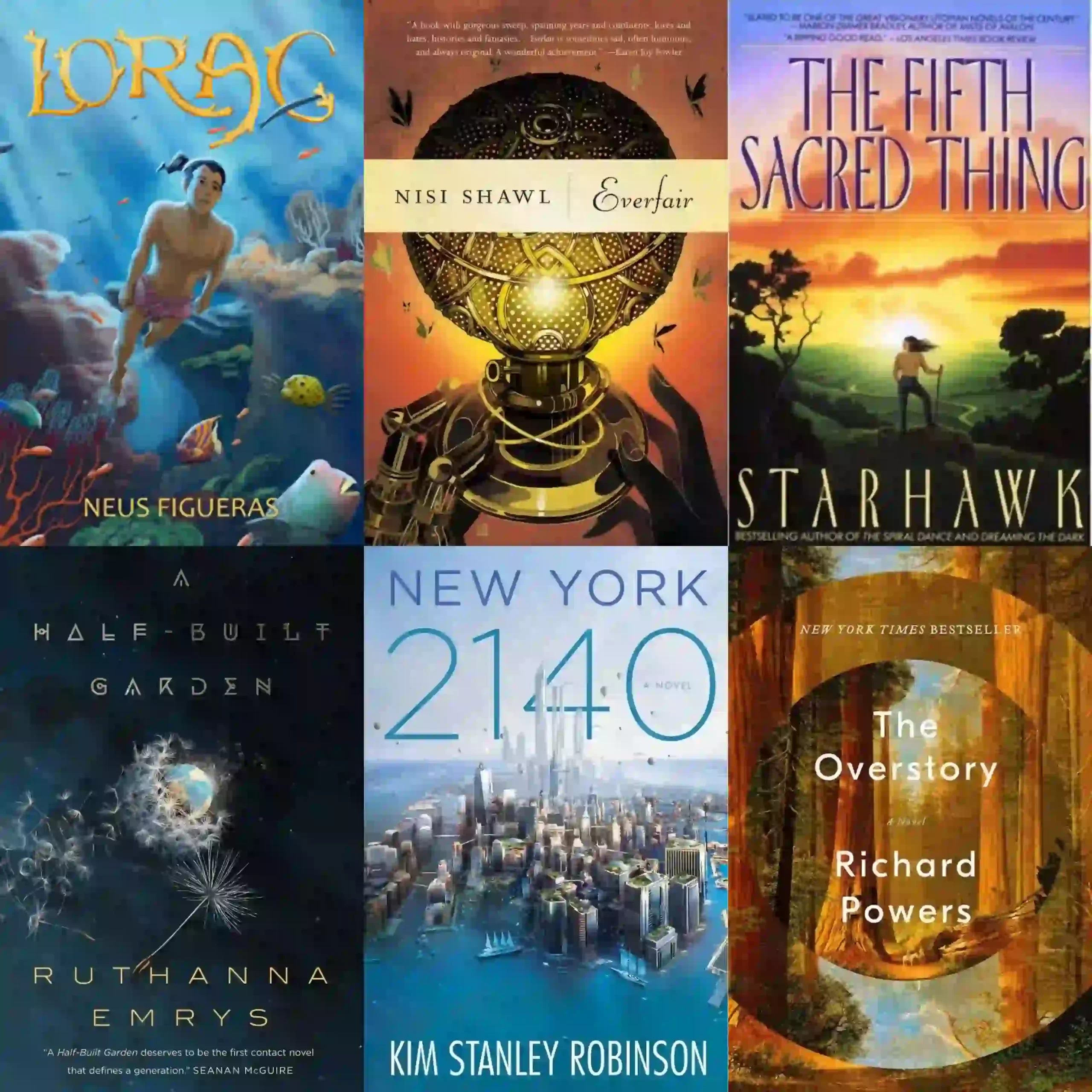 33 Solarpunk Books to Explore the Intersection of Science Fiction and Environmentalism
Tired of dystopian stories that paint a bleak picture of our future? Solarpunk fiction is the antidote you need.
I mean, not everything has to be dark all the time, and while we do know that things aren't the brightest, all that nasty stuff should remain in the periphery. 
The 32 books in this post offer an optimistic, forward-thinking vision of a sustainable world powered by renewable energy and community action.
Whether you're a first-time reader or a veteran, I'm sure you're going to get at least one good (I mean, super goooooddd) recommendation!
Here are some of the best solarpunk books to kickstart your reading: 
1. The Swan Book by Alexis Wright.
The Swan Book by Alexis Wright is a gripping and imaginative tale set in a future where Aboriginals still struggle under the Intervention.
Following the story of a mute young woman named Oblivia, readers will be taken on a journey through a post-climate change world filled with unforgettable characters, including a talking monkey and genies with doctorates. 
Wright's writing offers hope and humor in even the bleakest of situations, making The Swan Book a must-read for fans of Carpentaria and those interested in Aboriginal culture.
2. War Girls by Tochi Onyebuchi.
In War Girls, Tochi Onyebuchi presents a thrilling and action-packed story set in a dystopian Nigeria.
Amidst a brutal civil war and a ravaged earth, two sisters – Onyii and Ify – dream of a better future and will stop at nothing to make it a reality. 
With flying mechs and bionic limbs, readers will be swept up into an amazing solarpunk tale of resilience, sisterhood, and hope.
3. Orion Shall Rise by Poul Anderson.
In Skyholm, William Nicholson delivers a thrilling post-apocalyptic tale set in a world devastated by nuclear war. When a religious group seizes control of the solar-powered Skyholm, a young noble must flee to the Earth's surface and join a rebellion to reclaim the lost technology of space flight. 
This high-stakes adventure is a must-read for fans of science fiction and post-apocalyptic stories, or if you're looking to unwind and a well-crafted solarpunk novel sounds like a good idea. 
4. Zahrah The Windseeker by Nnedi Okoroafor.
Zahrah the Windseeker is a captivating tale of friendship, courage, and discovery. Set in the northern Ooni Kingdom, Zahrah Tsami is a 13-year-old girl with unique abilities that set her apart from others in her village. 
When her best friend's life is threatened, Zahrah must face her fears and use her powers to save him. With talking monkeys and wise plants, this enchanting debut novel is a must-read for fans of fantasy and adventure.
5. The Summer Prince by Alaya Dawn Johnson.
In the dazzling city of Palmares Tres, June Costa's art catches the eye of the new Summer King, Enki.
But as they collaborate on projects that challenge the government's restrictions, June's feelings for Enki deepen, even though she knows he is fated to die like all Summer Kings before him.
6. Walkaway by Cory Doctorow.
In Cory Doctorow's Walkaway, Hubert joins disaffected youth at a Communist party after watching modern society break down. He meets Natalie, and together they walk away from formal society to explore a post-scarcity world where anyone can design and print the basic necessities of life. 
As more people join them and they discover how to beat death, it becomes a thrilling multi-generation SF story about the consequences of the next hundred years.
7. A Psalm For The Wild-Built by Becky Chambers.
In a world where robots gained self-awareness and disappeared, a tea monk's life is disrupted by the arrival of a robot sent to check in and answer the question "what do people need?" 
But the answer isn't so simple, and they must ask it many times. Chambers' series explores the importance of having more in a world where people already have everything they want.
8. Viral Airwaves by Claudie Arsenault.
In this amazing solarpunk book, Henry Schmitt discovers a terrible secret about the Plague that killed his mother and destroyed his country.
He joins a band of rebels who need a pilot for their hot air balloon to broadcast the truth about the conspiracy. 
But by accepting, Henry must leave his quiet life behind and risk everything to expose the corrupt government.
9. Ectopia by Ernest Callenbach.
In a world without girls, Ectopia is a gripping dystopian novel set in a baking London where state-sponsored groups of boys rule the streets. Steven, the gay twin of the last girl Karen, leads a teensquad while their mother swells in size. 
Their father turns their house into a fortress and draws a teensquad into battle. Meanwhile, a Council of Women is inventing an Eden, and they want Karen and Steven at the heart of it. This book is a must-read for fans of Brave New World and The Handmaid's Tale.
10. The Ministry for the Future by Kim Stanley Robinson.
Kim Stanley Robinson's The Ministry For The Future is a visionary solarpunk novel to read about the consequences of climate change and the organization established to advocate for future generations. 
Told through fictional eyewitness accounts, this novel offers a hopeful but realistic portrayal of the challenges we face and the potential for us to overcome them.
With its immediate impact and powerful storytelling, it's one of the most original and powerful books on climate change ever written.
11. The Waystation by Clifford D. Simak.
Enoch Wallace, a hermit who fought in the Civil War, has been alive for over a century and has an incredible secret.
He is the keeper of Earth's only galactic transfer station, and his house is where he meets with his alien friends. 
But when Enoch realizes that Earth is doomed, his alien friends offer help that may be worse than the destruction they're trying to prevent.
12. Legacy by Jesikah Sundin.
In a medieval village sealed off from modern technology, Leaf and Willow live in an experimental world, until their father's death forces them to question everything. 
The siblings embark on a dangerous quest for truth, leading them to Fillion, an Outsider with a strong connection to their family, and a battle to survive in a story rich in mystery, betrayal, and love.
13. Our Shared Storm by Andrew Dana.
In this unique book, written by Andrew Dana Hudson, readers are taken on a journey through five different potential climate futures, each dependent on the actions we take today. Combining fiction and nonfiction, the book features a cast of characters whose stories unfold differently in each alternate universe. 
Through this experiment in climate fiction, readers are presented with different political, economic, and cultural possibilities for the future, highlighting the choices we must make to stabilize the planet.
14. New York 2140 by Kim Stanley Robinson.
The city has been submerged, but its resilient residents have adapted to the new reality. Every building and street has transformed, but the bustling metropolis remains alive. 
Through the eyes of a diverse group of characters, readers witness the changes and transformations in the city and its people.
This thrilling book shows how we can adapt to the challenges of a changing world.
15. The Windup Girl by Paolo Bacigalupi.
Set in a chilling near future, where calorie companies rule the world and bio-terrorism is used for corporate profits, readers follow the journey of Anderson Lake, a company man in Thailand, and Emiko, an engineered being known as the Windup Girl. 
As they navigate a world on the brink of post-human evolution, the novel raises important questions about the consequences of unchecked technological advancements. A must-read for sci-fi fans!
16. Woman On The Edge of Time by Marge Piercy.
Connie Ramos, unjustly committed to a mental institution, is visited by an envoy from the future who presents her with two potential futures: one utopian and the other dystopian. 
As Connie learns more about these worlds, she becomes a crucial figure in determining which path humanity will take.
This powerful novel explores themes of equality, environmentalism, and the power of individual action.
This is a perfect pick if you're in the mood for an engaging solarpunk novel to read that's going to leave you thinking for a long time. 
17. Island by Aldous Huxley.
For 120 years, the idyllic island of Pala has thrived, but now a conspiracy threatens its existence.
When a newspaperman named Faranby is shipwrecked there, he finds himself transformed by the island's inhabitants and their way of life. 
This hopeful novel explores themes of community, spirituality, and the power of human connection.
18. The Overstory by Richard Powers.
The Overstory is an impassioned novel that celebrates nature and the interconnectedness of all things. Richard Powers takes us on a journey through time and across the continent, from antebellum New York to the Timber Wars of the Pacific Northwest. 
Through a cast of characters who learn to see the world in a new way, Powers shows us the beauty and fragility of the natural world.
19. Foxhunt by Rem Wigmore.
In a future where plants have purified the air and bounty hunters maintain order, Orfeus dreams of being a famous singer. But when she becomes the target of the feared bounty hunter, the Wolf, she must uncover why. 
With every misstep endangering herself and her allies, Orfeus uncovers worse monsters in this lush world.
20. American War by Omar El Akkad.
In this audacious debut novel, a devastating plague and the Second American Civil War have left Louisiana half underwater and filled the skies with unmanned drones. 
When her family is forced into a displaced persons camp, young Sarat Chestnut becomes shaped by her particular time and place. 
Befriended by a mysterious functionary, she is turned into a deadly weapon of war, with consequences that will ripple through generations.
21. The Crucible of Time by John Brunner. 
This solarpunk novel explores the universe from the perspective of intelligent underwater aliens, presenting a unique take on astronomy and discovery. 
The story emphasizes the universality of reality, no matter one's body or environment, and does so in a deep and subtle way. It's a tour de force of storytelling that puts science at the center of science fiction.
22. A Half-Built Garden by Ruthanna Emrys.
When alien visitors arrive to save humanity, a woman stumbles upon them and must convince the watershed networks to reject the offer of abandoning Earth.
As corporations, nation-states, and networks vie for representation, the success of creating understanding lies in her hands.
23. Remnant Population by Elizabeth Moon.
Ofelia has lived happily on a remote planet for forty years. When the company that owns the colony decides to relocate everyone, she refuses to go. 
She enjoys her solitude and independence until she discovers she is not alone. A mysterious threat and a surprising encounter will change her life forever.
24. A Door Into The Ocean by Joan Sloncezwki.
In A Door into Ocean, two different worlds collide: Shora, an ocean moon inhabited by a female-only race of pacifist biologists, and Valan, a patriarchal planet that seeks to colonize and exploit Shora. 
The novel depicts the struggle of the Sharers of Shora to protect their home and their culture from the Valan invaders, using their scientific expertise and nonviolent tactics.
25. Emergency Skin by N.K. Jemisin.
In Emergency Skin, a Hugo Award-winning novelette by N. K. Jemisin, a soldier returns to a ruined Earth to find unexpected survivors. He must confront his prejudices and question his mission as he learns the truth about the planet he abandoned. 
This story is part of Forward, a collection of six visionary tales by acclaimed authors.
26. Suncatcher: Seven Days in the Sky by Alia Gee.
In this thrilling solarpunk novel set in a world ravaged by environmental disasters, disease, and energy crisis, Professor Radicand Jones is a survivor. 
But when her sister's airship herd is attacked by ruthless pirates with mysterious backers, she must embark on a perilous quest to save them and uncover the truth before the aether consumes her sanity.
27. Glass and Gardens: Solarpunk Summers by Sarena Ulibarri.
A changing world needs hopeful and creative stories. This book delivers seventeen of them, ranging from art to agriculture, from technology to nature. 
You'll be amazed by the diverse futures that await you, from a weather facility murder mystery to a glowing solar nanite implant. 
28.  Everfair by Nisi Shawl.
Everfair is a Neo-Victorian novel that imagines a different outcome of the Congo's colonization by Belgium.
It follows diverse characters who create a Utopian refuge called Everfair from King Leopold II's tyranny. 
They face challenges of war, politics, invention, and love in this alternate-history adventure by Nisi Shawl.
29. Nemesis by Isaac Asimov.
Earth is in danger from Nemesis, a rogue star that could wipe out all life. A brave girl from Rotor, a colony that fled the solar system, knows the truth. But she is trapped and silenced by her own people. How will she save both worlds from doom?
30. Bannerless by Carrie Vaughn.
In a future where having kids is a privilege, not a right, Enid is a rookie cop who solves disputes and crimes. But when she stumbles upon a corpse of a loner, she uncovers a web of lies and secrets that will shake her world to the core.
31. The Word For World is Forest by Ursula K. Le Guin.
On a forest planet called Athshe, humans exploit the green-furred natives and their lucid dreams.
But when a brutal crime sparks a rebellion, both cultures face a transformative war. Athshe is part of the League of All Worlds, a new interstellar alliance that connects humanity's diverse origins and futures.
32. Lorac: An Adventure To Save The Ocean by Figueras Neus.
When disaster strikes, Lorac flees to the heart of the sea and befriends the reef creatures. But he soon learns he has a special role: to speak for the ocean. 
To save his new home and the planet, he must face the land he abandoned. A thrilling science fantasy tale with a green message that's just the perfect thing if you want a solarpunk novel to read today. 
33. The Fifth Sacred Thing by Starhawk
In this book, you will discover a future California, where a clash of cultures threatens the survival of humankind. On one side, there is a society that values diversity, cooperation, and respect for the earth. 
`
On the other side, there is a regime that oppresses, exploits, and destroys. Through the stories of love, war, freedom, and slavery, you will witness the power and beauty of the sacred things that sustain life: air, fire, water, earth, and spirit.
From utopian visions to dystopian critiques, solarpunk fiction offers a wide range of perspectives on our relationship with the environment. 
By reading these 33 solarpunk books, you'll gain a deeper understanding of what it means to live sustainably and how we can work towards a better future for all. 
Happy reading!