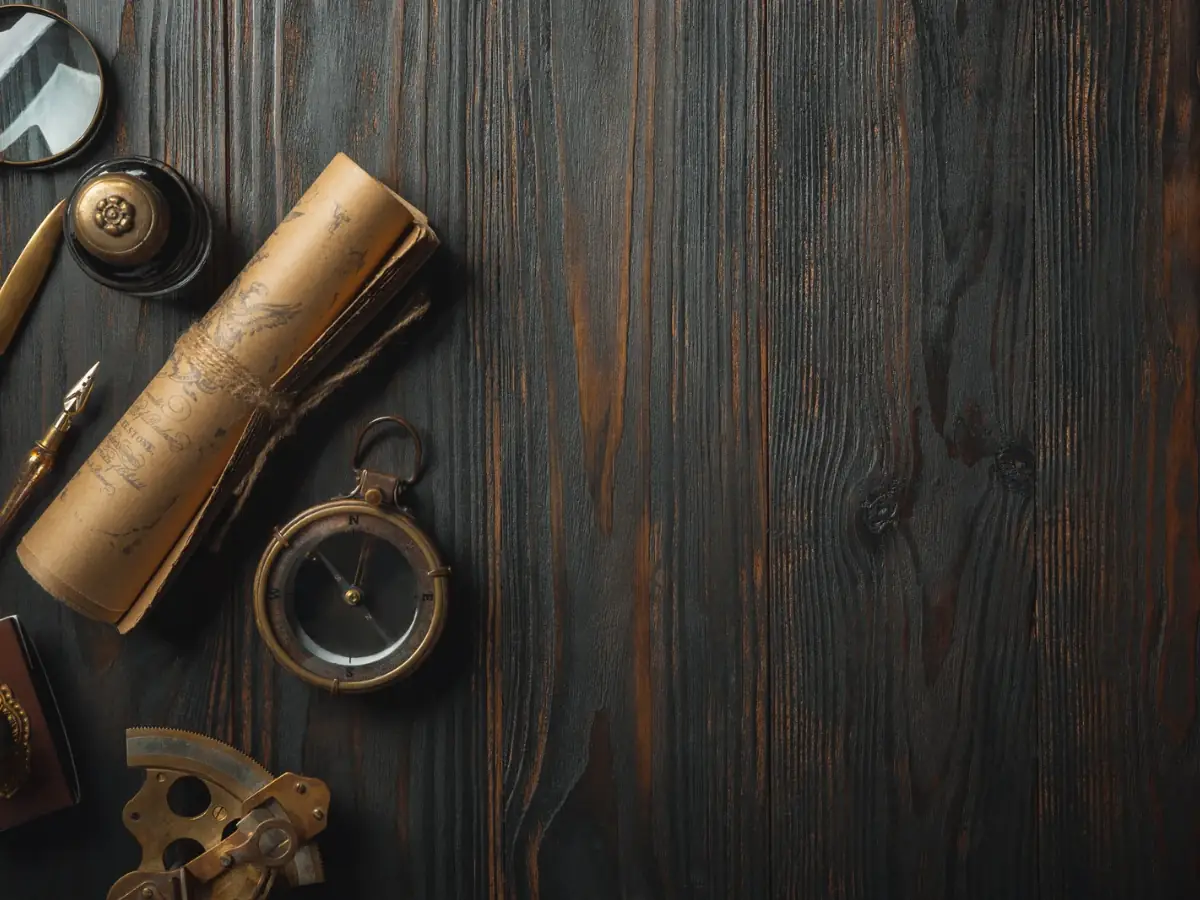 Top 40 Must-Read Steampunk Novels for Retro-Futuristic Fun!
If this is your first time hearing of the steampunk sub-genre, get ready – you're about to find your next obsession. 
Ever wondered how the Victorians would have fared with incredibly high-tech steam-powered machinery and weaponry, while still cloaked in their dashing clothes? 
The steampunk genre answers this question and more – lots of books on this list lean into an examination of the mind and a subtle critique of the human character. 
Whether this is your first time hearing of this sub-genre, or you've been flying the steampunk flag since the beginning, I can assure you that there are a lot – a whole lot – of gems on this list. So, sit back, and relax while I thrill you with these steampunk book recommendations. I know you'll find something to love here!
Best Steampunk Books To Read
1. The Anubis Gates by Tim Powers.
Brendan Doyle, an expert on poet William Ashbless, agrees to guide time-traveling tourists for a millionaire. But, during a lecture by Samuel Taylor Coleridge, he becomes trapped in Regency London, where he faces danger from unknown forces aware of time portals. 
Amidst rival beggar gangs and Egyptian sorcerers, Coleridge becomes Doyle's ally as he uncovers secrets about Ashbless beyond his wildest imagination. Doyle's adventure leads to survival and discovery, and this steampunk novel makes for an exciting and unpredictable read.
2. The Dream of Perpetual Motion by Dexter Palmer.
Set aboard a zeppelin hovering above a metropolis, Harold Winslow, a card writer imprisoned for life, chronicles his story while accompanied by the voice of Miranda Taligent and her cryogenically frozen father. In a bid to save Miranda's life, Harold confronts her genius father, Prospero, becoming an unwitting contributor to the invention of the perpetual motion machine. 
3. Soulless by Gail Carriger.
Alexia Tarabotti, a soulless spinster, is attacked by a vampire and after that faces a ton of challenges. Accused of murder, she must uncover the truth about London's high society with the help of Lord Maccon, a werewolf. Full of supernatural elements, the Parasol Protectorate series is a comedic take on Victorian London. This is one of the best and most popular steampunk series out there, and with good reason – they're so good!
4. Mainspring by Jay Lake.
In Mainspring, a clockmaker's apprentice is visited by Archangel Gabriel and tasked with rewinding the Earth's Mainspring with the Key Perilous to prevent disaster. He embarks on a perilous journey to the South Polar Axis, gaining wisdom and strength along the way.
5. Doves and Demons by Clio Evans.
In this why-choose, steampunk monster romance, Irene is thrust into this dangerous world when she's kidnapped by some creatures, including a Mothman and an Unseelie. As they become closer, a forbidden and intense love grows between them. But will this love ultimately save or destroy Irene?
6. Heart of Veridon by Tim Akers.
Jacob Burn is a pilot and disgraced son of a founding family whose world is turned upside down when a friend gives him a mysterious artifact. He runs from the law and former friends, as machines and creatures chase him. However, a more sinister force emerges, causing Jacob to question everything he knew about himself and Veridon.
7. Hyde by Daniel Levine.
Hyde is a retelling of The Strange Case of Dr. Jekyll and Mr. Hyde from the monster's point of view, we follow Hyde as he hides from capture and recounts his life, and we experience the dizzying effects of Jekyll's potions and explore Victorian London's dark streets. This is steampunk at its finest, and if you're in the mood for something different from the usual, you can't go wrong with anything by Daniel Levine.
8. Mortal Engines by Philip Reeve.
Mortal Engines is a young-adult science fantasy novel by Philip Reeve, published by Scholastic UK in 2001. The story takes place in Europe, centuries after the Sixty Minute War, a conflict that demolished America and changed the rest of the known world. The book focuses on a futuristic, steampunk version of London, now a giant machine striving to survive in a world that is running out of resources.
9. The Court of the Air by Stephen Hunt.
The story follows streetwise Molly Templar and Oliver Brooks who are forced to flee for their lives after witnessing brutal murders. They find themselves battling a grave threat to civilization – an ancient power thought to have been quelled millennia ago. Their enemies are ruthless and myriad, but the two orphans are also aided by indomitable friends in this endlessly inventive steampunk tale full of drama, intrigue, and adventure.
10. The Scar by China Mieville.
The Scar follows Bellis Coldwine, a renowned linguist who is linked to Isaac Dan der Grimnebulin, the brilliant renegade scientist who has unwittingly unleashed a nightmare upon New Crobuzon. Bellis is aboard a vast seafaring vessel with prisoners and slaves being transported to the fledgling colony of New Crobuzon when the ship is besieged by pirates on the Swollen Ocean. 
The surviving passengers are brought to Armada, a city constructed from the hulls of pirated ships, a floating, landless mass ruled by the bizarre duality called the Lovers.
11. The Alchemy of Stone by Ekaterina Sedia. 
Mattie is an intelligent automaton skilled in the use of alchemy, who finds herself caught in the middle of a conflict between gargoyles, the Mechanics, and the Alchemists. With the old order quickly giving way to the new, Mattie discovers powerful and dangerous secrets – secrets that can completely alter the balance of power in the city of Ayona.
12. Of Silk and Steam by Bec McMaster.
Lady Aramina swears revenge after her father's assassination. She obtains evidence proving that Leo Barrons, the dangerously seductive heir of the man responsible, is illegitimate and has the means to destroy both the killer and his son. 
Leo is determined to unravel Mina's layer by silken layer and discovers that she is the key to overthrowing the corrupt prince consort and saving his own carefully walled-off heart in this romantic novel full of passion and intrigue. This is one of the best steampunk novels to read that manages to deliver on everything from passion to intrigue. 
13. Dearly, Departed by Lia Habel.
Nora Dearly is a teenager in 2195 New Victoria high society who is far more interested in military history and her country's political unrest than in tea parties and debutante balls. After her parents die, Nora is left at the mercy of her domineering aunt who plans to marry her off for money. But fate has other plans for Nora when she's nearly kidnapped by an army of walking corpses. 
In this madly imaginative steampunk novel of adventure, suspense, and macabre comedy that redefines the concept of undying love, romance meets a walking-dead thriller.
14. The Half-made World by Philip Gilman. 
In this fantastical reimagining of the American West, the world is only half made. What exists has been carved out amidst a war between two rival factions: the Line, paving the world with industry and claiming its residents as slaves; and the Gun, a cult of terror and violence that cripples the population with fear. 
Liv Alverhyusen, a doctor of the new science of psychology, travels to the edge of the made world to a spiritually protected mental institution in order to study the minds of those broken by the Gun and the Line. In this novel full of magical realism, steampunk, and Western tradition, either side will do anything to understand how.
15. Infernal Devices K.W. Jeter.
George Dower inherits his father's watchmaker's shop but has little talent for clockwork. When a shadowy figure tries to steal an old device from the premises, George finds himself embroiled in a mystery of time travel, music, and sexual intrigue.
16. Lady of Devices by Shelley Adina.
In a world where Queen Victoria and Darwin's son reign and steam is king, Claire Trevelyan is a rebellious chemist who loses her fortune and becomes the Lady of Devices, a notorious gang leader. She joins forces with Andrew Malvern, a royal engineer who admires her inventions. They pursue their dreams and survive peril and treachery in a world where steam rules and friendship can be deadly.
17. Cogheart by Peter Bunzl.
Lily's father has disappeared and silver-eyed men are hunting her. She flees with her friends Robert, a clockmaker's son, and Malkin, a mechanical fox. They explore a sinister and secretive world where they face murder, mayhem, and mystery. Lily discovers that her heart may be broken by those she trusts the most in this exciting 1889 Victorian steampunk adventure.
18. Phoenix Rising by Pip Ballentine.
A secret agent with a bulletproof corset and a penchant for dynamite, Eliza Braun joins forces with Wellington Books, a timid librarian with vast knowledge, to investigate a string of bloodless murders in Victorian London. They belong to the Ministry of Peculiar Occurrences, a covert organization that battles the Phoenix, a nefarious group that seeks to enslave Britons.
19. Cold Magic by Kate Elliot.
Cat Barahal and her cousin Bee are young students of airship technology and the Industrial Revolution. They live in a world where magic still dominates, and they are about to learn how cruel and ruthless this magic can be when wielded carelessly.
20. God Save The Queen by Kate Locke.
Xandra Vardan serves the immortal Queen Victoria, who reigns over a Britain of werewolves, vampires, and goblins, magic, and technology. But her sister's disappearance leads her to a plot that threatens to topple the empire. To make matters worse, she is the prize in a deadly struggle between the Aristocracy and the rebels who want to end their rule.
21. Larklight by Philip Reeve. 
Larklight is a huge house in space where Art and Myrtle Mumby live with their father. They receive a letter from a Mr. Webster, who is a terrible guest, and this triggers a wonderful adventure that leads them to the farthest corners of Known Space, where they confront the evil First Ones to rescue the Universe.
22. The Girl in the Steel Corset by Kady Cross.
A dark force lurks inside Finley Jayne, a girl who can knock out a man with one punch. She finds a home with Griffin King, an orphaned duke who leads a group of extraordinary misfits. Together, they hunt down The Machinist, a cunning criminal who uses automatons for evil. As they face danger and betrayal, Finley must learn to trust her new friends and embrace her true self.
23. Clockwork Heart by Dru Pagliassotti. 
In Ondinium, a city run by clockwork, Taya flies with metal wings as a courier. She crosses the boundaries of castes and sectors until she rescues two upper-class brothers from a terrorist ambush. She soon finds herself in a tangled web of secrets, murder, and loyalty.
24. The Emperor's Aeronaut by Shelley Adina. 
In a steampunk world where Napoleon wants to conquer England with his airships, two young women from opposite sides join forces as inventors. Celeste is a French aeronaut who crashes in Cornwall and befriends Loveday, an English lady with a passion for engineering. Together, they face danger, betrayal, and romance as they try to create an airship that will end the war and save their lives.
25. The Inventor by Theresa Meyers.
Sephie is a spy with a mission: to find out if Marley's device can help the country. Marley is an inventor with a passion: to show his genius to the Queen. When they meet at an exhibition, sparks fly between them. But they have to overcome secrets, danger, and their own hearts to save the country.
26. Riveted by Meljean Brooke.
Iceland is a land of legends and secrets, where machines protect the island from outsiders. Annika is a mechanic who knows the truth, but she can't tell anyone. David is an adventurer who wants to find out his origins, but he can't trust anyone. When they are stranded on a glacier, they must rely on each other and their attraction. And, in this interesting steampunk novel, the question remains whether they'll manage to survive their external and internal threats. 
27. The Alloy of Law by Brandon Sanderson.
Wax has two powers: he can push on metals and change his weight. He left the city to become a sheriff in the Roughs, but a tragedy forces him back. Now, he has to run his family's empire and face the dangers of Elendel. He discovers that the city is hiding old magic and new enemies.
28. Dead Iron by Devon Monk.
Cedar Hunt is a lycanthrope and a loner, who blames himself for his brother's fate and his own curse. He gets a chance to change both, but he has to track down a device that is guarded by a formidable foe. He faces magic, machines, and monsters in a steam age America, and he relies on his guns, gears, and grit to fight back.
29. Steamed by Katie McAllister.
When it comes to the steampunk genre, Katie McAllister is positively genius, and anything she puts out shouldn't be ignored. In this work, Jack Fletcher is a scientist who loves a steampunk novel. When his experiment goes wrong, he finds himself in that novel's world. He meets Octavia Pye, a daring airship captain who captures his heart. He has to adapt to a world of steam-power, aether guns, and adventure.
30. The Friday Society by Adrien Kress.
Cora, Michiko, and Nellie are smart and talented assistants to powerful men in London, and these three form the Friday Society, a steampunk trio of fearless and funny heroines. They meet at a ball where they find a dead man, and they decide to solve the murder and other crimes with their skills and style.
31. The Doomsday Vault by Steven Harper.
Alice is a 21-year-old automaton enthusiast in a clockwork Britannia where her prospects are slim. But when a plague strikes, she embarks on an adventure beyond the pale. She joins a secret organization, meets mad inventors, uncovers life-altering secrets, and falls for a fiddle-playing airship pilot.
32. A Study in Silks by Emma Jane Holloway. 
In a London ruled by steam barons, Evelina Cooper has magic that can run machines. She is Sherlock Holmes's niece and a murder suspect. She also has two suitors: a smart rake and a brave trick rider. And a talking mouse. Evelina must use her wits, her magic, and her heart to solve the mysteries and protect those she loves.
33. The Iron Thorn by Caitlin Kittredge.
Aoife Grayson lives in Lovecraft, a city ruled by the Proctors and haunted by madness and monsters. She is one of the few female students at the School of Engines, where she learns to control the great Engine that powers the city. But she has a dark secret: her family goes mad on their 16th birthday, and hers is approaching. She must find a way to escape her fate and uncover the truth about her world. And, in this steampunk novel, there are too many secrets to be revealed. 
34. For Steam and Country by Jon Del Arroz.
When her father dies, Zaira von Monocle inherits his airship and his adventure. Then, she joins a war against the Wyranth Empire, whose soldiers are not human, and she and her crew must save Rislandia from the enemy.
35. Tarnished by Karina Cooper. 
Cherry St. Croix leads a double life: a scientific lady in Society and a bounty hunter in London below. She chases a murderer in the fog, while two men vie for her heart. One is from her daylight world, where she doesn't fit in. The other is from her night world, where danger is everywhere. Each choice has a consequence, and she might have to face consequences for her delay. 
36. Obsidian Eyes by A. W. Exley.
Allie Donovan goes from a shadow world to a noble academy, where she is pursued by a Scottish lord who has a mystery to solve. She discovers that her friend Zeb is creating a dangerous weapon and sentient machines. Allie has to protect him from the guilds who want his work, but, in doing so, she puts her life and his friendship on the line.
37. Across the Great Barrier by Patricia C. Wrede.
Eff is a thirteenth child with special magic. She dreams of exploring the magical Great Plains. But she has to face new threats and troubles on the frontier and at home, where she has to use her magic and sense to save the settlers.
38. The Anvil of the World by Kage Baker.
Smith is a retired assassin from the Children of the Sun, a bloodthirsty race. He tries to live a quiet life as an innkeeper, but his past catches up with him. He leads a caravan plagued by murder, magic, and a powerful demon. He also befriends Ermenwyr, a demonic half-breed who brings more trouble. And, in this interesting steampunk novel, they must work together to survive the perils of the journey and reach Salesh safely.
39. Badlands by Seleste deLaney.
A queen's murder sparks a war between two nations, and Ever, a border guard, must bring back the princess from the Union. She joins forces with Spencer, a captain of the Dark Hawk, a flying ship. They risk their lives and their hearts on a perilous journey.
40. Terminal Worlds by Alastair Reynolds.
Quillon is a fugitive from Spearpoint, the last human city where technology levels change with altitude. When a dying angel lands on his morgue, he learns that reality itself is unstable. He must flee to the wild lands beyond the city, where he will face steampunk machines, western gunslingers, and planetary wonders. Terminal World is a thrilling adventure across a multilayered world that makes for a very interesting steampunk read.
---
So, there you have it! The best steampunk novels of all time are a mesmerizing blend of history, technology, and adventure. From the mysteries of Victorian London to dystopian futures ruled by steam-powered marvels, these novels transport readers to worlds filled with airships, automatons, and clockwork contraptions. 
With their richly detailed settings, complex characters, and imaginative plots, these books are sure to captivate both seasoned steampunk enthusiasts and newcomers alike. Get ready to embark on a literary journey like no other and explore the wonders of steampunk fiction!
Further reading:
Pirate Adventures in a Steampunk World: Swashbuckling Novels of High Seas and High Gear.
Steampunk YA Novels with Strong and Inventive Protagonists.
Espionage in the Age of Steam: Spies, Intrigue, and Inventions in Steampunk Novels