The undead have been resurrected in Korean cinema, and they're scarier than ever.
With notable works like Kingdom, the Korean period piece about a mysterious plague that sweeps through the nascent Joseon, it's no wonder that a lot of fans love them. 
And, with a mix of heart-pumping action, stunning visuals, and bone-chilling suspense, Korean zombie works have taken the sub-genre to new heights, and I just know you're going to love one or all of the dramas on this list.  
In this post, I'll be listing the 13 best Korean zombie films and dramas that will leave you absolutely breathless. 
Here are the most thrilling Korean dramas and movies about zombies:
1. Zombie Detective (2020)
Kang Min Ho is a zombie detective who wakes up with no memory of his human life.
He quickly learns how to blend in with humans and starts working as a private detective under the name Kim Moo Young. 
But things get complicated when his assistant Gong Sun Ji discovers his secret.
Together, they solve criminal cases while uncovering the mystery of Min Ho's past.
Cast:
Choi Jin Hyuk as Kim Moo Young/Kang Min Ho.
Park Ju Hyun as Gong Sun Ji.
Kwon Hwa Woon as Cha Do Hyun.
2. Happiness (2021)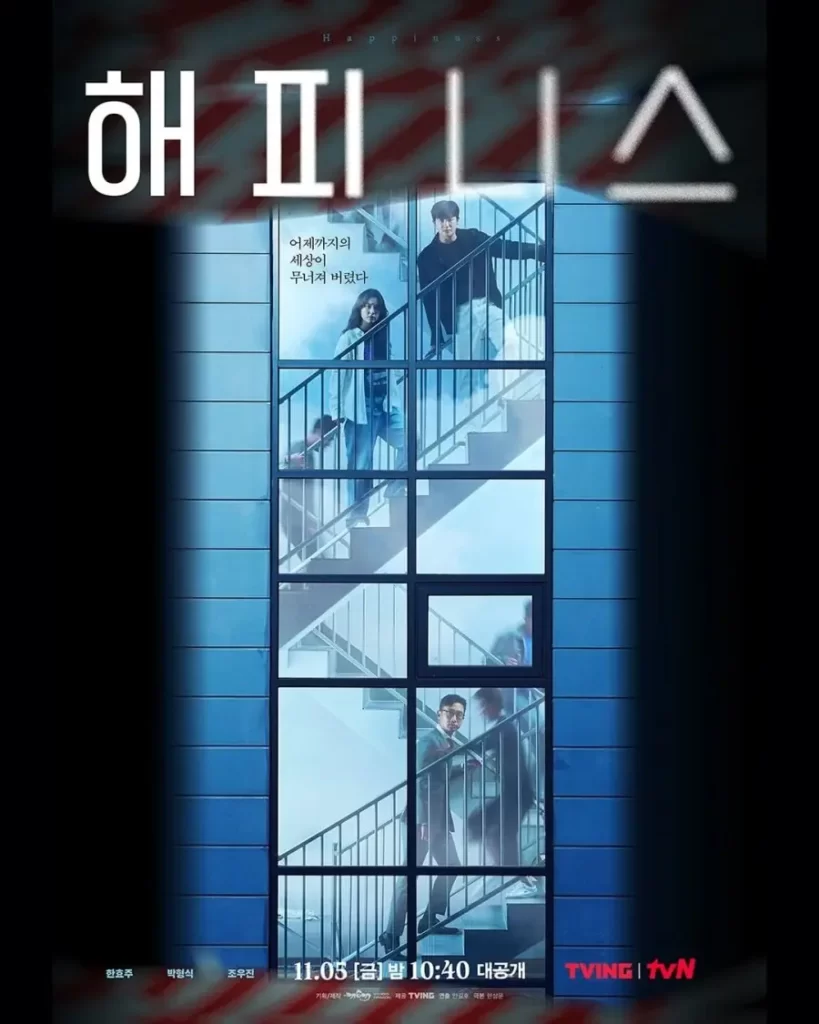 Jung Yi Hyun is a detective investigating a mysterious disease who lives with his high school friend Yoon Sae Boom in an apartment complex, but their peaceful life is shattered when a zombie virus breaks out. 
With the complex now under quarantine, they are trapped and must fight to survive. In this acclaimed Kdrama about zombies, Yi Hyun and Sae Boom must battle the undead and try to find a way out.
Cast:
Han Hyo Joo as Yoon Sae Bom.
Park Hyung Sik as Jung Yi Hyun.
Jo Woo Jin as Han Tae Seok. 
Also see: 10 Action and Thriller Kdramas That Will Keep You Coming Back for More
3. All Of Us Are Dead (2022)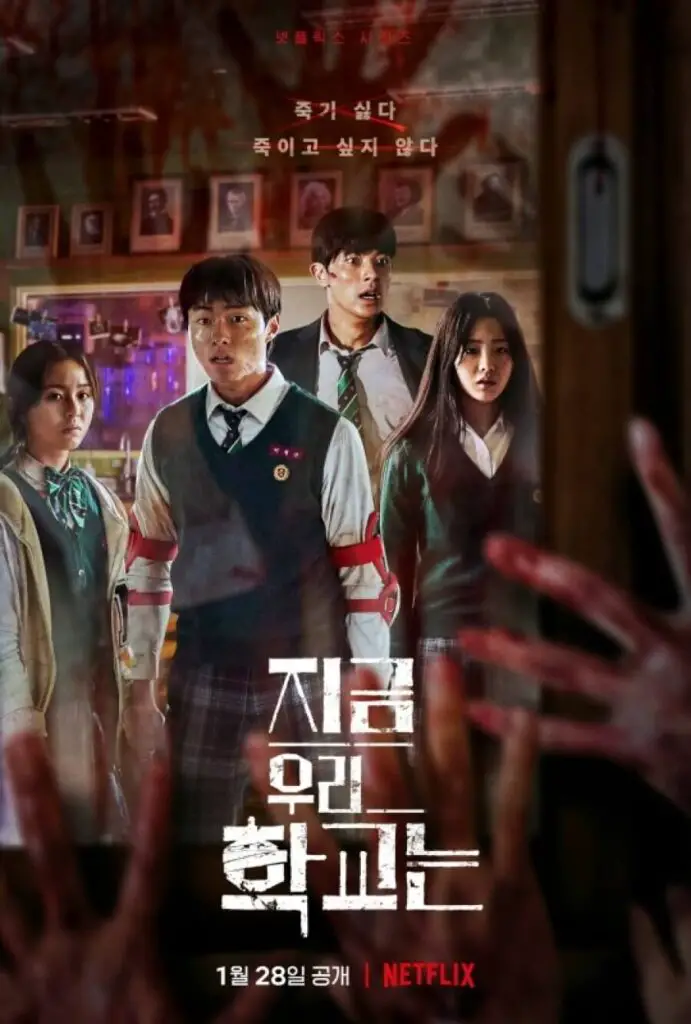 Nam On Jo and Lee Cheong San have been best friends since childhood and are currently students at Hyosan High School. 
But, their lives take a terrifying turn when a zombie virus outbreak hits their school, leaving them trapped in a classroom. 
Together, they must navigate the dangerous situation and fight for their survival amidst a sea of zombies. 
Cast:
Yoon Chan Young as Lee Cheong San.
Park Ji Hu as Nam On Jo.
Cho Yi Hyun as Choi Nam Ra.
4. Kingdom (2019)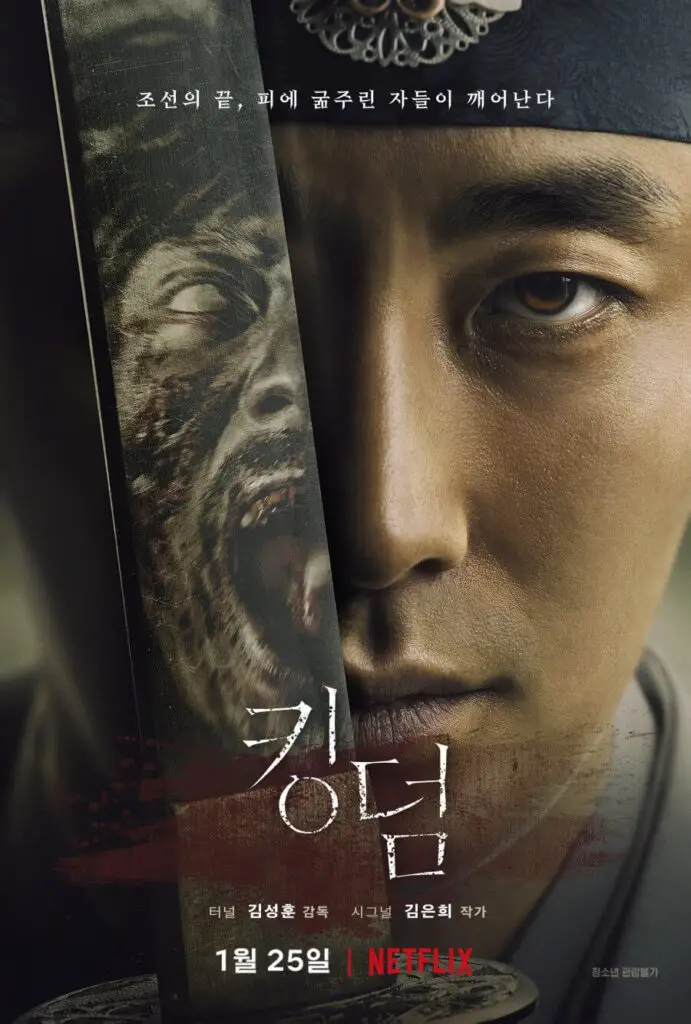 The nation is in chaos due to a zombie plague spreading like wildfire. Adding to the chaos are enemies of the throne plotting against Crown Prince Lee Chang which makes his situation all the more challenging. 
As the prince tries to manage the zombie outbreak, he must also navigate the political turmoil within the palace walls. 
Torn between saving his kingdom from the undead and weeding out the treacherous conspirators, this intense and suspenseful zombie Kdrama will keep you on the edge of your seat. 
Cast:
Joo Ji Hoon as Lee Chang.
Ryu Seung Ryong as Cho Hak Joo.
Bae Doo Na as Seo Bi.
5. #Alive (2020)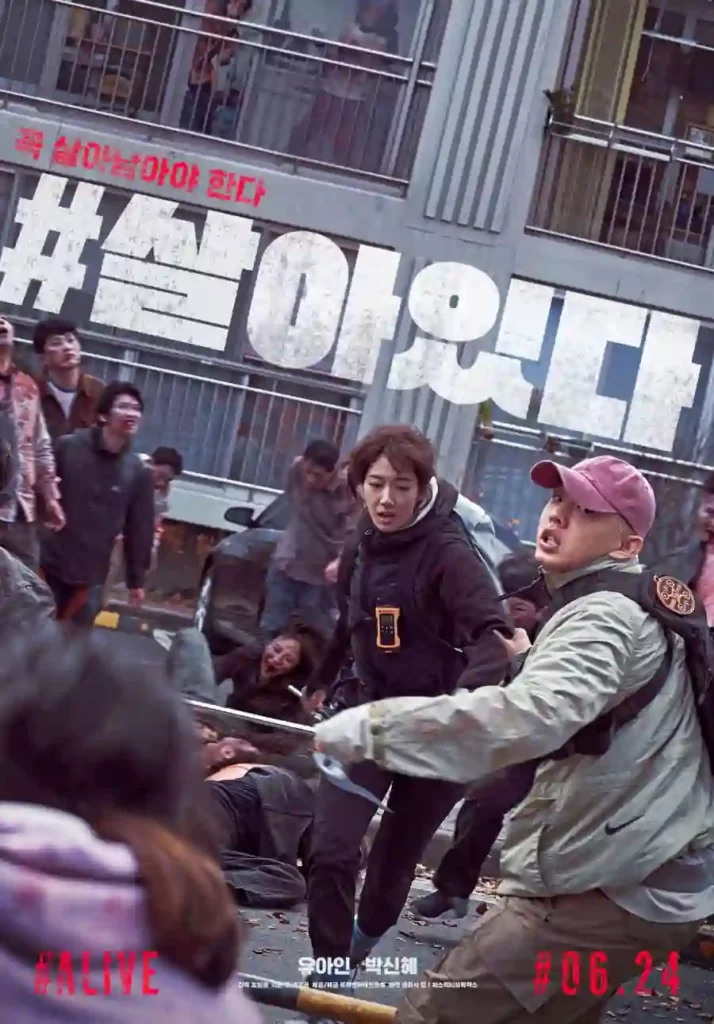 Seoul is hit with a mysterious virus outbreak that spreads rapidly and leaves survivors trapped in their apartments without any way to communicate with the outside world. 
In the midst of this chaos, Joon Woo and Yu Bin find themselves fighting for their lives in an isolated apartment complex. 
This thrilling movie about the undead will have you on the edge of your seat as you witness the resilience and determination of the human spirit in the face of adversity.
Cast:
Yoo Ah In as Oh Joon Woo.
Park Shin Hye as Kim Yoo Bin.
Lee Hyun Wook as Lee Sang Chul.
6. Zombie School (2014)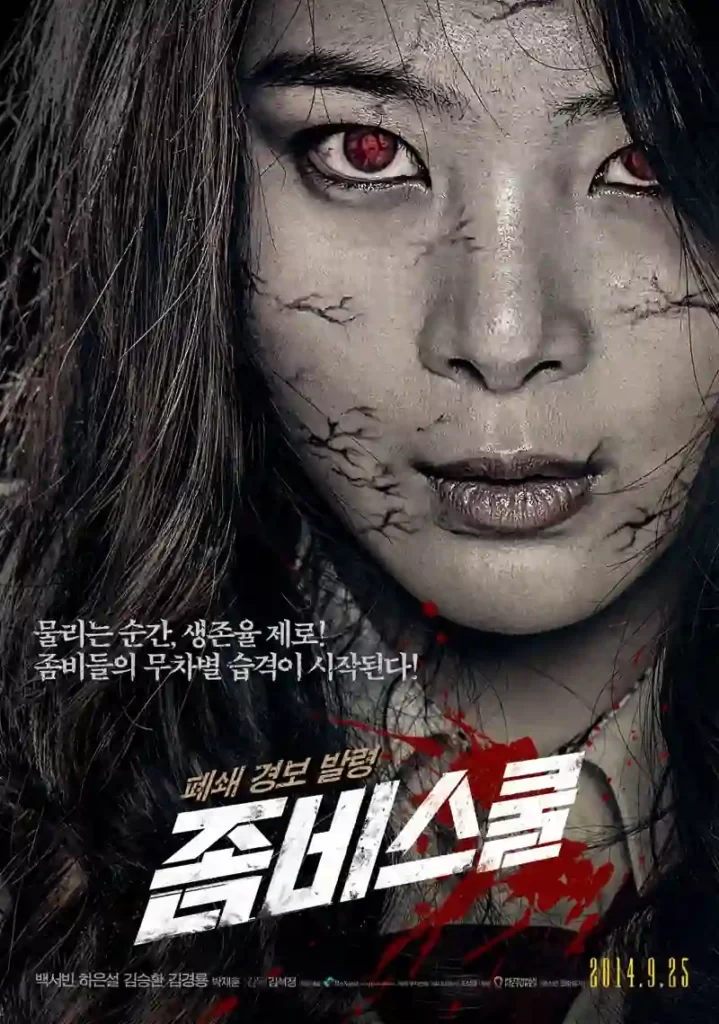 At Chil Sung School, a zombie virus outbreak has spread from buried pigs with foot-and-mouth disease, infecting the teachers and turning them into zombies. 
With their mentors now the undead and out for blood, the students must band together and fight for survival.
Their heroic struggle against their former teachers as they battle the zombie hordes and fight to stay alive was simply captivating.
Cast:
Baek Seo Bin as Jeong Shik.
Ha Eun Seol as Hye Na.
Cha Min Ji as Jung Ja.
7. Rampant (2018)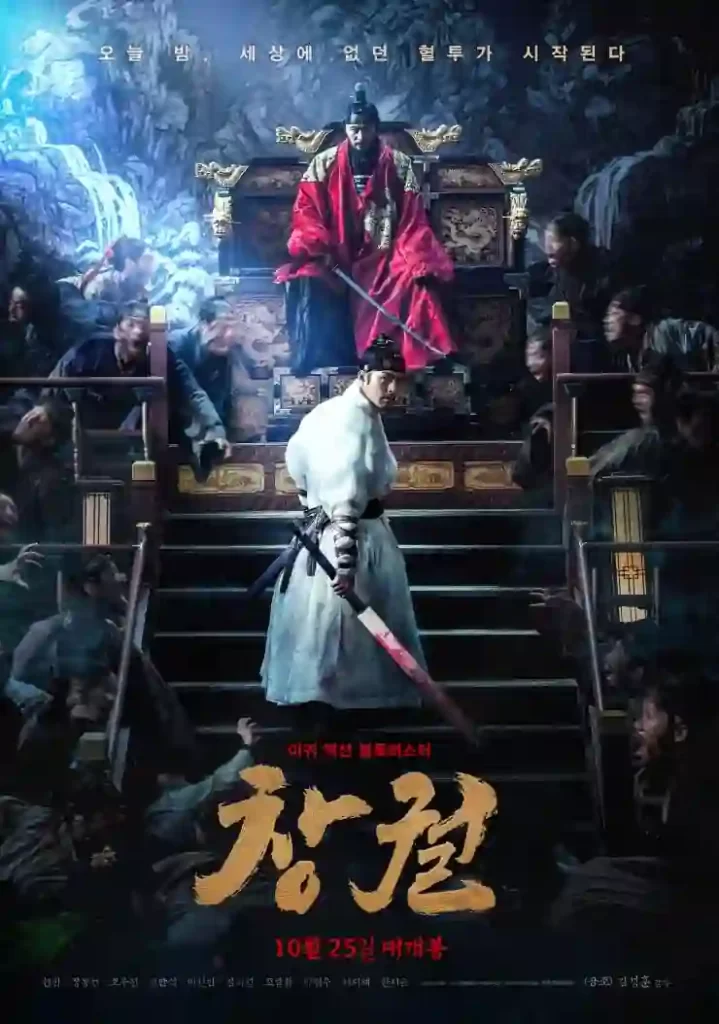 Prince Lee Chung of Joseon was once taken hostage by the Qing Dynasty, but after a decade of absence, he finally returns to his homeland when his brother ascends the throne and secures his freedom. 
But, their joyous reunion is short-lived when a terrifying menace descends upon the kingdom and begins attacking its citizens under the cover of darkness. 
Now, Prince Lee Chung must take up arms and lead the charge against the monstrous threat to protect his people and their way of life.
Cast:
Hyun Bin as Lee Chung.
Jang Dong Gun as Kim Ja Joon.
Kim Eui Sung as King Lee Jo.
8. Train To Busan (2016)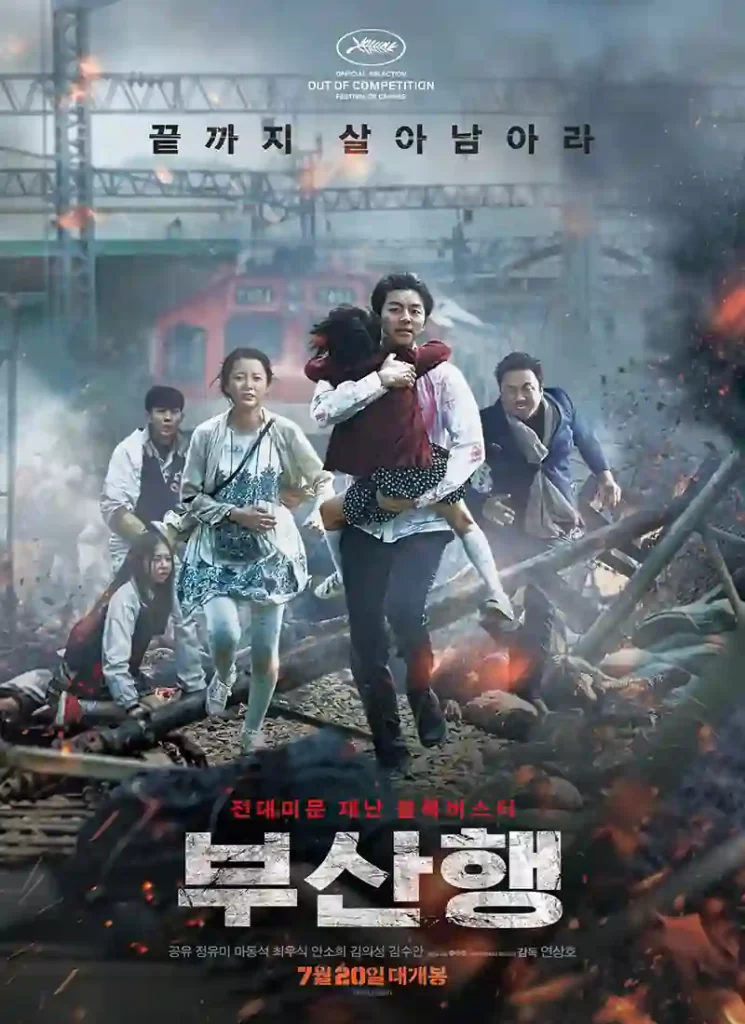 In this thrilling movie, a deadly zombie virus outbreak rocks a KTX train en route to Busan.
Among the passengers is Seok Woo, who embarks on the journey from Seoul station with his daughter Soo An. 
The contagion begins with an infected girl onboard and quickly spreads like wildfire, leaving Seok Woo and other passengers to fight for survival and protect their loved ones from the vicious onslaught. 
This is probably one of the most popular Korean movies with undead creatures, so get ready for heart-pumping action and suspense as they struggle to stay alive in the midst of a harrowing and unprecedented crisis. 
Cast:
Gong Yoo as Seok Woo.
Jung Yu Mi as Seong Kyeong.
Ma Dong Seok as Yoon Sang Hwa.
9. Gangnam Zombie (2023)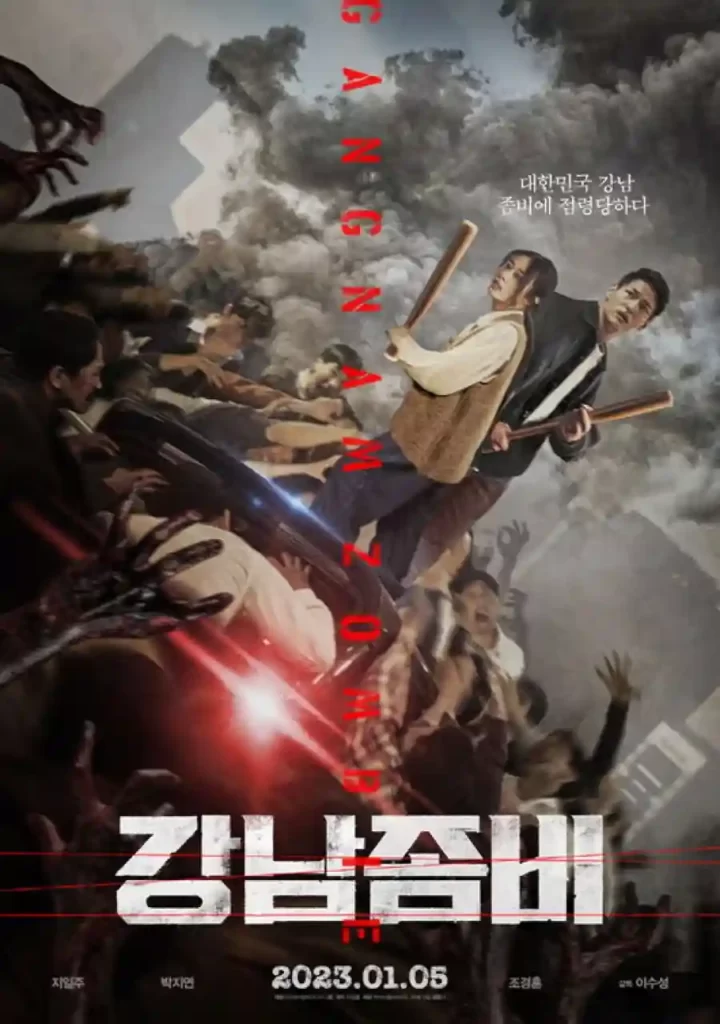 The lively Gangnam district of Seoul is under siege by zombies, trapping Hyeon Seok and Min Jeong inside a building.
With no escape route available, they have no choice but to fight for their survival against the relentless horde of the undead. 
It's a race against time as they must use their wits and weapons to overcome the obstacles in their path and escape the zombie-infested area. 
Cast:
Ji Il Joo as Hyeon Seok.
Park Ji Yeon as Min Jeong.
Cho Kyung Hun as Wang I.
10. Peninsula (2020)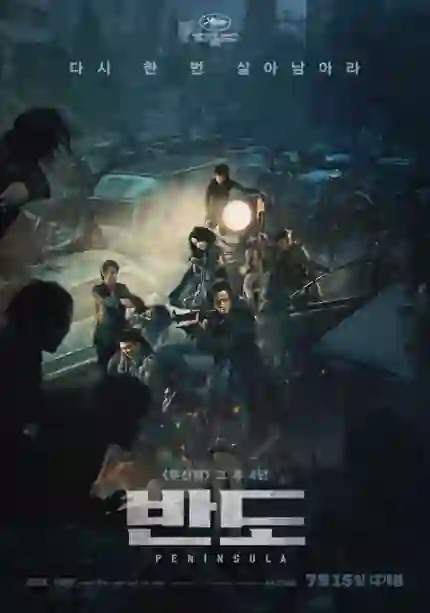 The Korean peninsula has been ravaged by a zombie apocalypse triggered by an outbreak on a ship.
Jung Seok, a tough ex-soldier who narrowly escaped the initial attack, is recruited to return to Korea and retrieve a truck carrying $20 million. 
Little does he know his simple mission will become a fight for survival as he teams up with other survivors along the way.
In a world overrun by zombies, Jung Seok and his newfound companions must rely on each other and their instincts to stay alive and make it out with the money.
Cast:
Gang Dong Won as Jung Seok.
Lee Jung Hyun as Kim Min Jung.
Kim Min Jae as Sergeant Hwang.
11. The Neighbour Zombie (2010)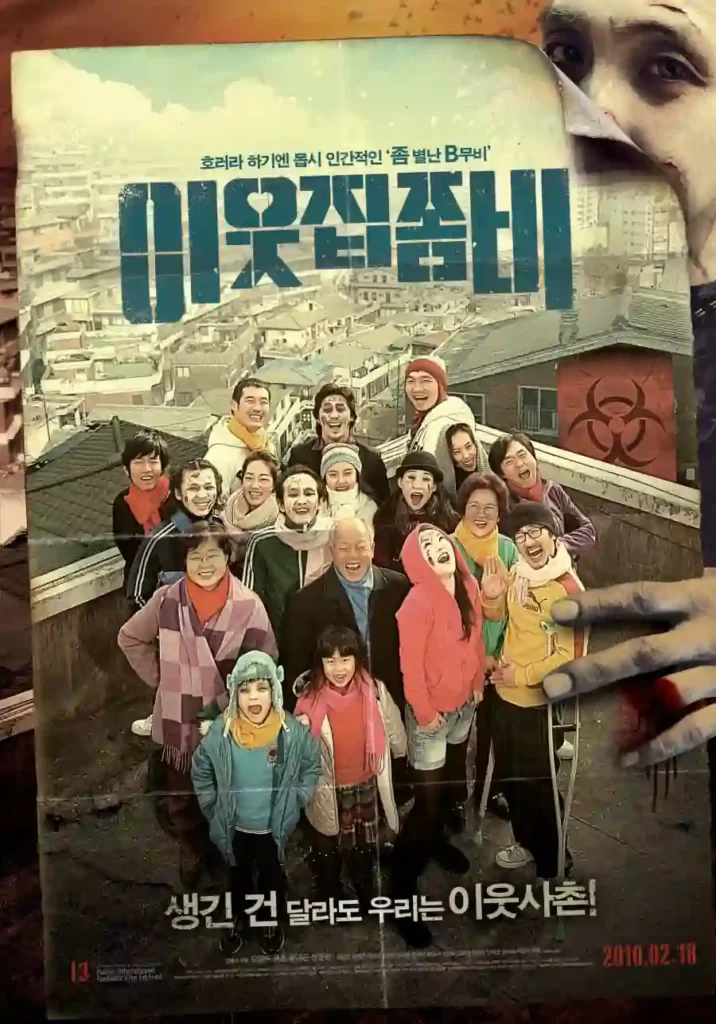 As a zombie virus rapidly spreads through Seoul, the government enforces martial law and orders the elimination of infected individuals. 
Frustrated with the government's lazy tactics, civilians take matters into their own hands and search for a cure while also protecting innocent victims of the virus. 
And, in this city overrun by chaos and destruction, the brave civilians band together to fight for their lives and save their community.
With hope and resilience in their hearts, they will stop at nothing to find a cure and restore peace to their beloved city.
Cast:
Bae Yong Geun as Yong Geun.
Hong Seo Baek as Otaku.
Ha Eun Jung as Eun Jeong.
12. The Odd Family: Zombie On Sale (2019)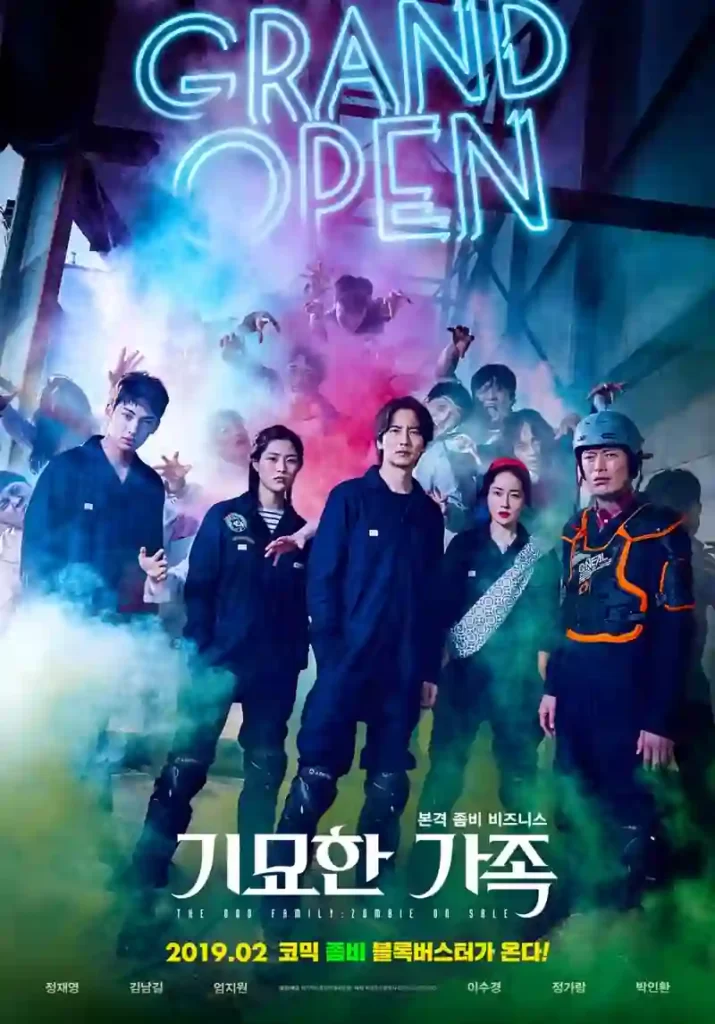 In this unexpected twist on the zombie genre, an experiment gone awry in a pharmaceutical company leads to the creation of a new, sentient zombie. 
After wandering into a peaceful countryside, the zombie meets the Park Family.
Rather than fear the undead creature, the resourceful family sees an opportunity to make some money and decides to provide a home for the zombie. 
The Park Family embraces the zombie as a member of their household, proving that love and compassion can transcend even the boundaries between life and death.
Cast:
Jung Jae Young as Joon Gul.
Kim Nam Gil as Min Gul.
Uhm Ji Won as Nam Joo.
---
In summary, Korean zombie works have been making waves in the horror genre with their unique blend of action, drama, and suspense, offering something for every fan of the undead. 
From the dark and brooding atmosphere of Happiness to the lighthearted humor of Zombie Detective, these 12 works showcase the best of what Korean filmmakers have to offer. 
So, if you're looking for some of the best zombie films and dramas out there, give these works a chance and you might just find your next obsession!
Please check out the related posts if you're in the mood for some more stellar Kdrama recommendations!