It's only April, but I already know this year is going to be awesome for Kdrama lovers.
There are so many new Kdramas to watch this year, and I've watched quite a few that tugged at my heartstrings.
Whether it's romance, thriller, melodrama, or fantasy you like, you'll be spoiled for choice with all the Kdramas that have been released in the past few months.  
So, get ready to be thrilled by these amazing new Kdramas of 2023 that you absolutely NEED to watch right now!
Here are some of the most interesting new Kdramas to watch in 2023 that you can't afford to skip:
1. The Glory (2023).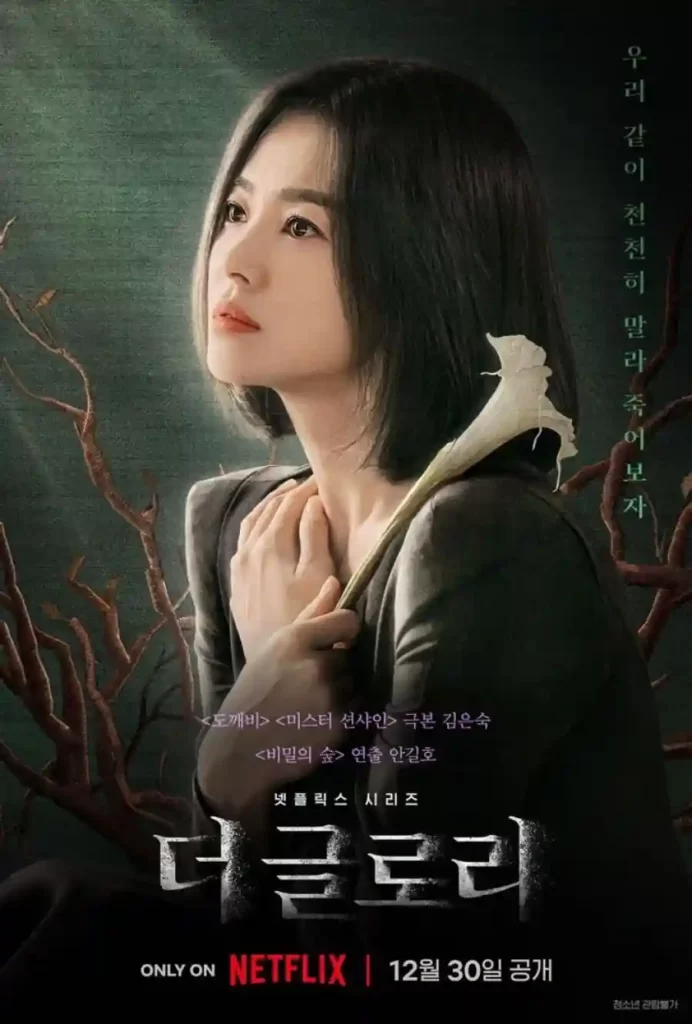 The new 2023 Kdrama about revenge quite literally blew me away, and if you haven't watched it, you should absolutely add it to your watchlist!
When Moon Dong Eun, the female lead, was a teenager, she dreamt of becoming an architect. But, she had to drop out of school after being bullied by a group of delinquents led by Park Yeon Jin. 
Years later, Moon Dong Eun returns to their world as a malevolent homeroom teacher with the goal of confronting Park Yeon Jin and the others who had bullied her in the past – guys, is this good or what?
Personally, I found Song Hye Kyo brilliant. Some labeled this a melodrama, but I politely disagree. It's a drama alright, and you should get ready to hold on to your knickers. This is revenge at its finest (Vincenzo could nevurrr).
Cast:
Song Hye Kyo as Moon Dong Eun
Lee Do Hyun as Joo Yeo Jeon
Lim Ji Yeon as Park Yeon Jin.
2. Crash Course In Romance (2023).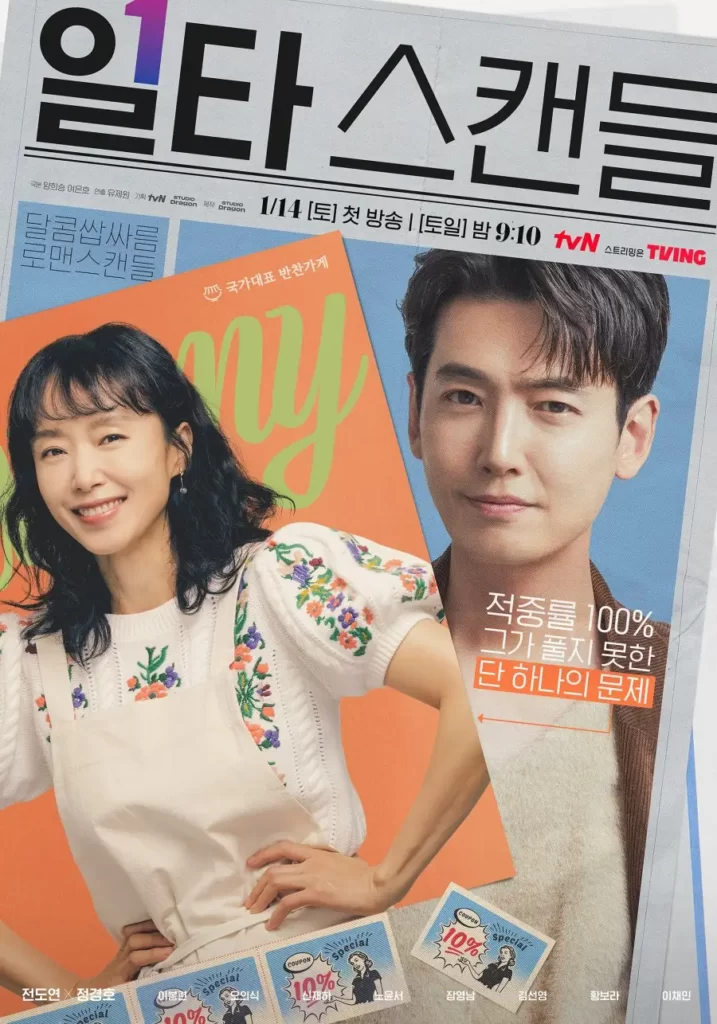 This 2023 romance drama focuses on the romance between Nam Haeng Sun, a retired national athlete, and a successful private instructor, Choi Chi Yeol. 
Their paths cross when Nam Haeng Sun, who had been taking care of her sister's kid for years, finally decided to become more invested in her daughter's education, and, somehow, Chi Yeol becomes her daughter's private lesson teacher. 
With numerous forces vying for his attention and lots of other background drama, Nam Haeng Sun's feelings for Chi Yeol grew and their bond deepened each day.
I'll be the first to tell you that this isn't my favorite of the year, even though it's a boy-falls-first Kdrama, which is my absolute favorite trope in Kdramas. But, a lot of people loved it, and you might want to give it a try too. 
Cast:
Jeon Do Yeon as Nam Haeng Seon.
Jung Kyung Ho as Choi Chi Yeol.
Roh Yoon Seo as Nam Hae Yi.
3. Agency (2023).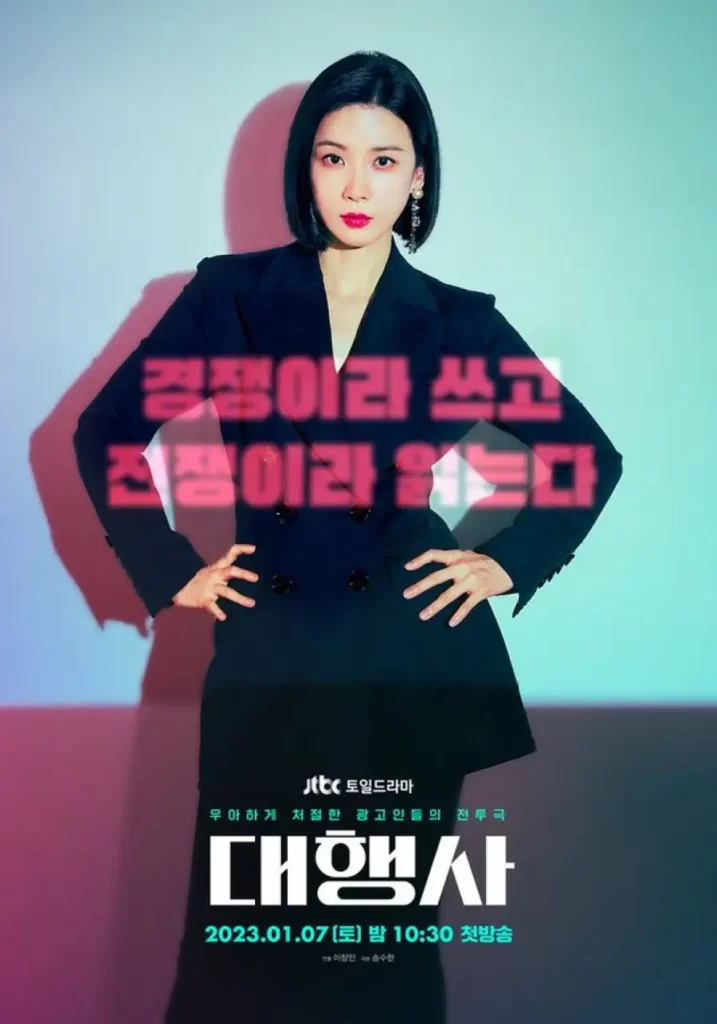 Go Ah In doesn't come from a wealthy family, and she doesn't have a lot of backers, but she's her unbreakable determination and zeal for success are her primary driving forces.
She's a boss (not a girl-boss, please) through and through, and I literally got shivers in some scenes. 
The drama shows her journey toward success as she becomes the first female executive of a major advertising agency.
And, if you like office politics and all the scheming that goes on in the corporate world, then you're going to love this drama. 
Cast:
Lee Bo Young as Go Ah In.
Son Na Eun as Kang Han Na.
Jo Sung Ha as Choi Chang Su.
4. Delivery Man (2023).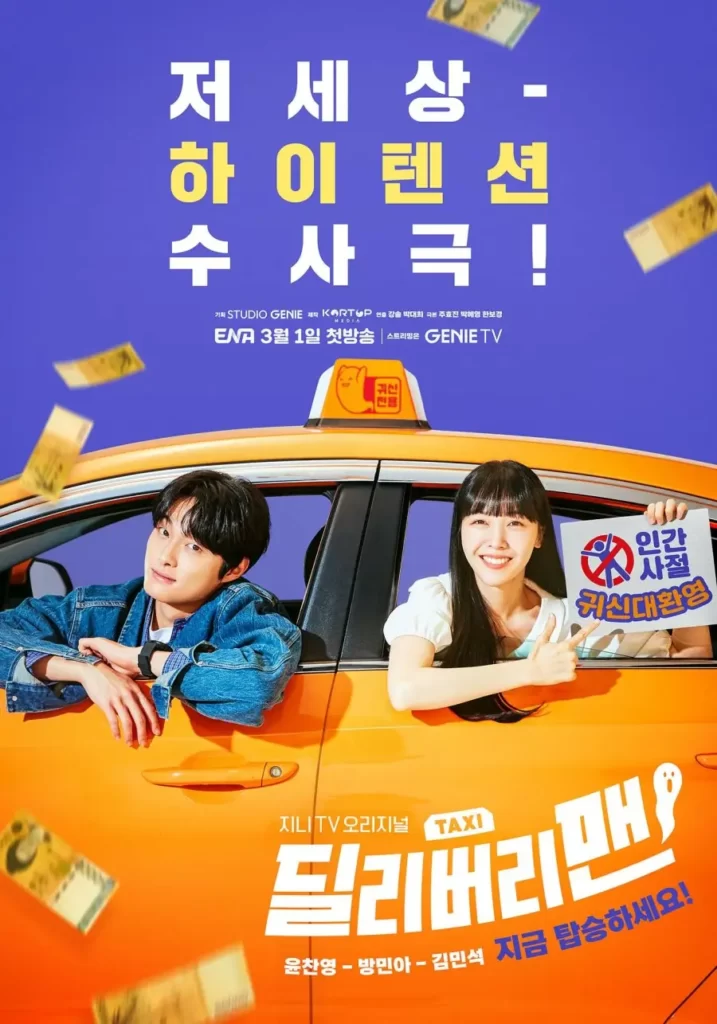 Seo Young Min (played by Yoon Chan Young) is a cab driver who, together with Min Ah, a ghost who's mysteriously attached to a phone he found in his taxi, runs a taxi that caters primarily to ghosts.  
Together they help their ghost-passengers fulfill their last wishes while making some sweet cash on the side and trying to figure out the mystery around Min Ah and his mother's death.
This is another really good new Kdrama to watch that's just full of fun moments. While I feel like the chemistry between the leads could have been improved, it wasn't the worst either and I genuinely enjoyed it. 
Cast: 
Yoon Chan Young as Seo Young Min.
Bang Min Ah as Kang Ji Hyun.
Kim Min Seok as Do Gyu Jin.
5. Love To Hate You (2023).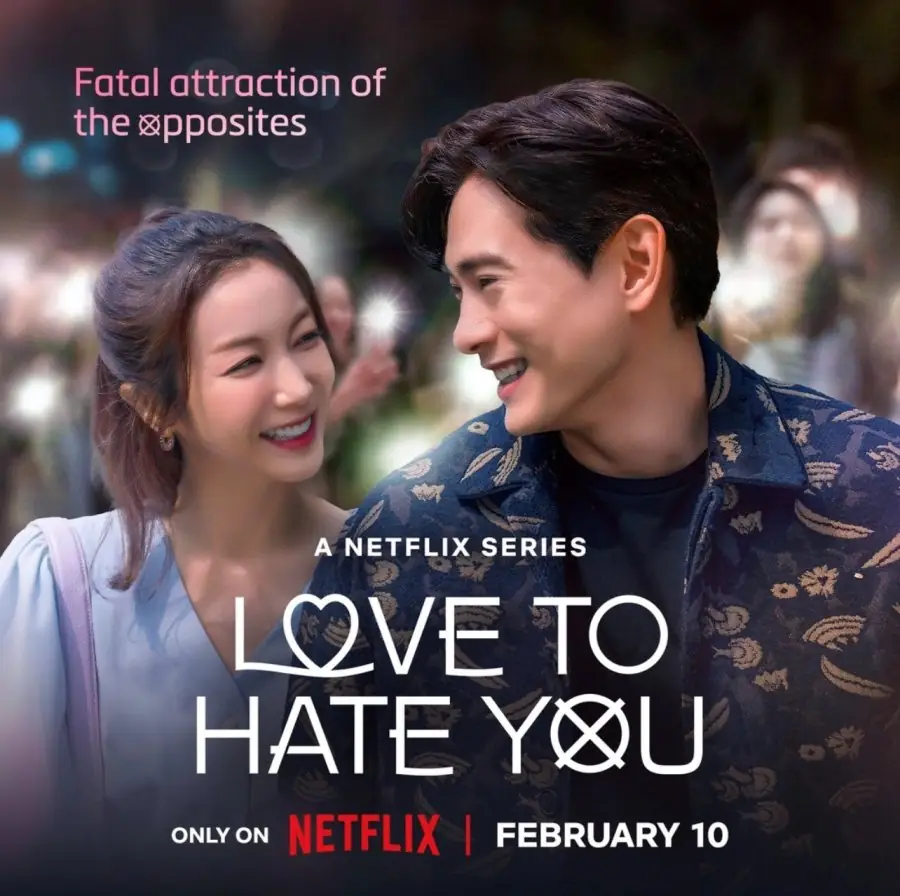 Nam Kang Ho (played by Teo Yoo) is a popular actor who has a real problem with women, and Mi Ran (Kim Ok Vin) is an attorney who refuses to lose to any man – she hates misogynistic men and does what she can to kick them down a peg. 
When they first meet, Kang Ho's comments about a female co-star really get under Mi Ran's skin, and she trips him on their second meeting. 
But things get really, really interesting when Mi Ran gets hired at Kang Ho's management firm and she starts suspecting that he's a pervert after a funny incident, so she does everything to keep tabs on him.
I finished this entire drama in a day, and it was amazing. The chemistry between the leads, the second couple, the bromance, the totally awesome female lead, the adorable male lead, the very storyline – there was just a whole lot to love about this drama, and I'm sure you'll enjoy this if you're looking for a new Kdrama to watch. 
Cast: 
Kim Ok Vin as Yeo Mi Ran.
Teo Yoo as Nam Kang Ho.
Kim Ji Hoon as Do Won Jun.
6. Our Blooming Youth (2023).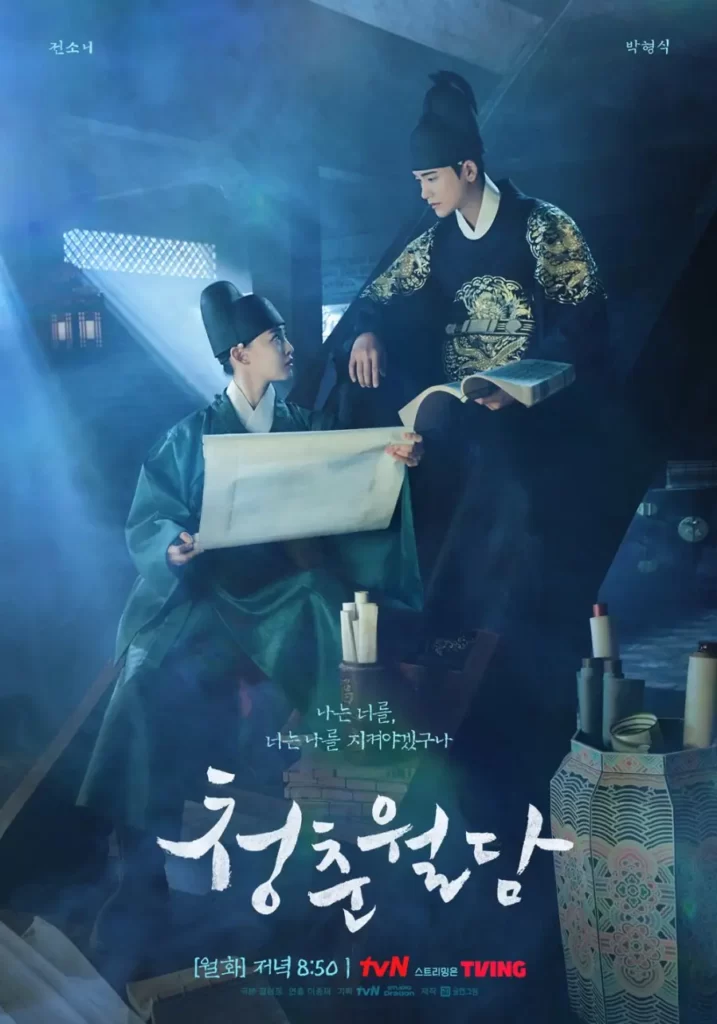 Min Jae Yi (Jeon So Nee) is all set to marry the son of a powerful nobleman, but her life turns upside down in just one day when her family is brutally murdered and she is accused of their death. 
Right before her father died, he told her to protect the crown prince (Park Hyung Sik) and she does this by approaching him and convincing him to keep her at his side as an eunuch as she solves crimes and helps him break a ghost curse. 
Our Blooming Youth is another really good historical Kdrama released in 2023 that you should watch right now. The romance in this one isn't the best, but, Hyung Sik is here – need I say more?  
Cast:
Park Hyung Sik as Lee Hwan.
Jeon So Nee as Min Jae Yi.
Pyo Ye Jin as Ga Ram. 
7. Brain Works (2023).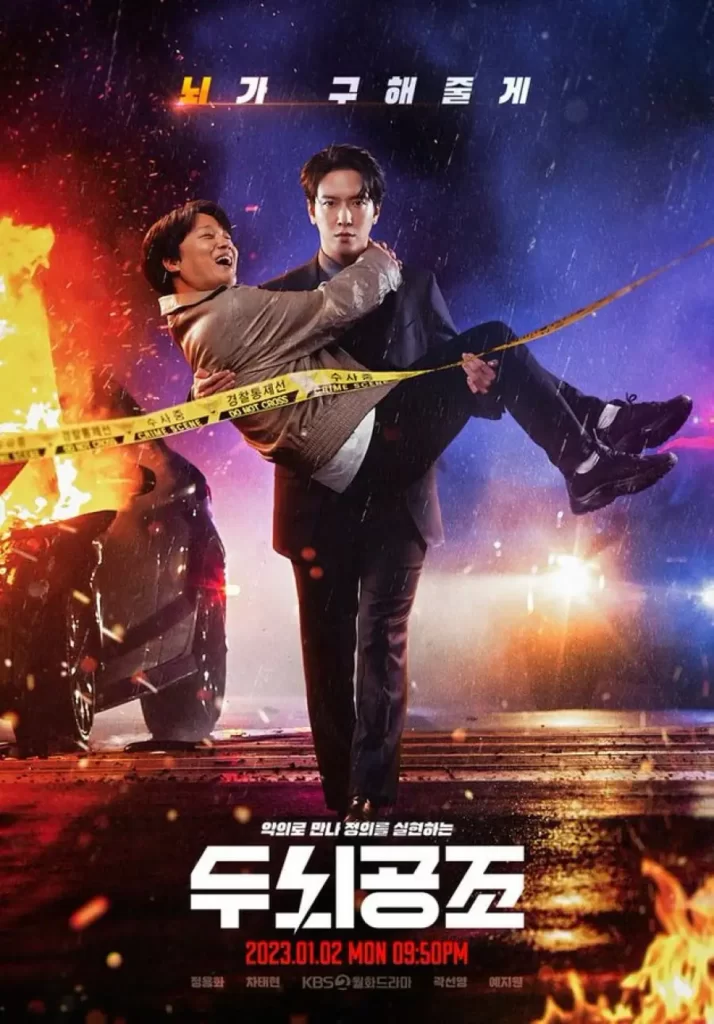 Geum Myung Se (played by Cha Tae Hyun) is often accused of being corrupt, but in reality, he's committed to fighting for justice and the truth. And, Shin Ha Ru (played by Jung Yong Hwa) comes from a long line of doctors and a wealthy family. 
Despite their different backgrounds, the two team up to crack a case about a rare brain disease, with the help of Seol So Jung (Kwak Sun Young), a hypnotic investigator.
If you're looking for a new thriller Kdrama to watch that's sure to set your heart pumping faster than usual, then Brain Works should be on your watchlist. This new Kdrama delivers on everything from the action to the scenery to the acting. 
Cast:
Jung Yong Hwa as Shin Ha Ru.
Cha Tae Hyun as Geum Myung Se.
Kwak Sun Young as Seol So Jung.
8. Pandora: Beneath The Paradise (2023).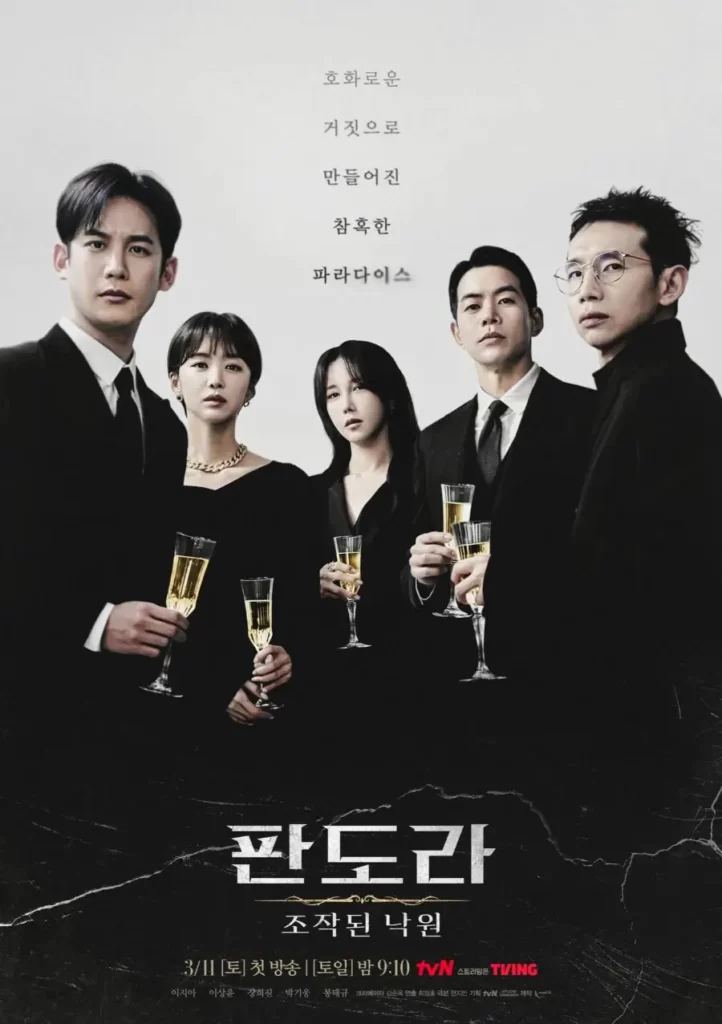 Hong Tae Ra (Lee Ji Ah) is content with her life until her traumatic past resurfaces, fueling her desire for revenge. Her husband, Pyo Jae Hyun (played by Lee Sang Yoon), is a well-respected figure in the IT industry and a promising candidate for the presidency, and to protect her family and get her revenge, Tae Ra decides to help her husband's political campaign and potentially become the first lady of South Korea. 
I started this drama for one reason and one reason alone: Lee Ji Ah. I feel she was fantastic in Penthouse and I just knew she was going to shine in this new Kdrama – which she did to perfection. If you're still on the fence about this drama, get off it. 
Cast:
Lee Ji Ah as Hong Tae Ra.
Lee Sang Yoon as Pyo Jae Hyun.
Jang Hee Jin as Go Hae Soo.
9. Island (2022).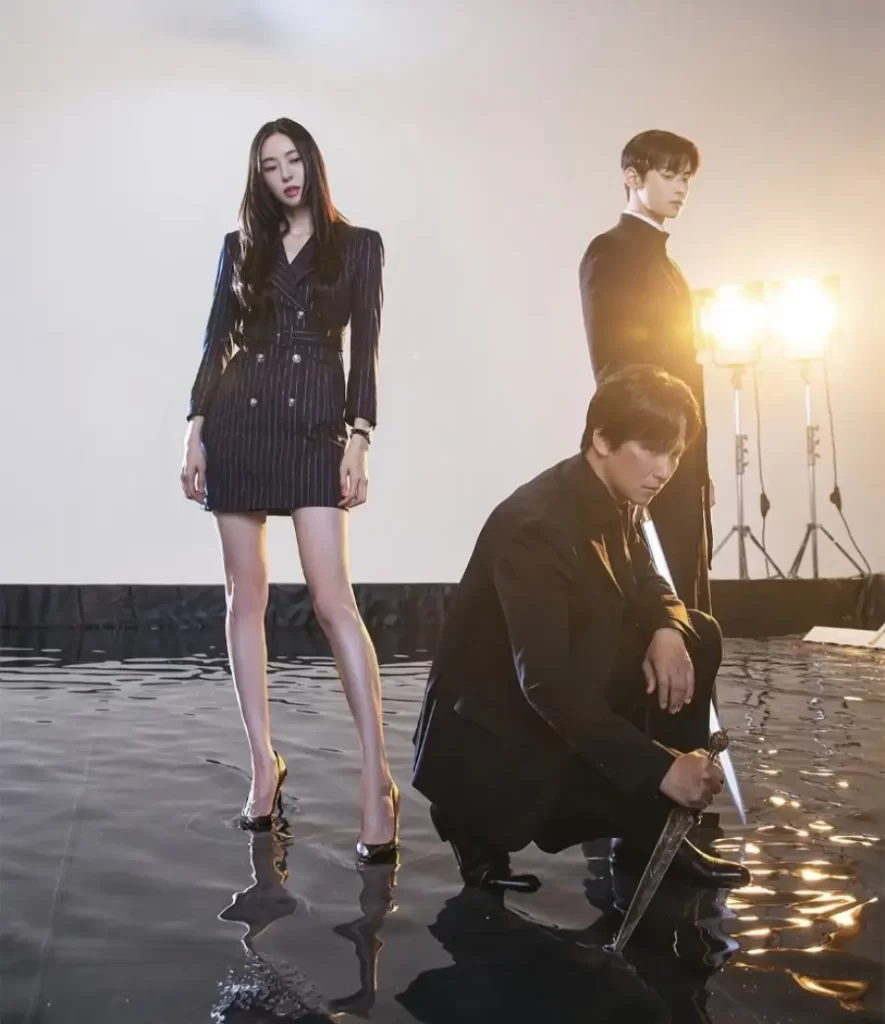 In this Kdrama, Won Mi Ho (played by Lee Da Hee) is sent by her father to Jeju Island to become a high-school teacher as a little punishment and she's told to become a high-school teacher. 
But she soon (right at the airport, in fact) discovers that the island is haunted by evil spirits that roam freely – and, for some reason, they're all out to get her. 
To fight these supernatural beings, she teams up with Van (Kim Nam Gil) and Johan (Cha Eun Woo).
Kim Nam Gil is the eternal love of my life, and he was even more amazing in this drama. I've been singing his praises since I watched Live Up To Your Name, and I'm so glad he was given this role where he's just his unapologetic spectacular self.
The fighting scenes in this Kdrama were sublime, and if you need a new action and supernatural Kdrama to watch this year, then you're going to love every episode of Island.
Cast:
Kim Nam Gil as Van.
Lee Da Hee as Won Mi Ho / Wonjeong.
Cha Eun Woo as Priest Johan.
10. Payback: Money and Power (2023).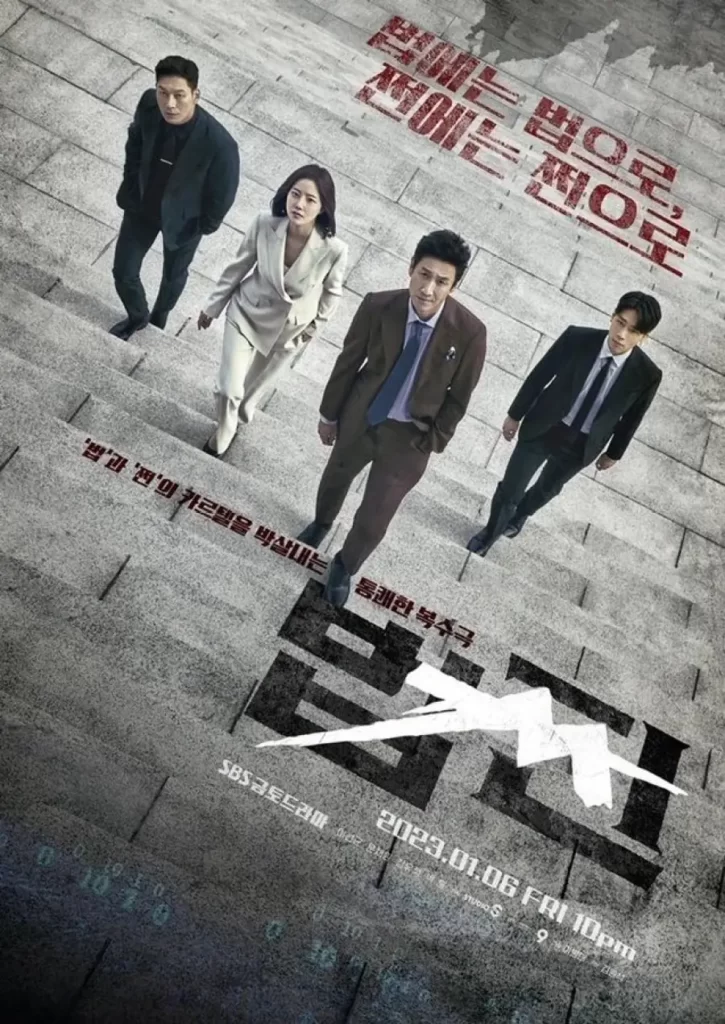 Eun Yong (played by Lee Sun Kyun) is a financial capitalist who's had his fair share of tough times, having lost his parents and spent time in juvenile detention. 
But on a train one day, he joins Joon Kyung, a rebellious teen, to take down a group of bad guys. Later, Joon Kyung's mother sees Eun Yong's potential and takes him in as part of their family. 
Fast forward a few years, Eun Yong is abroad running his businesses when he learns of Joon Kyung's mother's suicide and her daughter's arrest. He returns to Korea to protect his family, teaming up with his nephew, Jang Tae Chun, to take on the corrupt elite and bring justice to those in power.
While watching this, I couldn't help but think about Vagabond. For sure, there's way less action here and this drama is sort of from the angle of the anti-hero, but it was just as lush as Vagabond. If you're keen on seeing criminals and criminal wannabes get down and dirty, then you're going to love, love, love this new drama. 
Cast:
Lee Sun Kyun as Eun Yong.
Moon Chae Won as Park Joon Kyung.
Kang Yoo Seok as Jang Tae Chun.
11. Strangers Again (2023).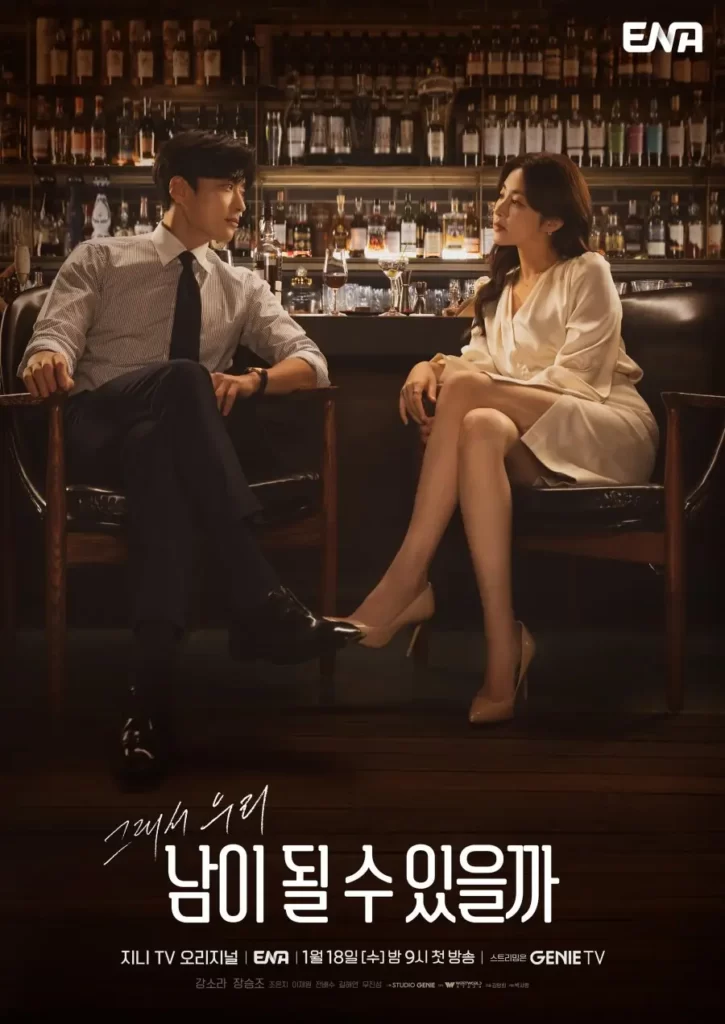 Oh Ha Ra (Kang So Ra) is a top-notch lawyer, well-known for handling divorce cases, and she has been divorced from her husband and colleague, Goo Eun Beom (Jang Seung Jo). 
However, their paths cross again when they end up working together, and as they work together, they must navigate through the complexities of their past relationship and personal issues that they haven't resolved. 
Loved this new Kdrama for two things: I love legal Kdramas, and the setup was frankly amazing. I try not to use the term "power couple" loosely, but it was well-deserved here – these two were the epitome of romance at its finest between two learned people.  
Cast:
Kang So Ra as Oh Ha Ra.
Jang Seung Jo as Goo Eun Beom.
Jo Eun Ji as Kang Bi Chwi.
12. The Heavenly Idol (2023).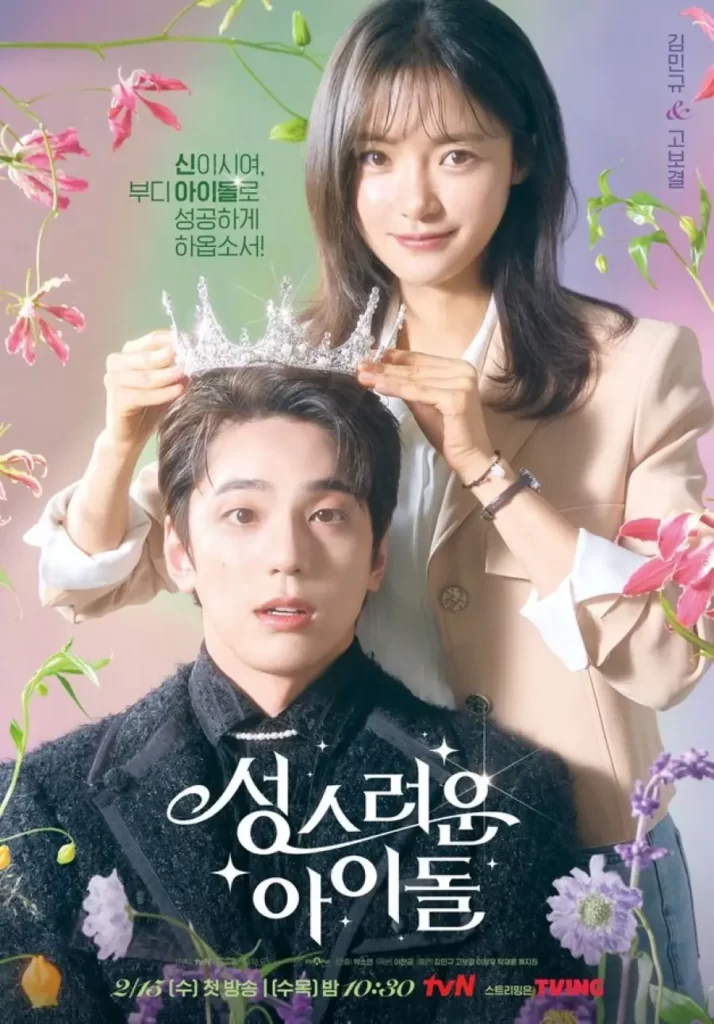 In an alternate universe, Pontifex Rembrary (played by Kim Min Kyu) fights against evil forces using his divine abilities. However, he suddenly finds himself in modern-day South Korea, inhabiting the body of Woo Yeon Woo, a member of a washed-up K-pop group. 
Meanwhile, the real Woo Yeon Woo has been transported to Rembrary's world. When Rembrary is able to communicate with Yeon Woo, the latter says he will only come back to his body when Rembrary makes their group popular and if he wins Actor of the Year. 
And, as Rembrary sets out to do these things, he struggles to adjust to life in a new world, and it doesn't help that his foe from the other world follows him here and is bent on stopping his progress. 
I tell this to anyone willing to listen, but I really feel that this Kdrama had the neatest ending. I'm always wary of anything about different worlds because the ending is always a letdown (refer to King: Eternal Monarch), but things wrapped up in this drama so neatly and it was almost unbelievable. 
Cast:
Kim Min Kyu as Rembrary / Woo Yeon Woo.
Go Bo Gyeol as Kim Dal.
Lee Jang Woo as the Evil One (Mawang).
13. Call It Love (2023).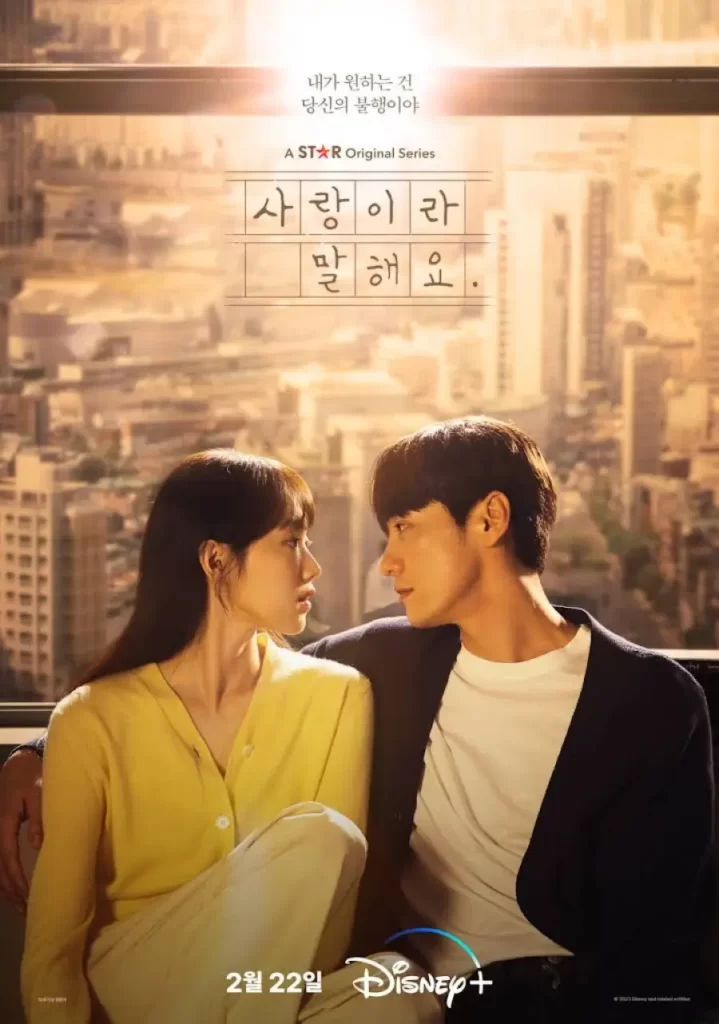 Shim Woo Joo (Lee Sung Kyung) was devastated when she discovered her father's infidelity as a teenager, and the literal nail in the coffin was when he moved out of their home and started living with his mistress. 
Years later, Woo Joo has settled into normalcy with her two siblings, but her father dies leaving the house they live in to their stepmother who then kicks them out and into the streets. 
Homeless and determined to seek revenge, Woo Joo sets out to teach her step-brother Han Dong Jin (Kim Young Kwang) a lesson, but somehow ends up falling in love with him. 
This might be a sin to some, but I don't watch too many melodramas and not for a lack of trying. But, an online friend bullied me into watching Call It Love and it was fantastic. I don't want to give away too much, but if you're looking for a new Kdrama to watch right now, then you might enjoy Call It Love.  
Cast:
Lee Sung Kyung as Shim Woo Joo.
Kim Young Kwang as Han Dong Jin.
Sung Joon as Yoon Jun.
14. Our Dating Sim (2023).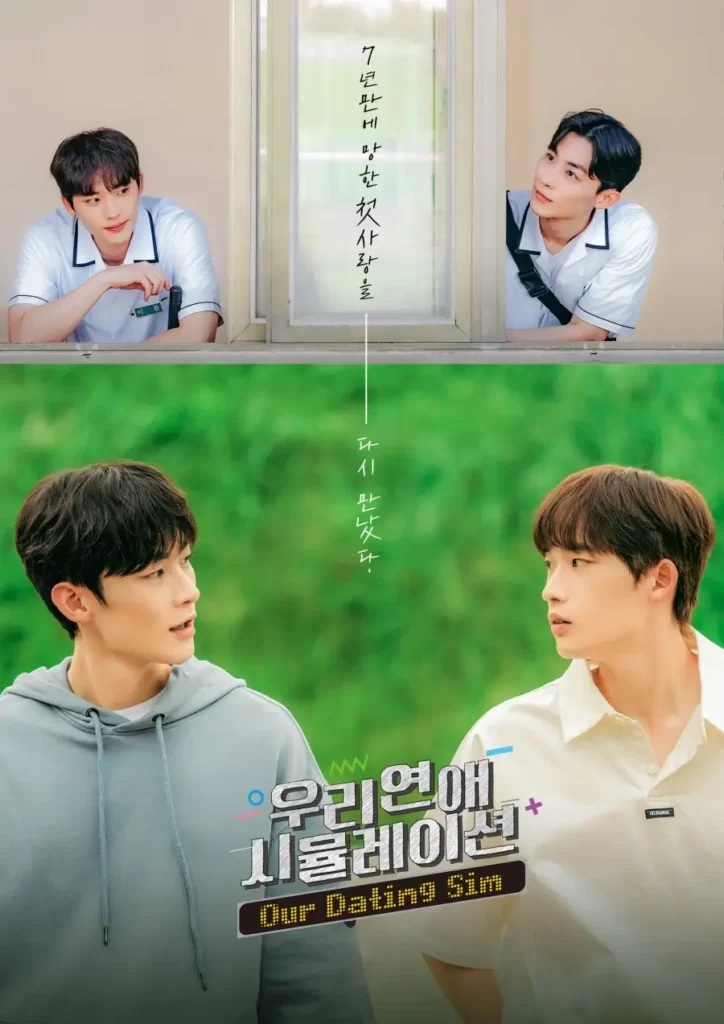 Lee Wan (Lee Jong Hyuk) and Shin Ki Tae (Lee Seung Gyu) were inseparable best friends in high school, but when Lee Wan confessed his love, Ki Tae couldn't handle it and they drifted apart. 
Years later, fate brings them together during a job interview at a gaming company where Ki Tae is employed. As they work together on a dating simulation game, the long-buried feelings start to resurface. 
This new heartwarming BL romantic drama had me in my feelings, and I absolutely loved it. The chemistry between the leads was magnetic and I enjoyed how the work environment sort of influenced their feelings for each other. 
Cast:
Lee Seung Gyu as Shin Ki Tae.
Lee Jong Hyuk as Lee Wan.
Yu Seong Yong Producer Ahn.
15. Oasis (2023).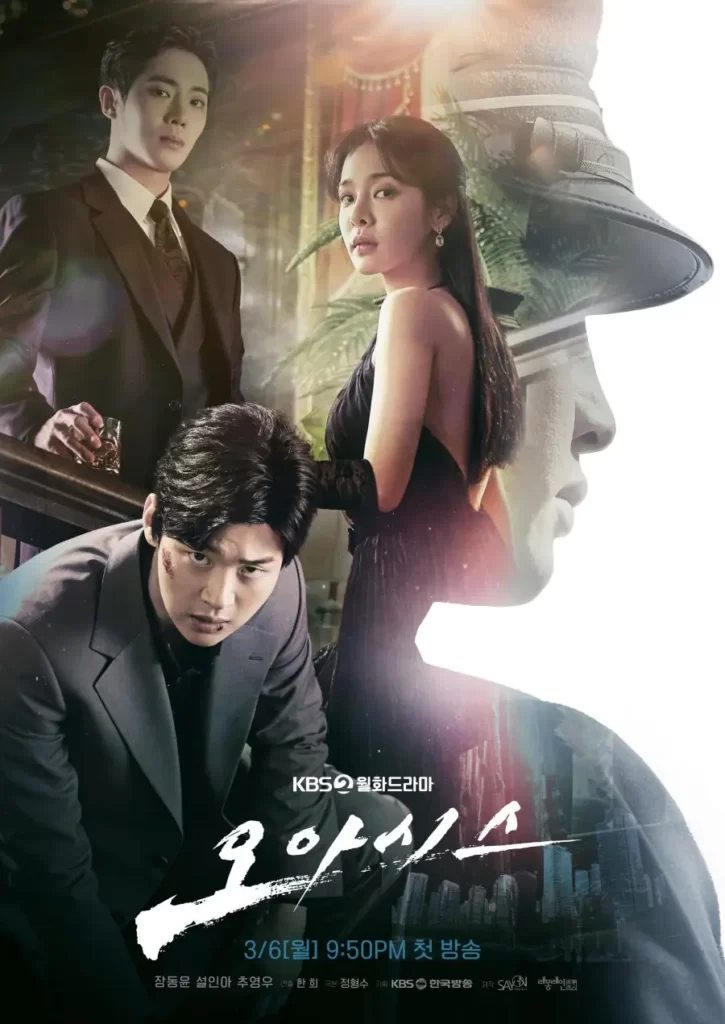 The drama is set in 1980s South Korea during a time of social unrest and political instability. Oh Jung Shin (Seol In Ah) is a new student who becomes fast friends with Lee Doo Hak (Jang Dong Yoon) and Choi Cheol Woong (Choo Young Woo). 
But, things become complicated when both Doo Hak and Cheol Woong fall for Jung Shin. The trio finds themselves in an unexpected situation when Doo Hak turns to violence after a tragedy with his family during the ongoing political turmoil, and the drama follows their struggle to fight for their love, friendship, and dreams amidst tumultuous times.
This is another spectacular Kdrama you shouldn't miss out on if you're in the mood for something new this year.
Cast:
Jang Dong Yoon as Lee Doo Hak.
Seol In Ah as Oh Jung Shin.
Choo Young Woo as Choi Chul Woong.
16. Divorce Attorney Shin (2023).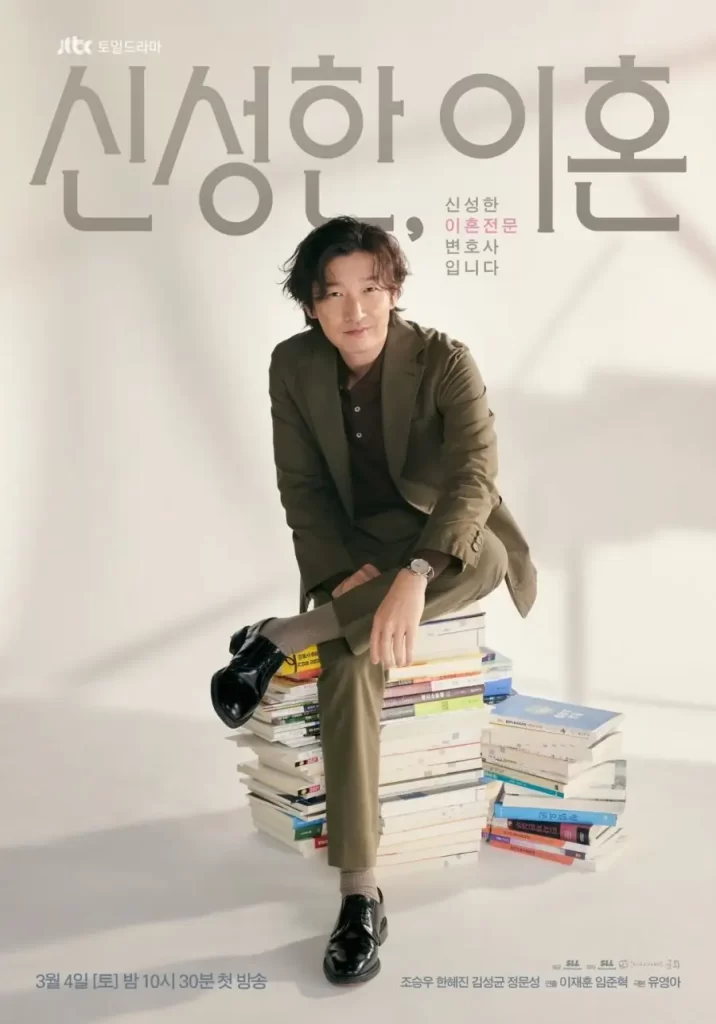 Shin Sung Han (Cho Seung Woo) is a divorce lawyer, whose job is to untangle the messiest and most complicated situations. Despite his name, which means sacred, his job requires him to deal with the most delicate and sensitive matters. 
And, the drama follows his journey as he navigates through the complex cases while handling his equally complicated clients. This is another fantastic new legal Kdrama you should watch that will make you think and think and think. 
Cast:
Cho Seung Woo as Shin Sung Han.
Han Hye Jin as Lee Seo Jin.
Kim Sung Kyun as Jang Hyeong Geun.
17. Kokdu: Season of Deity (2023).
Kokdu (Kim Jung Hyun) is a grim reaper who has been tasked with punishing humanity every 99 years. This time, he possesses the body of a young doctor named Do Jin Woo (Kim Jung Hyun) and meets Han Gye Jeol (Im Soo Hyang), who has mysterious powers. 
As Kokdu struggles to fulfill his duties as a grim reaper in his new body, he finds himself drawn to Gye Jeol in ways he never expected. Aside from Heavenly Idol, this is another new fantasy Kdrama released in 2023 that's absolutely bonkers. Jung Hyun was awesome in Welcome To Waikiki, so I already knew what I was expecting here – and he delivered. 
Cast:
Kim Jung Hyun as Kokdu / Do Jin Woo.
Im Soo Hyang as Han Gye Jeol / Seol Hee.
Kim Da Som as Tae Jeong Won.
18. All The Liquors (2023).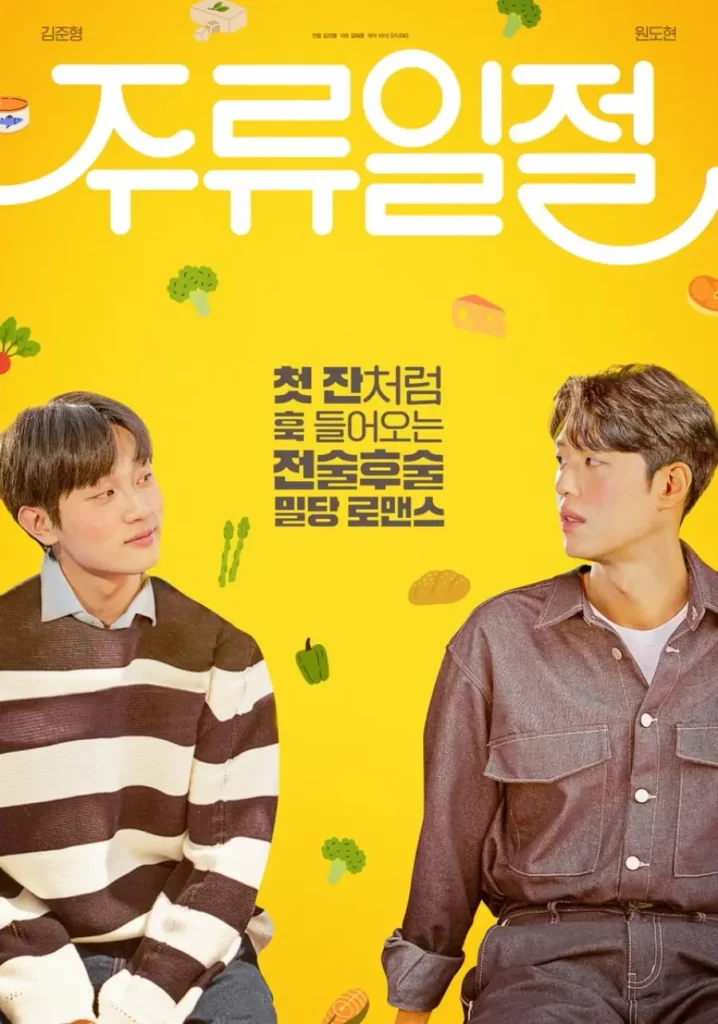 Han Ji Yu (Kim Jun Hyung) is a marketing professional who works for a liquor company, and he's told to beg Chef Park Ki Hoon (Won Do Hyun) to sell alcohol in his restaurant. But Park Ki Hoon, who hates liquor, rejects Han Ji Yu's proposal. And, as Han Ji Yu tries to win him over, they start to develop feelings for each other. 
This new BL romantic Kdrama is sure to give you the feels if you're in the mood for something light and sublime. Everything from the way the romance was charted to the characters themselves felt incredibly natural, and I loved every second of it. 
Cast:
Kim Jun Hyung as Han Ji Yu.
Won Do Hyun as Park Ki Hoon.
Jeong Ho Gyun as Ji Hoon.
---
I am already looking forward to the releases slotted for future months, and I just know they're going to be just as good. 
I generally stay away from ongoing Kdramas unless I absolutely cannot resist, and after watching the first few episodes of Joseon Attorney: A Morality, Doctor Cha, and The Secret Romantic Guesthouse, I already know they're going to be just as amazing!
If you're looking for some more recommendations, here are a few posts you might enjoy: 
1. 25 Best Underrated Legal Kdramas to Watch Today!
2. 25 Best BL Kdramas to add to your watchlist!
3. 24 Heartwarming High School Korean Dramas That You Should Watch Today!