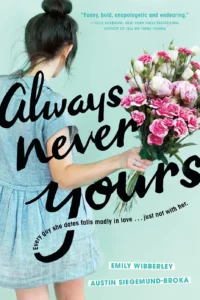 Review: Always Never Yours by Emily Wibberley and Austin Siegemund-Broka
Book Information
Title: Always Never Yours.
Author: Emily Wibberley and Austin Siegemund-Broka.
Publisher: Penguin Books.
Publishing date: May 22, 2018.
ISBN: 9780451479846
Language: English
Genre: Romance, Young-adult Contemporary Romance.
Rating: ⭐⭐⭐⭐⭐/5
Reviewer name: Preye.
Synopsis
Shouldn't a girl get to star in her own love story?
Seventeen-year-old Megan Harper is about due for her next sweeping romance. It's inevitable—each of her relationships starts with the perfect guy and ends with him falling in love . . . with someone else. But instead of feeling sorry for herself, Megan focuses on pursuing her next fling, directing theater, and fulfilling her dream college's acting requirement in the smallest role possible.
So when she's cast as Juliet (yes, that Juliet) in her high school's production, it's a complete nightmare. Megan's not an actress, and she's used to being upstaged—both in and out of the theater. In fact, with her mom off in Texas and her dad remarried and on to baby #2 with his new wife, Megan worries that, just like her exes, her family is moving on without her.
Then she meets Owen Okita, an aspiring playwright inspired by Rosaline from Shakespeare's R+J. A character who, like Megan, knows a thing or two about short-lived relationships. Megan agrees to help Owen with his play in exchange for help catching the eye of a sexy stagehand/potential new boyfriend. Yet Megan finds herself growing closer to Owen, and wonders if he could be the Romeo she never expected.
In their fresh and funny debut, Emily Wibberly and Austin Siegemund-Broka break down the high school drama to find there's always room for familial love, romantic love, and—most importantly—self-love.
"I love you, like, really love you," I begin to ramble. "Like, a lot. Like, so much. So much that if you were to do something stupid like climb my nonexistent balcony in the middle of the night or compare your lips to two blushing pilgrims or something nonsensical like that—I'd still want to kiss your face off."
The first time I read Always Never Yours, I shed a few tears; gave a 5-star rating on Goodreads; thought about it daily for a few weeks; and eventually accepted that Owen and Megan—the male and female protagonists—would always be a part of my life.
The second time, I ran through all the stages of fanatic adoration—with the added bonus of finally making bookish friends, so I could gush about it all the time—and came to pretty much the same conclusion.
This is my third read and I would like to say that my initial feelings have dimmed, but that would be a lie. I'm still very much in awe of this beautiful book and its adorable characters.
Inspired by the lives of the authors, this fantastic YA spin on the life of Rosalie—Romoe's jilted lover from Romeo and Juliet—is peppered with enough Shakespearean plays, witty dialogues, and lots of heart. Losing myself was quite easy when I started it for the third time. There's something incredibly homey about reading a book you love.
I believe I just might sound like a rambling mess, but here's the thing: who hasn't read a book they loved so much they couldn't pen coherent thoughts about it? I don't think anybody has. For now, I'm signing off with a gentle—okay, maybe not too gentle—prodding to go read this book. Maybe one day I might read it and not be so overwhelmed with love that my review actually makes sense, but until then, I bid you adieu.
Recommended:
1. You like Shakespeare.
2. You like YA-romance
3. You like outspoken female leads.
4. You have always liked the background characters.
5. You have the second-lead syndrome.