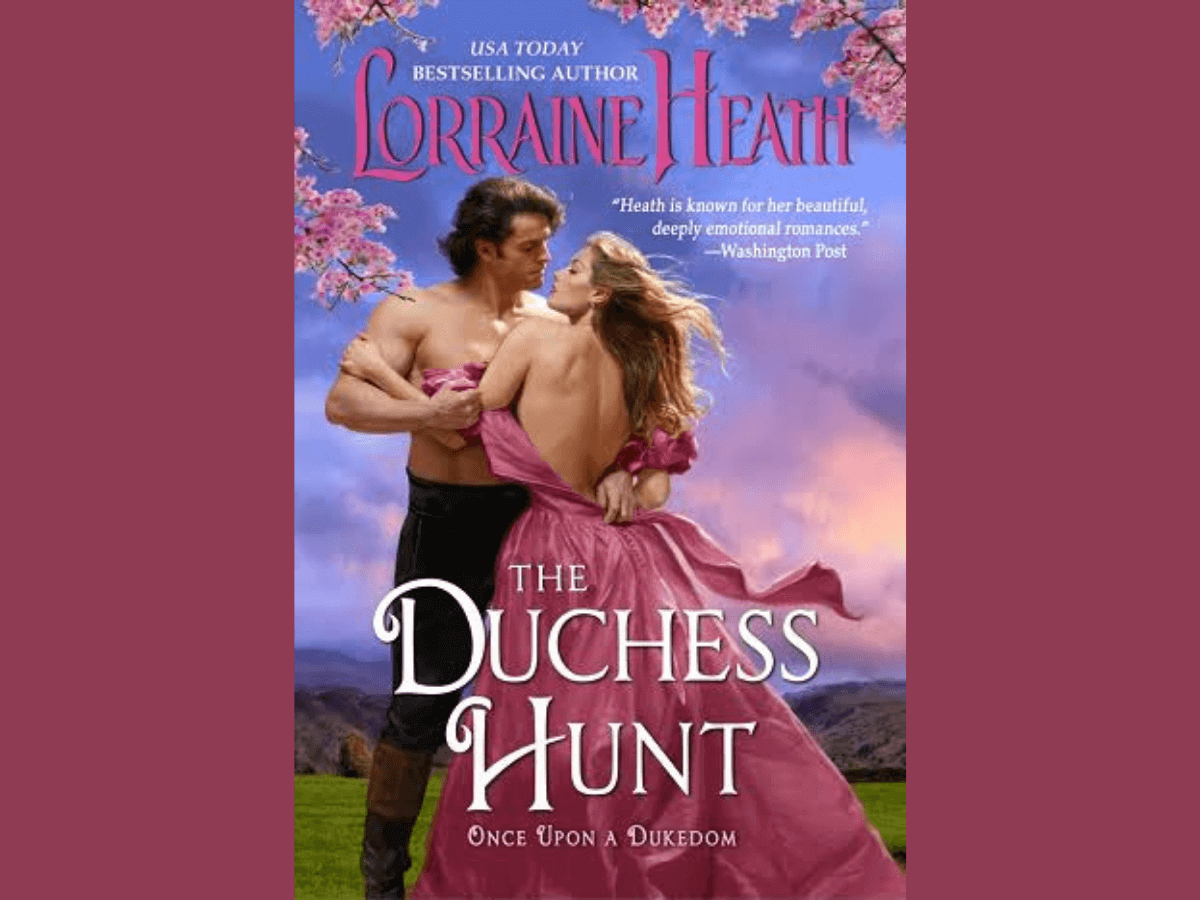 Review: The Duchess Hunt by Lorraine Heath
Title: The Duchess Hunt
Author: Lorraine Heath
Genre: Historical Romance
Format: Ebook
Source: Playbooks
Rating: 4/5
Lots of love, heart, and laughter in this wonderful novel. With a host of adorable, witty characters and a thrilling storyline, the author has crafted a love story for the ages. Definitely worth a read.
Hugh Brinsley-Norton, the Duke of Kingsland, is in need of a duchess. However, restoring the dukedom—left in ruins by his father—to its former glory demands all his time, with little room for sentiment. He places an advert encouraging the single ladies of the ton to write why they should be the one chosen, and leaves it to his efficient secretary to select his future wife.

If there exists a more unpleasant task in the world than deciding who is to marry the man you love, Penelope Pettypeace certainly can't imagine what it might be. Still, she is determined to find the perfect bride for her clueless, yet ruthlessly charming employer.

But when an anonymous note threatens to reveal truths best hidden, Kingsland has no choice but to confront the danger with Penelope at his side. Beguiled by the strong-willed, courageous beauty, he realizes he's willing to risk everything, including his heart, to keep her safe within his arms. Could it be the duchess he's hunting for has been in front of him all along?
My favorite thing about romance genre is perhaps what people hate about it—predictability. I love reading a book and being able to predict the ending; reading a book and being assured that everyone would have their happy ending. The ending doesn't necessarily have to be what I scripted in my head, but the fact that I know that there will be a satisfactory ending is what keeps me going while reading.
Did I just lose four hours of sleep to finish this book? Yes I did. Do I regret it? Absolutely not. This book is perfect and sweet and I fell in love with all the characters (aside the nasty numbskull that tried to blackmail the female protagonist). Lorraine Heath is lauded as an excellent novelist and I see why she deserves all her flowers. I'm now a proud fan. This might be my first book from this excellent author but it won't be my last.
Ever read a book that gave you chills? This was IT for me. I smiled like a clown and practically willed my bladder to stop functioning so I wouldn't miss a minute of this gorgeous story. Hugh and Penelope were a lovable couple, and with the opinionated helpers, I was gearing for this to be a " "beauty-and-the-beast-esque" story but it wasn't.
Is it obvious I really loved this book??
I like that the author didn't skimp on the details or neglect to give her characters any sort of development. She explores controversial topics and treats them so delicately it burned to be a witness. Even more brilliant is the way human fraility is portrayed in the book. She depicts the fraility of man and how prone he is to take the wrong path for a just cause(or with a sensible justification).
I didn't know this was a series before I read it and I'll be reading the first book fasho. I also need to mention that as far as proposals go, Hugh's proposal is by the far the most romantic and most sweet proposal I have ever read. Trust me, I have read a lot of books. Here it is..
"For you, Penelope, I will go to a knee. I'll go down on both if you prefer." He took her hand, and she wondered if he could feel the trembling in it, the quaking that was coursing through her entire body. "I asked you to select a woman to be my duchess, and you chose wrong. But how can I blame you when even I didn't comprehend that she has been with me the entire time? I would willingly die for you. I will kill for you . . . I will live for you. Miss Penelope Pettypeace, you shall always be the love of my life, the echo of my soul. Will you grant me the greatest honor by becoming my wife, my duchess?"

The Duchess Deal By Lorraine Heath, Page 294
1…. 2…. 3…. Swoon!!! It doesn't end there
"I know what worries you, Penelope, but I give you my solemn oath that there is nothing we cannot face together and conquer. You are my strength, my rock. That it took me so long to realize the depth of my feelings for you is rather unconscionable. I always thought I had no heart, but you proved me wrong because when I realized you were gone, that I had wounded you so much that you would leave, it broke, shattered into a thousand pieces, each one with your name etched upon it. You own me, heart and soul. I shall devote the remainder of my life to ensuring you never have cause to doubt the depth of my love for you."

The Duchess Deal By Lorraine Heath, Page 295
And then she asks him, "are you sure?" No, madam, are you loco?? I would have dragged him to the altar at this point. They do get married so atleast everything worked out. I really loved this book! Have you read it? What did you think??
---
ABOUT THE AUTHOR
Click to expand

Lorraine Heath has always had a soft spot for emotional love stories. No doubt because growing up, watching movies with her mom, she was taught that the best movies "won't half make you cry."​​​​​​​

She is the daughter of a British beauty (her mom won second place in a beauty contest sponsored by Max Factor® during which she received a kiss from Caesar Romero, (the Joker on the original Batman TV series) and a Texan who was stationed at Bovingdon while serving in the air force. Lorraine was born in Watford, Hertfordshire, England, but soon after moved to Texas. Her "dual" nationality has given her a love for all things British and Texan, and she enjoys weaving both heritages through her stories.

When she received her BA degree in psychology from the University of Texas, she had no idea she had gained a foundation that would help her to create believable characters—characters that are often described as "real people." She began her career writing training manuals and computer code for the IRS, but something was always missing. When she read a romance novel, she became not only hooked on the genre, but quickly realized what her writing lacked: rebels, scoundrels, and rogues. She's been writing about them ever since.

Her work has been recognized with numerous industry awards including RWA's RITA®. Her novels have appeared on bestseller lists, including ​​​​​​​USA TODAY and the New York Times.

The author of more than 60 novels, she writes historical and contemporary romance for adults and historical romance for teen readers.

Under the names Rachel Hawthorne and Jade Parker, she writes popular contemporary, historical, and paranormal r​​omance for teens readers. She also writes young adult novels with her son under the name J. A. London.