It's always exciting to see new Korean movies hit the big screen, and this year is no exception. 
There's already a diverse range of genres and styles that have been released, and these films offer a glimpse into the creativity and talent of Korean filmmakers. 
Whether you're in the mood for a high-octane action movie or a poignant character study, I know you're going to find something to love in these recent releases. 
Here are 21 of the must-see Korean movies that have already been released in 2023:
1. Unlocked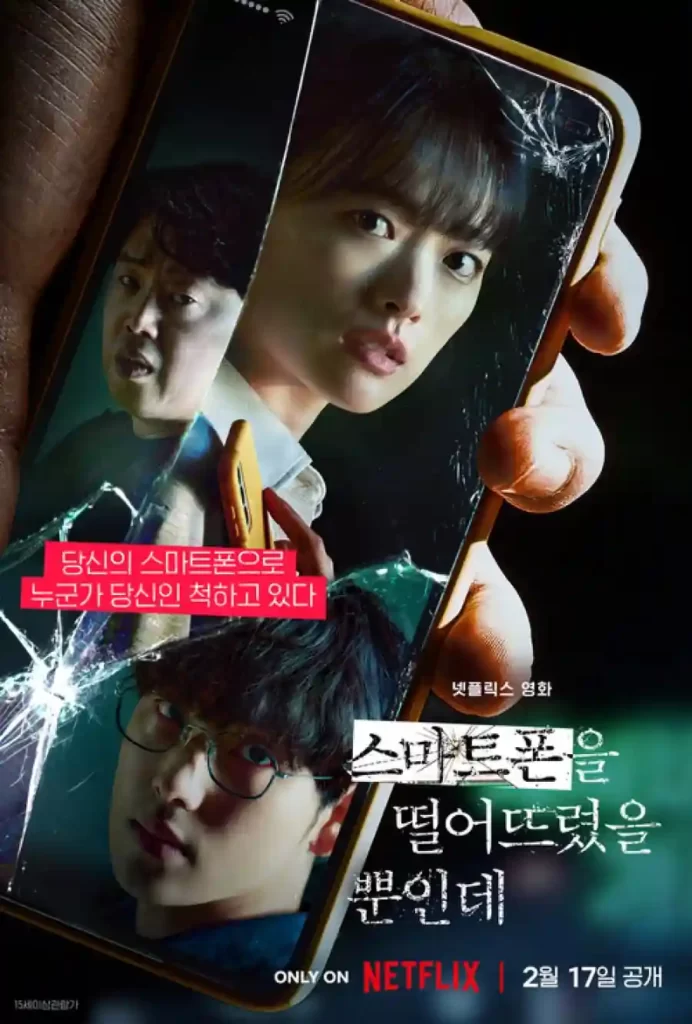 Lee Na-Mi is a hardworking marketer at a start-up company who also works part-time at her father's cafe.
But when she loses her phone on a bus, Oh Jun-Yeong pretends to help her retrieve it, but secretly installs spyware. 
Jun-Yeong slowly infiltrates her life, even framing her for leaking confidential information. As Detective Woo Ji-Man investigates a murder case, he uncovers clues that point to Jun-Yeong as the possible perpetrator. 
In a shocking twist, Na-Mi and her father fight for their lives while Woo Ji-Man unravels the truth about Jun-Yeong's crimes.
2. Kill Bok Soon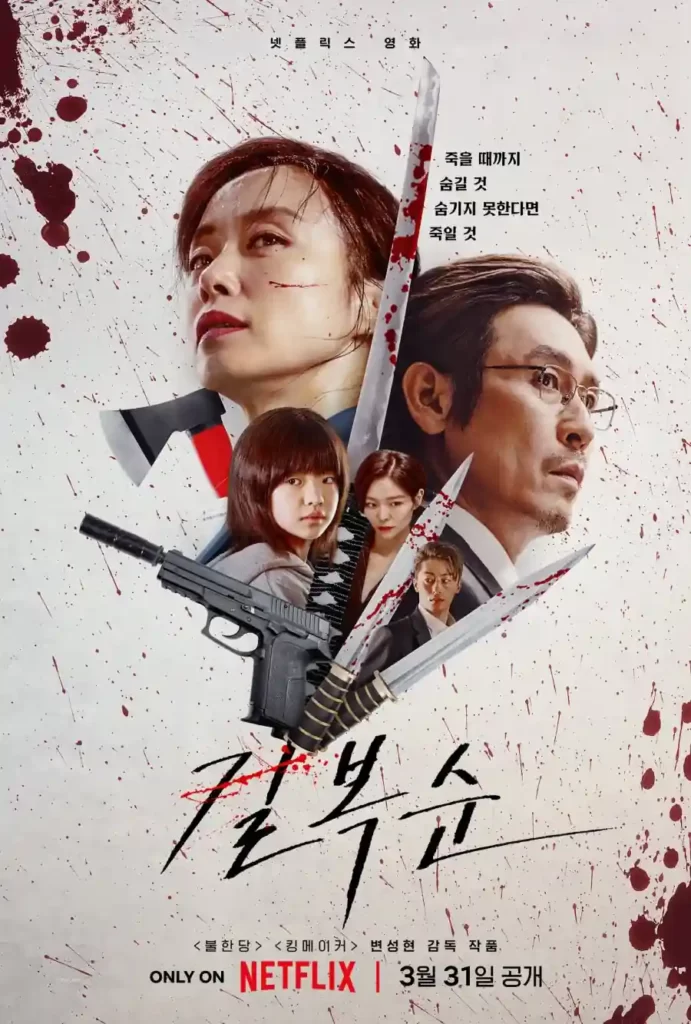 Gil Bok Soon is a single mother with a 100% success rate in contract killings. She works for M.K. Ent, run by Cha Min Kyu, who trained her and holds mutual respect for her skills.
However, she knows that he's a dangerous person who can take everything from her. 
Cha Min Hee, his younger sister, works as an executive and keeps her emotions in check. Meanwhile, Han Hee Sung is a highly skilled killer who goes unrecognized. 
Just as Gil Bok Soon is about to renew her contract, she finds herself in a kill-or-be-killed confrontation and to make it home to her daughter, she might have to lose her life.
I loved this for its very realistic portrayal of a woman juggling motherhood and a dangerous career, and I know you will too.
3. When Our Love Remains As Scent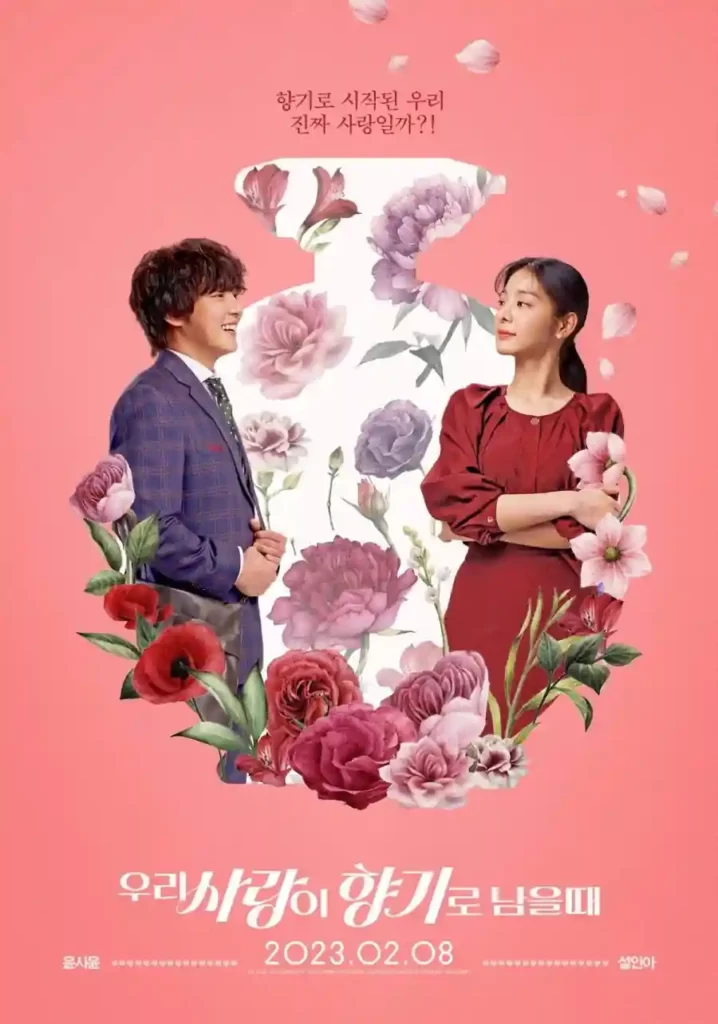 Yoon Shi-Yoon and Seol In-ah star in this romantic film about a man who dislikes work and dating (but has a persistent crush on a stranger), and a woman who has everything except a relationship.
A magical love story unfolds when a special perfume makes them fall for each other. 
Changsu has a perfume that appeals to women, and Ara is no exception. However, the appearance of enigmatic characters trying to identify the scent leads to unexpected twists, and it was a rollicking fun watch. 
4. Oh! My Assistant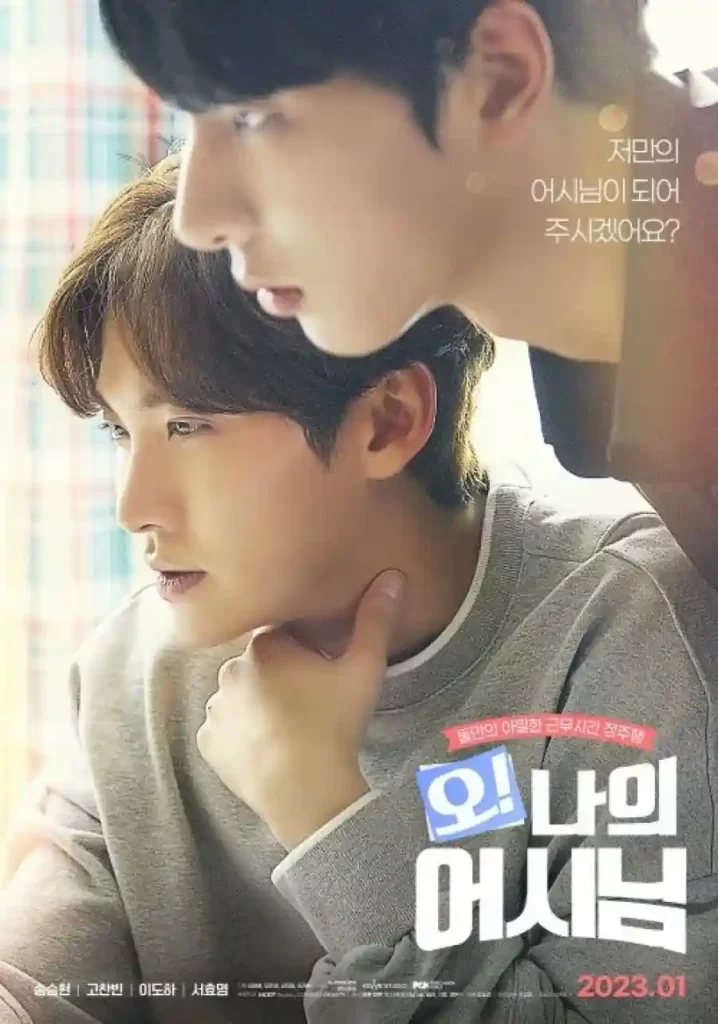 Seon Ho, a struggling writer, found success in creating 19+ webtoons, which made him popular and wealthy.
But a side effect of his work caused him to lose his sex drive. To keep up with the high demand for his work, he hires a devoted fan, Mu Young, as his assistant. 
Working together, they develop feelings for each other. However, Mu Young's male friend, Jun Seok, also has feelings for her.
If you're on the lookout for a new Korean movie to watch in 2023, this romantic BL movie should be on your watchlist. 
5. Gangnam Zombie
In the heart of Gangnam, Seoul, Hyun Suk, and Min Jung find themselves fighting for survival as zombies take over the city.
Trapped inside their office building, they must find a way out before it's too late. Meanwhile, a group of thieves unknowingly release a virus that turns people into flesh-craving zombies. 
With the exits sealed and no way to call for help, Hyun Suk and Min Jung must rely on their own skills and instincts to survive.
As they fight their way through hordes of zombies, they discover a shocking truth that could change everything.
6. Switch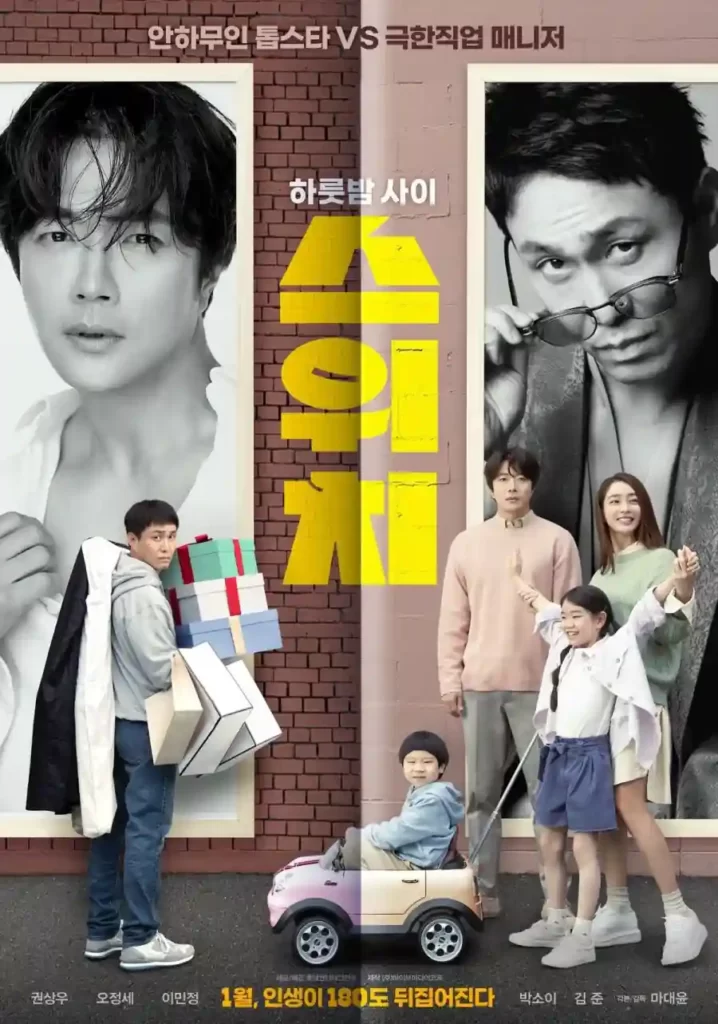 This new Korean movie follows the life of Park Kang, a famous actor and a notorious scandal-maker who lives a lavish single life.
On Christmas Eve, his life takes an unexpected turn when he meets a taxi driver. 
As fate would have it, this chance encounter leads to a series of events that completely changes his life.
To add to the chaos, Park Kang's ex-girlfriend Soo Hyun suddenly reappears in his life, throwing him off balance.
7. The Moon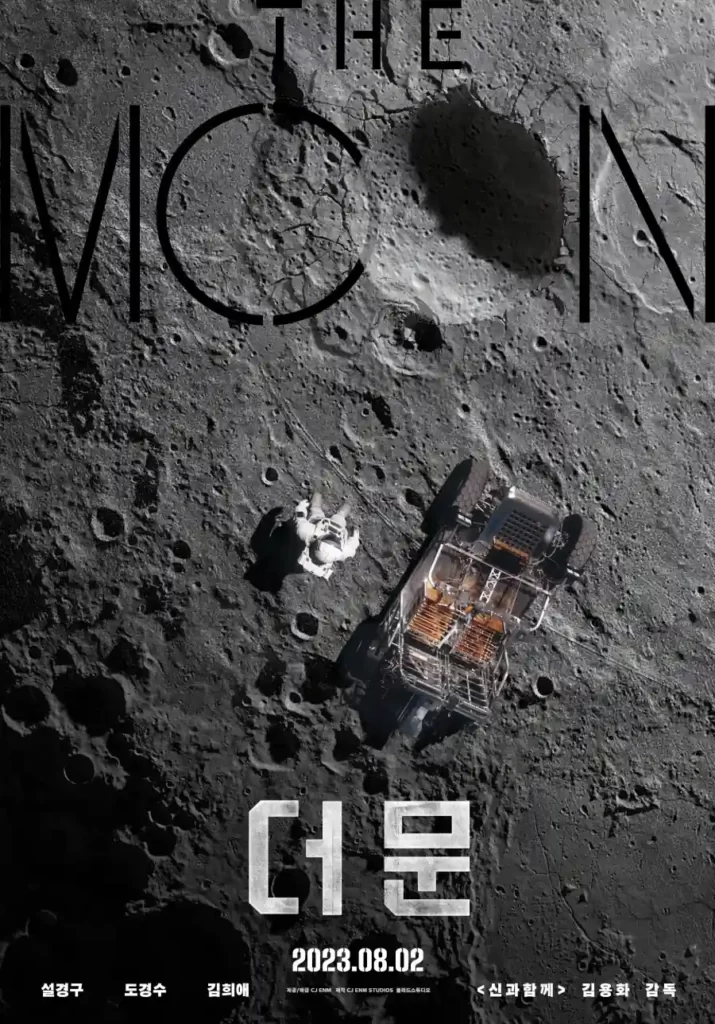 In this thrilling sci-fi movie set in 2030, astronaut Hwang Seon-woo finds himself stranded on the moon due to an accident.
Meanwhile, Kim Jae-guk, the former head of the space center, must work tirelessly to bring him back to Earth safely. 
But Moon Young, the general director of the National Aeronautics and Space Administration space station, has a secret that could complicate matters. 
8. The Point Men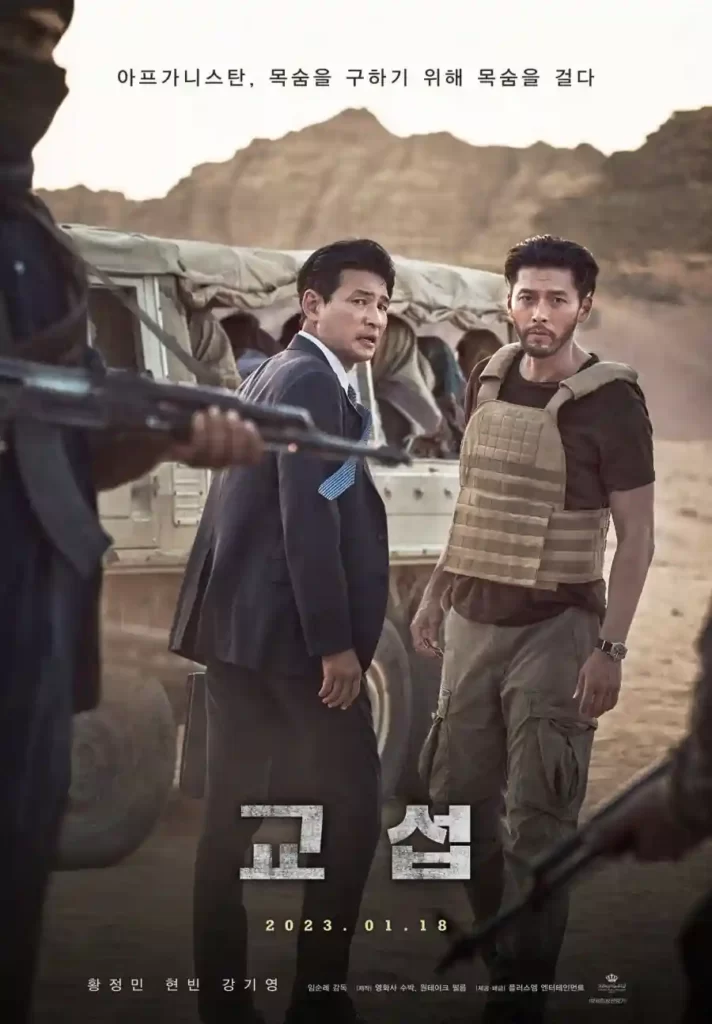 Jae Ho, a skilled diplomat, is sent to Afghanistan by the Korean government to rescue a group of Korean tourists held hostage by a Taliban extremist group.
Despite his best efforts, the situation worsens, and he teams up with Dae Sik, a Middle East expert special agent, to rescue the hostages. 
Their plans are quickly derailed as the first hostage is killed. Now, Jae Ho and Dae Sik must work together to save the rest of the hostages before it's too late.
9. Soulmate
This new Korean movie follows the life-long friendship of Mi-so and Ha-eun, two women who first meet at the age of 13 and remain close for the next 14 years.
The film portrays the challenges they face in their relationship, particularly when Ha-eun falls in love with Jin-woo in their late teens. 
As Mi-so pursues an adventurous life in the city, the two friends gradually drift apart.
Set against the backdrop of Jeju Island, the movie explores the physical distance and emotional turmoil between two friends as they navigate their way through life and love.
10. Dream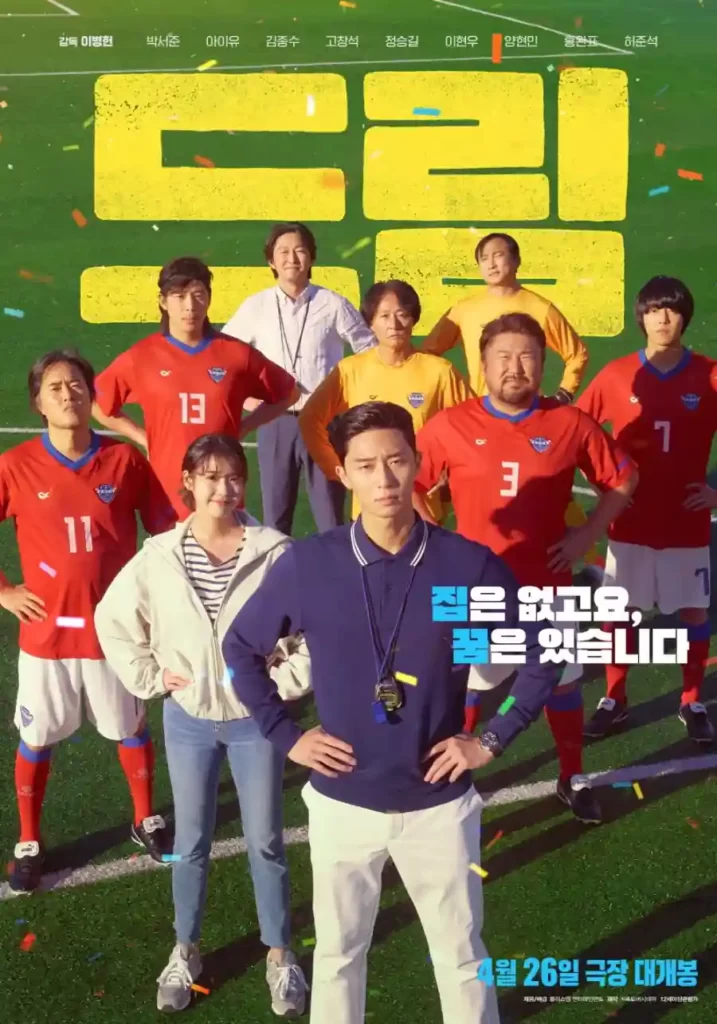 Yoon Hong Dae is a soccer player on probation who becomes the coach of a ragtag team trying out for the Homeless World Cup.
As they work towards their goal, Hong Dae grows to trust and care for his team, becoming a true leader. 
Meanwhile, Lee So Min, a producing director, dreams of making a successful documentary about the team.
Together, they navigate challenges and setbacks, all while striving for their dreams.
11. Jung_E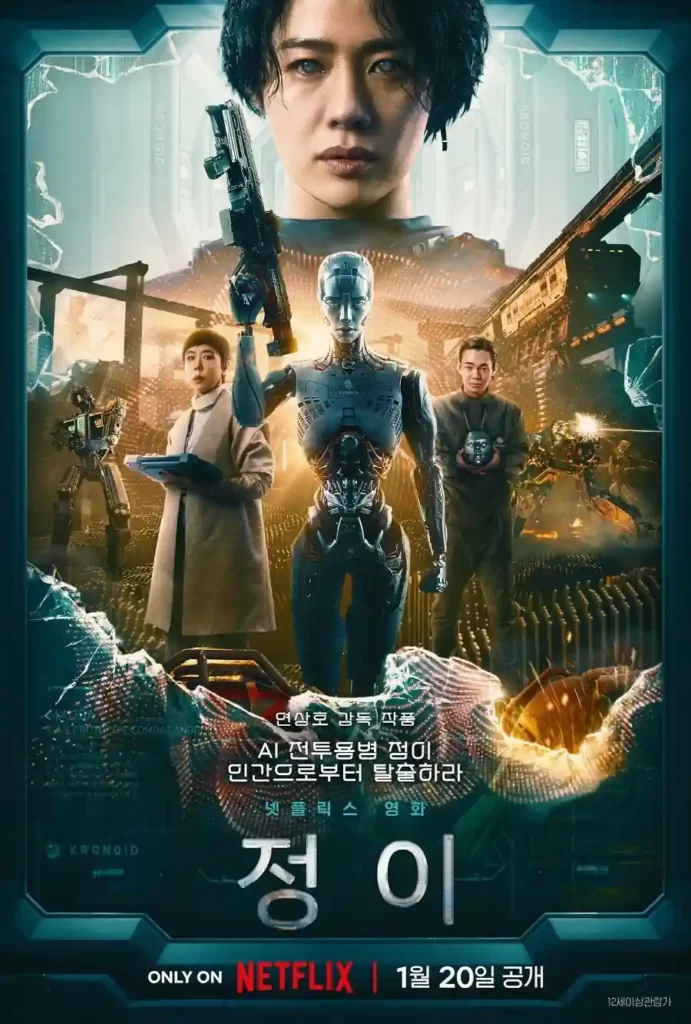 In a future where Earth is uninhabitable due to climate change, a war erupts in the last human shelter.
Elite leader Jung Yi becomes the focus of a brain cloning experiment that could turn the tide of the conflict. 
Seo Hyun and Sang Hoon lead the laboratory team working on cloning and AI technology, and their success is vital to the war effort.
12. Phantom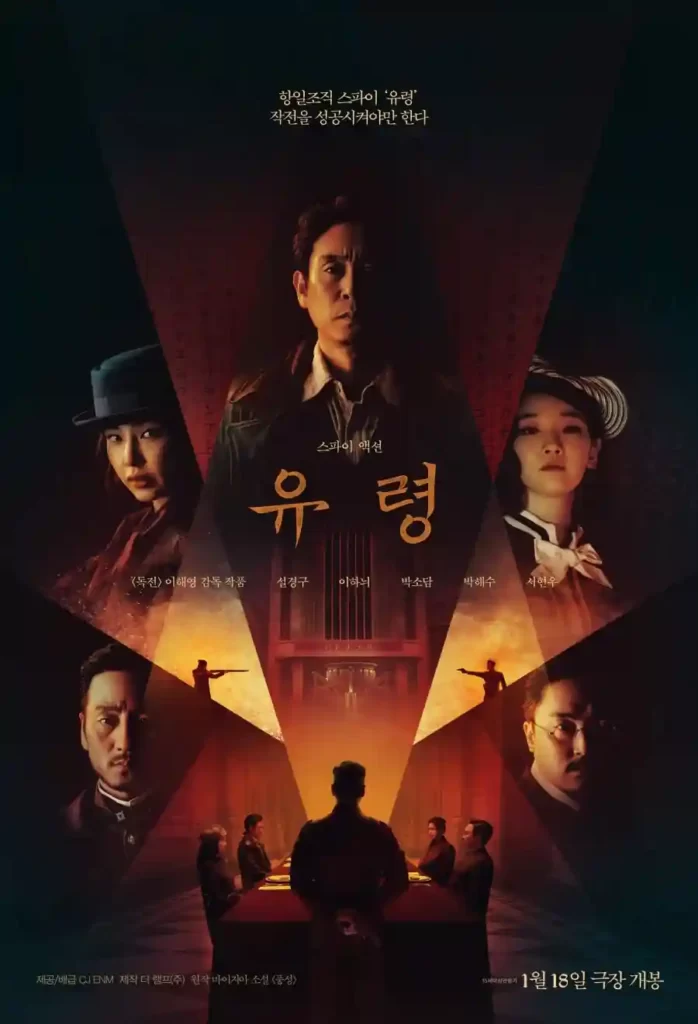 Phantom is an action-packed espionage film set in 1933, amidst the Japanese colonization of Korea.
Five people are suspected to be the notorious spy, "Ghost", for the anti-Japanese resistance. 
They're trapped inside an isolated hotel for interrogation and must use their intelligence to escape, while doubting each other's motives.
13. Hidden Blade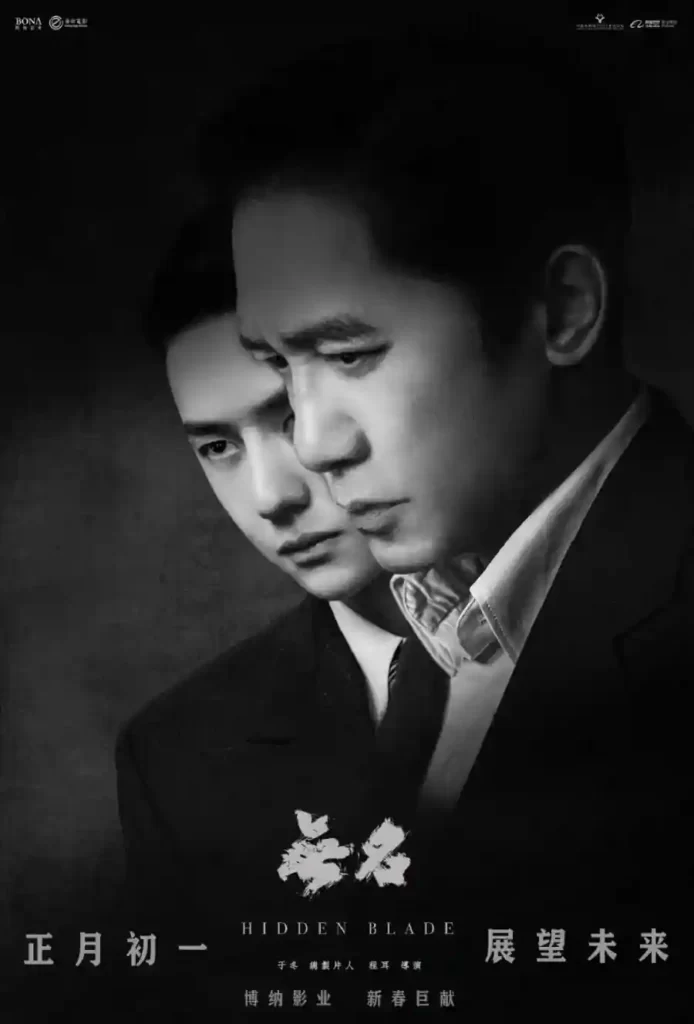 Set in the backdrop of World War II, the latest Korean movie released this year chronicles the heroic acts of underground workers who put their lives on the line to defend their country.
 After Japan attacks Pearl Harbor, the Wang Jingwei regime declares war on the United States and Britain, and the underground workers become instrumental in sending intelligence to the resistance. 
Their dangerous work leads to the eventual end of Japanese occupation and the rise of China's Communist Party.
14. Rebound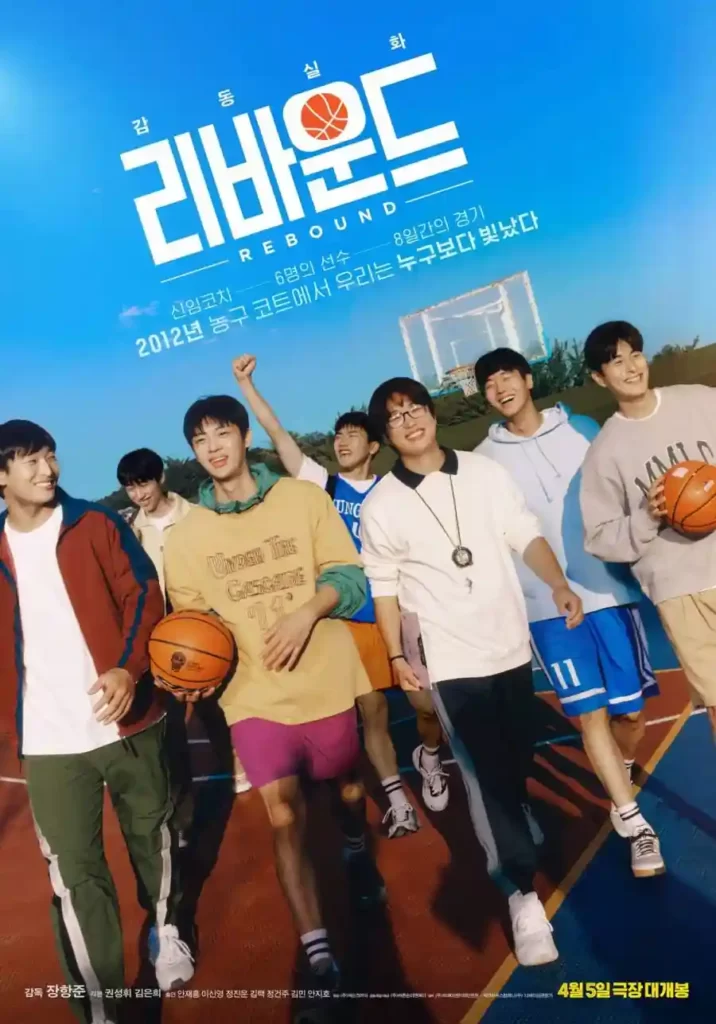 In 2012, the struggling basketball team of Jungang High School in Busan faces closure due to years of poor performance.
Alumnus Kang Yang-Hyeon, a new coach, brings a team of six players together for the National Basketball Championships. 
Most players were rejected by top basketball schools and refuse to play under an unknown coach.
Despite the odds, Coach Kang instills teamwork and perseverance in his players, reminding them that every missed shot is an opportunity for a rebound. 
They embark on a grueling journey, running nonstop for eight days, and face insurmountable obstacles to reach the championship.
15. Killing Romance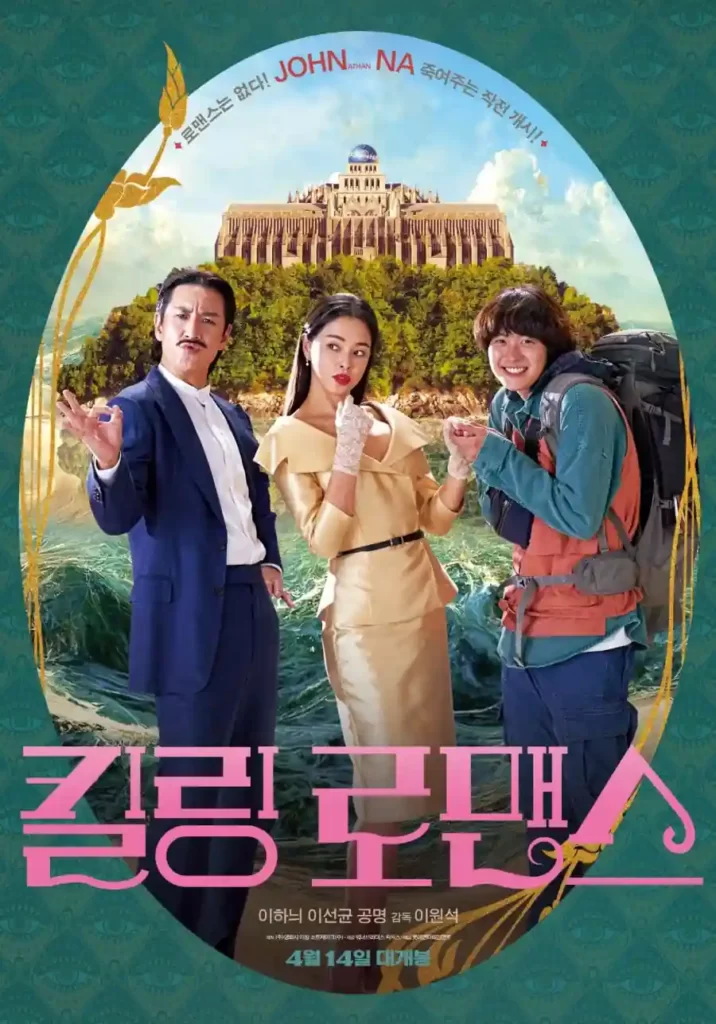 Killing Romance is a new quirky musical-comedy-thriller film about the life of Hwang Yeo-Rae, a retired actress who marries a wealthy man and later befriends her neighbor, a college student.
Although she is living a luxurious life, she feels suffocated and trapped in her own home. 
With the help of her young friend, they plot to kill her husband so she can return to acting.
However, things don't go as planned, and the trio ends up in a dangerous and hilarious situation.
16. The Devil's Deal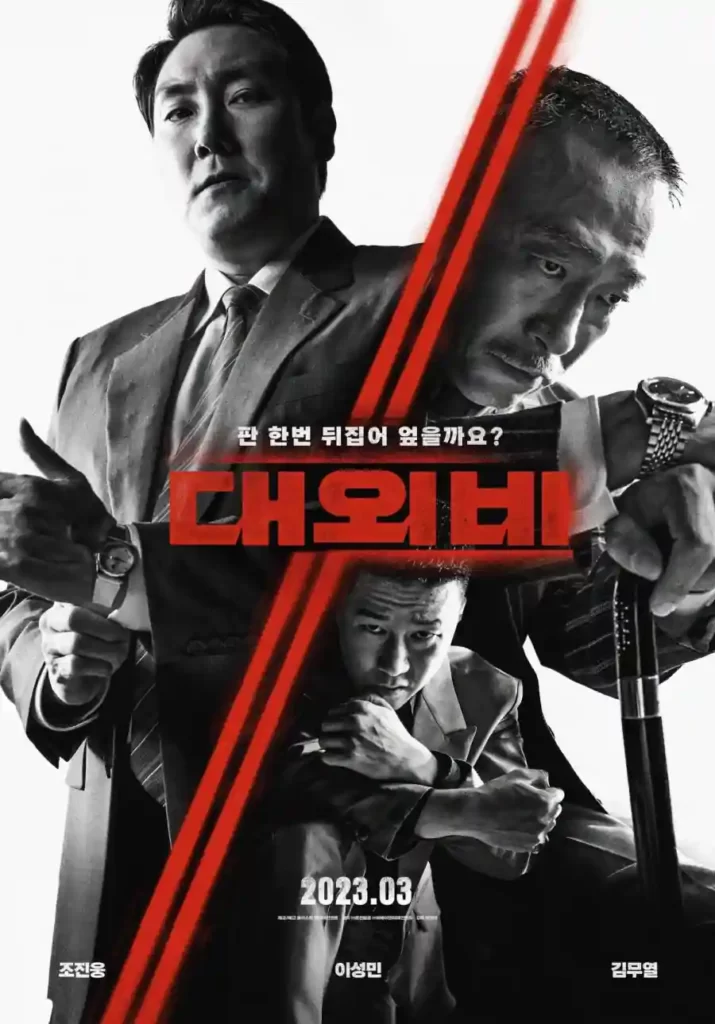 Hae Woong, a political candidate, is blocked from running by a local bigwig, Soon Tae, and struggles to pay off campaign loans.
Desperate, he resorts to stealing classified government information to win a local gang leader's help in real estate deals. 
With his newfound power, Hae Woong returns to the race, seeking revenge on Soon Tae.
However, he soon realizes that his actions have only led him down a darker path, and his journey through politics has just begun. 
17. Long Distance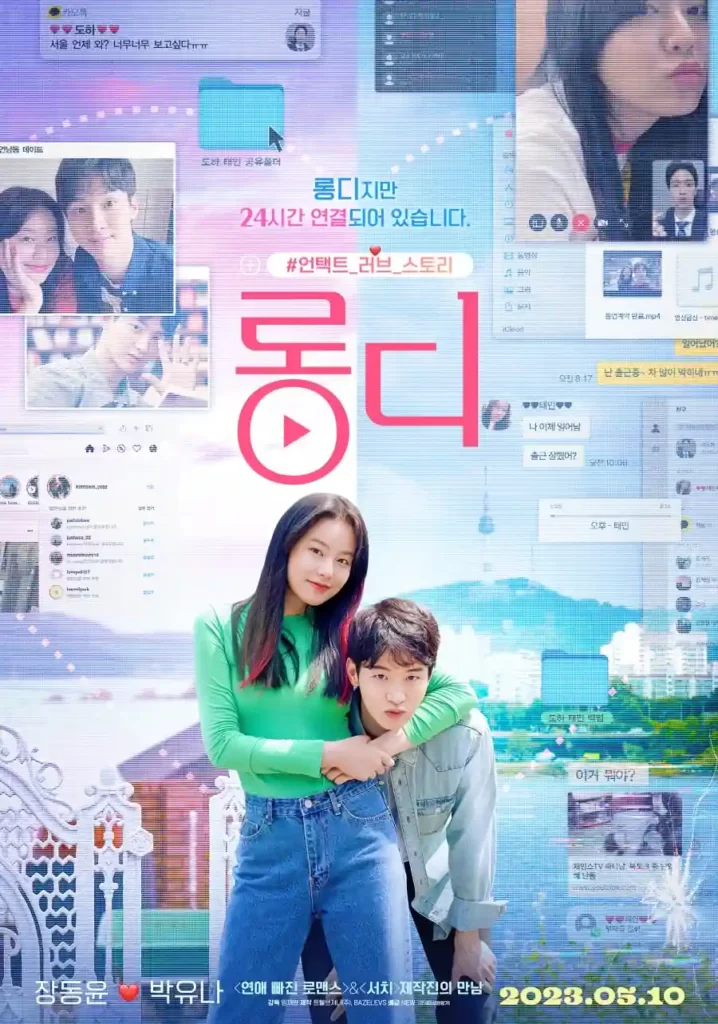 In this modern, tech-obsessed era, love can be challenging, especially for Do Ha and Tae In.
Do Ha, a 28-year-old newbie in love, falls for the vocalist of an indie band, Tae In, and they begin a long-distance relationship. However, balancing work and love is a struggle for Do Ha. 
Meanwhile, Tae In, who once lived an exciting life in her twenties, faces challenges in her thirties as she grapples with the realities of her dreams.
This is another perfect new romantic Korean movie released in 2023 that you absolutely need to watch now. 
18. Swallow
This Korean movie follows the story of Cha Eun Sook, who wrote a book about the military regime in South Korea, and her son Lee Ho Yeon, who discovers hidden secrets within the pages. 
It delves into the past of Hee II, a man and woman who were once lovers and comrades during the student uprising in the 1980s.
Fast forward thirty years, the woman disappears amidst divorce proceedings with her husband, leaving many questions unanswered.
19. Marui Video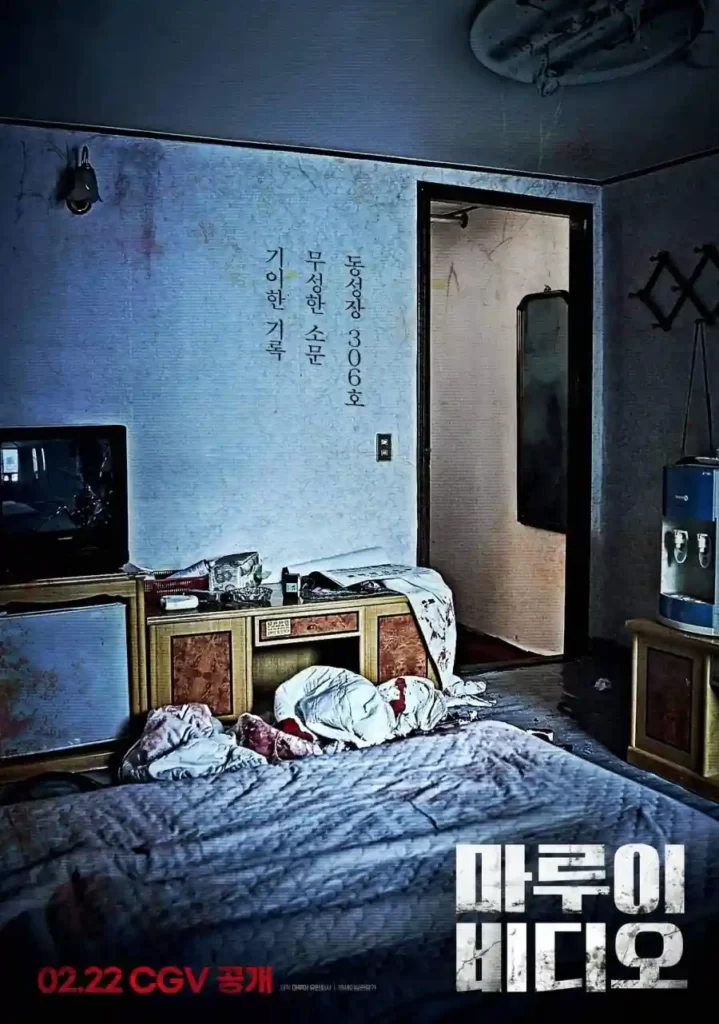 A curious reporter gets wind of a cursed tape in the prosecutor's office and starts investigating it.
While researching the tape's history, he and his team uncover links to several cases and unearth some intriguing records. 
However, strange happenings start occurring around them as they delve deeper and deeper into their investigation.
Despite this, the reporter is determined to continue his work and reveal the truth behind the tape.
20. My Heart Puppy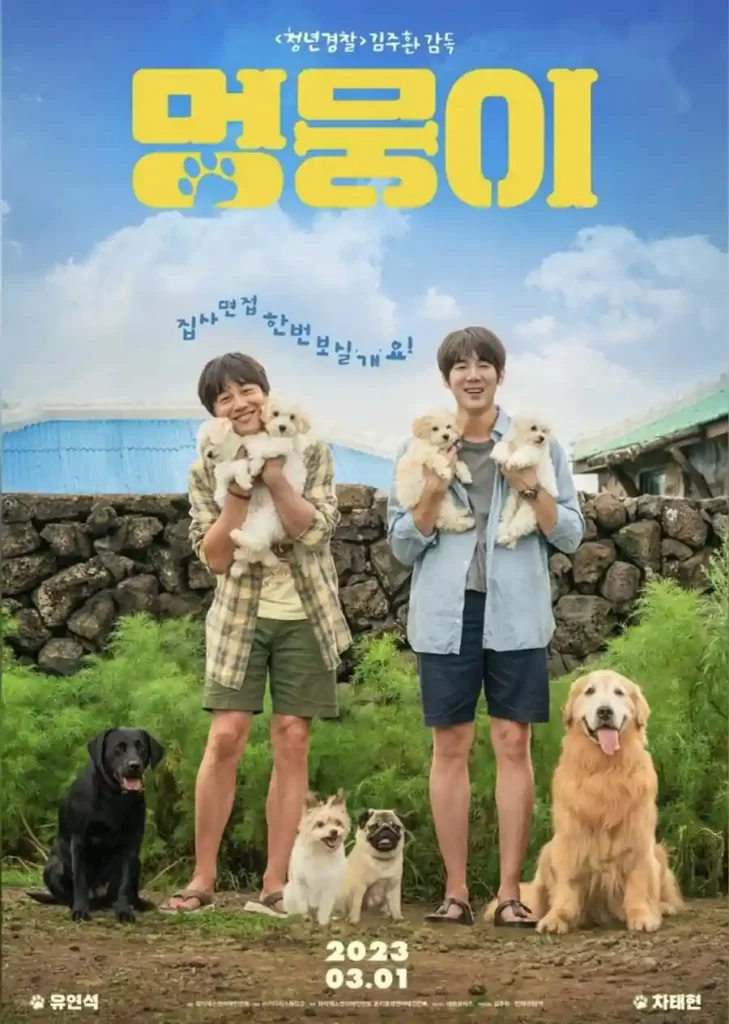 In this 2023 Korean movie, Min-soo and his friend Jin-guk embark on a road trip to find a new home for Min-soo's dog, Rooney, before he gets married.
Min-soo treats Rooney like family, but his fiancée is allergic to dogs. 
Along the way, they face the sad truth about abandoned pets and struggle to find the perfect new family for Rooney.
Jin-guk, who owns a bankrupt cafe, adds a quirky touch to the adventure. The heartwarming film showcases the bond between humans and their furry friends.
21. Ungnami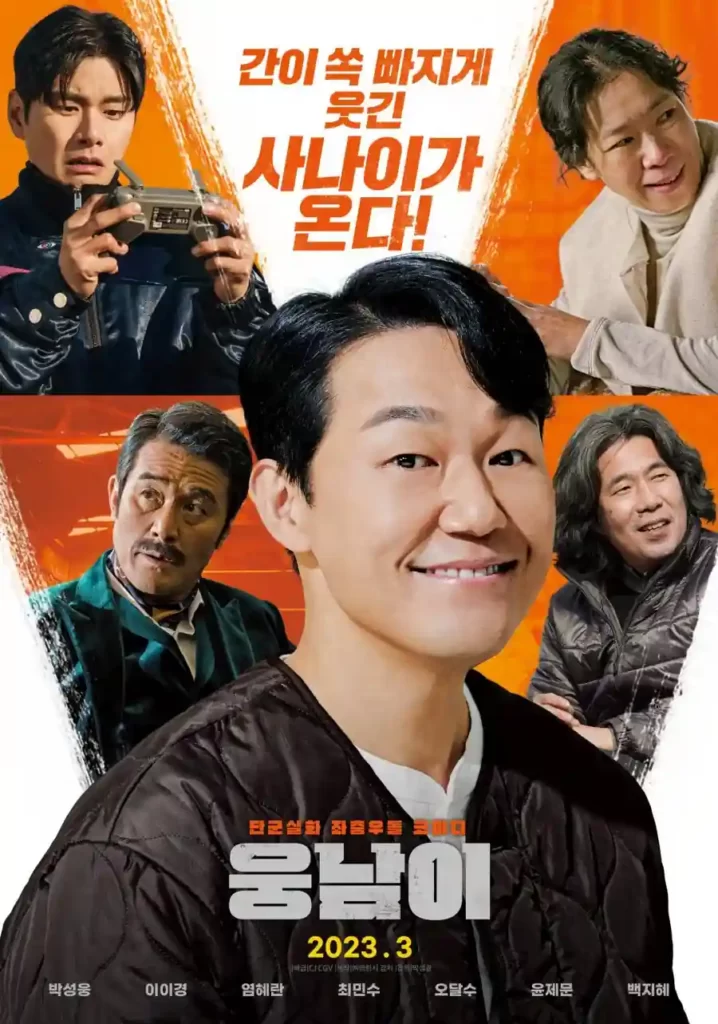 In this heartwarming new film based on the Danggun myth, twin Asiatic Bear brothers, Woongnam and Woongbuk, escape from the Pro-North Korean Institute of Technology after eating garlic and mugwort.
100 days later, researcher Bok-cheon finds a child in a mountain cave who he realizes is Woongnam transformed. 
Bok-cheon raises the child with love and care. However, Woongbuk is adopted by the boss of an international criminal organization and lives as Jeong-hak.
The story follows the brothers' different paths and their eventual reunion as adults.
---
I've barely scratched the surface of the incredible Korean movies that 2023 has in store. 
With so many exciting releases on the horizon, I can't wait to see what else this year has in store!
If you want to stay up to date on the latest Korean cinema, be sure to come back for regular updates and check out the related posts for more amazing recommendations.