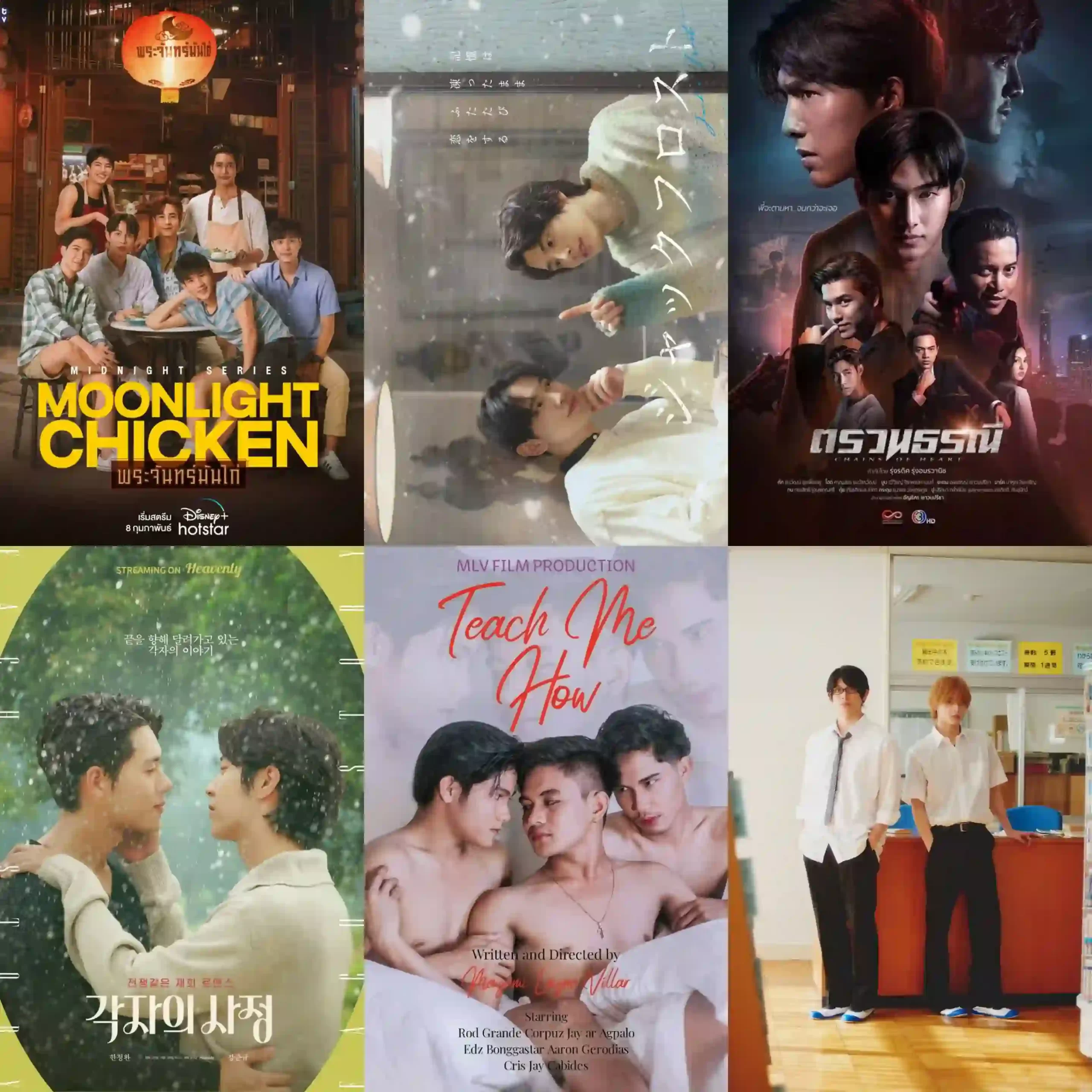 15 Must-watch Asian BL Dramas of 2023 (So Far) To Add To Your Watchlist
We're only halfway through the year, and 2023 has already given us some truly unforgettable Asian BL dramas. 
With a range of genres and storylines, these new gay romance shows are breaking new ground and winning over audiences all over the world. 
In this article, I'll take a closer look at some of the top Asian BL dramas that have been released in 2023.
Here are the best new BL Asian dramas to watch right now: 
1. A Shoulder To Cry On
Lee Da Yeol is a talented archer and scholarship recipient, who finds joy in his passion with the archery club at school, despite being an outsider.
Unfortunately, his scholarship is jeopardized when he has a run-in with the popular and devilishly handsome Jo Tae Hyun. 
Tae Hyun claims that Da Yeol made advances on him, which puts the archer's scholarship in danger.
Despite Da Yeol's efforts to clear up the misunderstanding, Tae Hyun continues to make his life miserable by following him everywhere. 
And, as Da Yeol spends more time with him, he starts to question the boundary between hate and love.
This is the perfect enemies-to-lovers BL Kdrama that will soothe your spirit if you need some good loving. 
2. Moonlight Chicken
Jim is a bold and charismatic guy who owns a Hainanese chicken rice diner. One fateful night, he meets the carefree and breezy Wen, who stumbles into his diner drunk and stays past closing. 
From that moment on, a spark ignites between them, and they can't seem to shake the electric chemistry they share.
Even though Jim tries to keep his emotions in check, he finds himself drawn to Wen more and more.
If you're on the lookout for a solid Asian BL drama to watch in 2023, then you're going to absolutely love this BL Thai drama. 
3. Our Dating Sim
Lee Wan and Shin Ki Tae have been inseparable since their school days, and while Lee Wan has always harbored a secret crush on his best friend, it took him years to work up the courage to confess his feelings.
Unfortunately, their conversation didn't go as planned, and the two parted ways on unhappy terms. 
Fast forward seven years, and they're both trying to make it in the job market. Shin Ki Tae is a programming ace and a middle manager at a gaming company, while Lee Wan is a talented illustrator. 
When Shin Ki Tae's company posts a job ad for a dating-themed game illustrator, Lee Wan jumps at the chance, and in this amazing BL Kdrama, sparks will definitely fly the second time around. 
4. Jack O' Frost 
Get ready to fall in love with Okusawa Ritsu and Ikegami Fumiya! These two met at a cozy coffee shop, and their love story blossomed from there.
But things get complicated when Ritsu's free-spirited lifestyle clashes with Fumiya's more traditional views. 
After a big fight and a winter accident that causes Ritsu to lose his memory, Fumiya tries to win him back by recreating their past experiences together.
From the coffee shop where they first met to the beautiful riverside road they used to stroll along, Fumiya does everything he can to reignite their spark.
This uber-romantic Japanese BL drama is the perfect watch if you want something new and sweet to add to your list of new Asian BL dramas to watch.
You're going to fall in love with the leads and their love will definitely give you all the feels. 
5. Chains Of Heart
Din, a forestry officer, finds himself in trouble when he gets mixed up with a group of smugglers, leading to him and his partner Ken being chased and falling from a cliff. 
Ken wakes up alone months later and begins to suspect that Din might still be alive when a stranger who looks like him appears years later.
Memories flood back as Ken starts to wonder if Din could be this mysterious new person. 
This is another wicked smart Thai BL drama that will have you on the edge of your seat.
If you want something new to watch that's going to have you simultaneously sweating and swooning, then you'll love this new Asian BL drama. 
6. Individual Circumstances
Ha Yeon Woo, a former renowned movie director in South Korea, lost his mojo after a series of disappointing films.
Feeling uncertain about his future, he meets Sung Woo Jae, a famous fiction writer and an old acquaintance. 
Both men carry their own emotional baggage, with Sung Woo Jae still hurting from a past love. As they reignite their friendship, sparks fly, and they fall deeply in love.
Another brilliant new BL drama that should be on your list for no reason other than that it's simply beautiful.  
7. Teach Me How
Russel has had a major crush on Jake for ages.
That's to say, he's always daydreaming about him and can't stop thinking about what it would be like to get closer. 
When fate finally brings them together, Russel is excited to finally get to know Jake better.
But as he gets to know him, he starts to realize that Jake is different from what he imagined.
This fantastic Filipino BL drama is the best option if you're in the mood for a steamy Asian BL drama that will set your engine revving for days on end. 
8. Blue Sky Complex
Narasaki had always yearned for a tranquil place to study, and his prayers seem to have been answered when he lands a gig at the library reception desk.
But, things take an unexpected turn when he's asked to keep an eye on Terashima, a notorious troublemaker on campus. 
In the beginning, they don't say much to each other, but amidst the rustle of pages, Narasaki becomes curious about Terashima's enigmatic demeanor.
If you want an Asian BL drama set in Japan between a librarian and a student, then you're going to love Blue Sky Complex. 
9. Bed Friend
Uea and King work together in the same office and they've never been fond of each other – Uea dislikes casanovas, and King is a notorious one.
They do have something in common, though: they are both friends with Jade. One day, something changes between Uea and King, and they start to develop a unique relationship.
10. The Eighth Sense
Ji Hyun, a new student from a peaceful rural town, is having a tough time adapting to the bustling city life of Seoul.
One day at university, he meets Jae Won, who has just completed military service, and the two bond over their shared love of surfing. 
As they spend more time together, they begin to develop romantic feelings for each other.
However, after a kiss during a surfing trip, Jae Won acts like nothing happened, leaving Ji Hyun confused about where they stand.
This is another beautiful Asian BL romance drama that will scratch the itch if you want something soft, sweet, and utterly delectable. 
11. Unintentional Love Story
Ji Won Young gets unjustly fired after his boss is involved in a corruption scandal at work, and to get his job back, he tries to locate the chairman's favorite artist, Yoon Tae Joon, who has gone into hiding. 
When he finds Tae Joon running a pottery shop in a remote town, he realizes that the latter doesn't want to be found, and he decides to stay in town and secretly observe Tae Joon, but their growing feelings for each other make him question his sexuality and motives. 
The characters in this romantic BL drama have a lot of secrets to reveal and almost twice that amount of growing to undergo, and it was just so enchanting to watch. 
12. Bokura No Micro Na Shuumatsu
The world is in chaos as a massive meteorite is set to hit Earth in just ten days, and Masumi Nishina is struggling to cope.
He decides to return to his college library for some peace and quiet, but it turns out to be a mistake as he is reunited with his former lover, Ritsu Kusakabe. 
They were once in the same publishing club but parted ways bitterly.
With the end of the world looming, they start to wonder if they should rekindle their romance and make the most of the time they have left. 
13. All The Liquors
Han Ji Yu works in the marketing team of a liquor company and is tasked with contacting the famous chef Park Ki Hoon's restaurant for a potential collaboration.
However, Ki Hoon is not interested in selling alcohol at his restaurant. 
Undeterred, Ji Yu tries to find a way to break through the chef's stubbornness.
As they work together, the two men from different worlds slowly learn to open up to each other and discover the power of love.
14. Boyband
A group of passionate youths have their sights set on becoming a top-notch boy band.
They train hard, honing their singing and dancing skills, and compete fiercely with each other in the hopes of getting discovered by Khun Serena's World Star entertainment company. 
But there's a catch: Serena has a strict rule against her artists dating each other. Despite this, Top and Juju's relationship evolves from rivals to close friends and maybe even something more.
As they face the tough decision between love and their dreams, what path will they ultimately choose?
15. Hit Bite Love
This special mini-series follows three different couples who are all related in one way or the other and their different trials as they work up to their HEA. 
Ken and Shokun are secretly dating, but Ken wants to keep their relationship under wraps. After a while, Shokun, who desires status, calls it quits.
He starts seeing school president Matteo, who agrees to go public, but their sexual preferences clash. Shokun is vanilla, and Matteo is into BDSM. Will they be able to make it work? And what will happen when Ken is ready to be open about their relationship again?
Burger and King are classmates. One day, King forgets his book, and Burger offers to share his. King finds a drawing of himself in Burger's book and assumes that Burger likes him.
However, it was a misunderstanding, and Burger doesn't have any romantic interest in King. With one party hurt, can they continue to study in the same room?
Hida and Saint became siblings when their parents remarried, but they lack the warmth of a typical family. When they're together, they feel connected like true siblings.
Saint starts dating Pin, who is known for her beauty, which makes Hida feel like an outsider. It hurts a lot. Hida tries to find a way to end the relationship, but he doesn't realize that the pain of their sibling relationship is only just beginning.
---
I hope this list of the best Asian BL dramas of 2023 has given you plenty of inspiration to keep you entertained. 
From heartwarming romances to thrilling stories, these shows are sure to captivate you. 
Don't forget to share this post with your friends, and check out the related post for more exciting Asian drama recommendations!