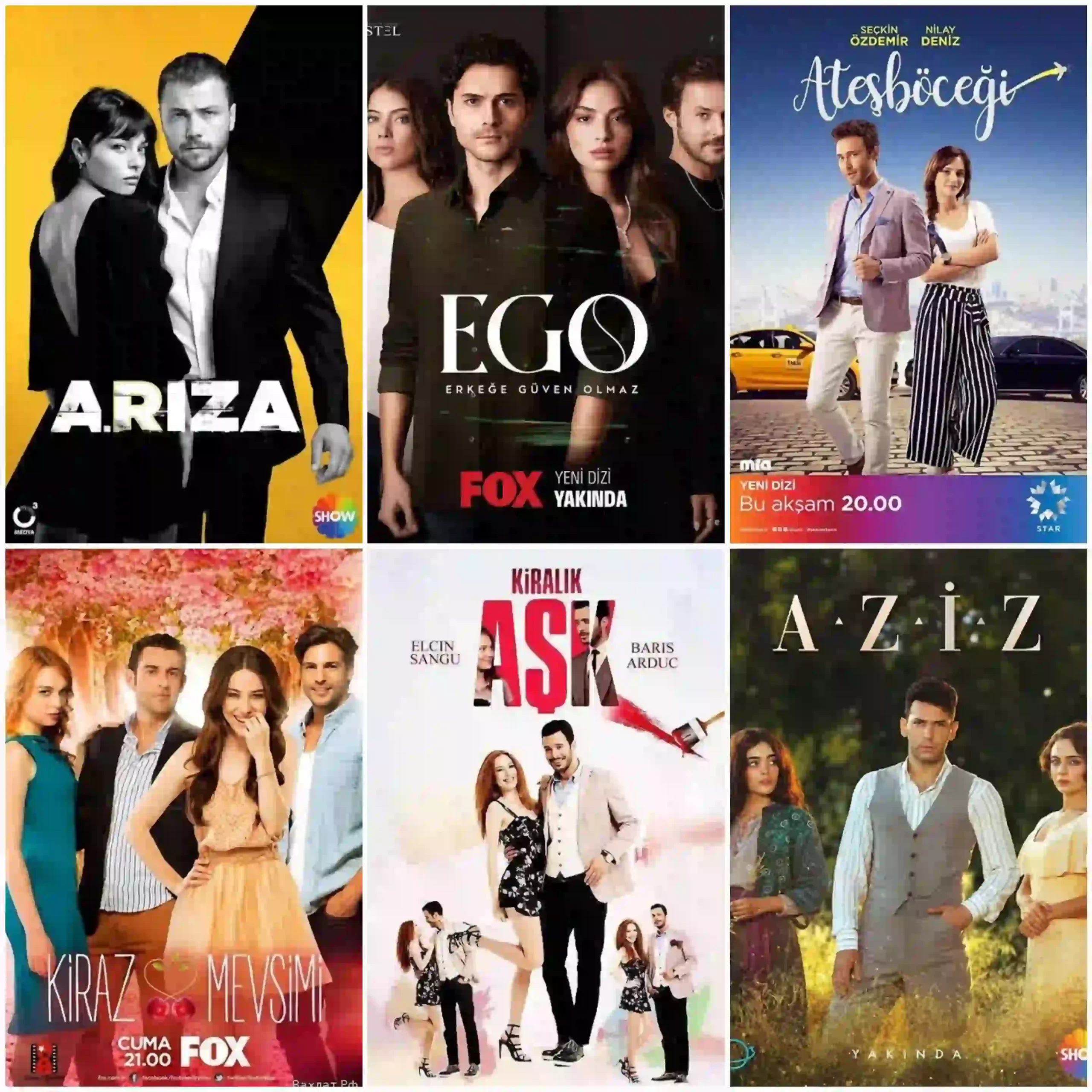 20 Must-Watch Turkish Series on YouTube with Complete English Subtitles
YouTube is a lifesaver – no, really! As someone that just got into the world of Turkish series this year, I can tell you for a fact that there are tons – I'm talking big, big, tons – of Turkish series available on YouTube with complete English episodes. 
After almost crying because everything from episode 8 (or so) up of The Promise was without subtitles and I was already very interested in the series, I promptly decided to never start any series unless I was sure every episode had English subtitles. 
If you've ever experienced this or you're already worried about this happening, I feel you.
In this article, I've listed some of the most interesting Turkish series available on YouTube with complete English subtitles. Get ready to add some of these to your watchlist!
Here are my top picks for the must-watch Turkish series available on YouTube with complete English subtitles:
Esra, a beautiful girl from a financially struggling family, decides to marry a man with a stable job to avoid a difficult life, and she chooses Ozan, an engineering genius who has been in love with her since childhood. They live comfortably until Ozan quits his job to pursue his dreams of starting his own company, leaving Esra as the sole breadwinner. 
Eventually, Esra divorces Ozan after suffering financial and emotional difficulties. Two years later, Esra discovers that Ozan has become a successful CEO but is disappointed by his arrogant attitude. Determined to get an apology, Esra becomes an intern at Ozan's company and develops a complicated relationship with Ozan's friend Cinar.
Eylul is a rebellious high school girl who's had a tough life. After being expelled, she's sent to live with her grandmother in a small town where she meets Ali, her schoolteacher who changes everything. 
With Ali's guidance, Eylul transforms from a troublemaker to a compassionate doctor. Despite obstacles like her grandmother's death and jealous colleagues, Eylul and Ali eventually find themselves working together as successful doctors. 
Fazilet Hanim has always longed for a rich life, but after her husband's death, she struggles to make ends meet while raising her two daughters. Fazilet becomes fixated on making her younger daughter Ece a famous actress or model, disregarding her education. 
Her older daughter Hazan disapproves and blames her mother for their father's death. When the Egemen family, wealthy and prestigious, crosses paths with Fazilet and her daughters, their lives change forever. 
Sinan, the youngest Egemen son, is tasked with finding the face for their cosmetics campaign, leading to a chance encounter with Hazan.
Serra is a responsible and beautiful architecture student at Kuzey University in Istanbul. She and her mother live in a shanty house, and Serra works part-time to support them after her father's business went bankrupt, and her brother committed suicide. 
Serra's life changes when she accepts a ride from a wealthy businessman and arrives at school in a black limousine, catching everyone's attention. She then becomes a private tutor for the popular and wealthy Selim, and they develop a love-hate relationship that brings about new disputes at school.
This is one of the first Turkish series I watched on YouTube, and if you're looking for a romantic Turkish series with English subtitles on YouTube, then you're going to love watching this one. 
Hayat is a young and vibrant girl living in Istanbul with her two besties, Asli and Ipek. She adores her life in the city and wishes to stay there, but her dad wants her to find a good job or return home. So, she lands a job interview at Sarte, a renowned textile company, which can help her stay in Istanbul. 
However, in a twist of fate, she's mistaken for someone else and lands the job as the assistant to the heir of the company, Murat Sarsılmaz. The two are opposites, but they begin to fall in love, and this kicks off the romance in this amazing Turkish series. 
Nazli is a determined and beautiful young girl who dreams of becoming a successful chef while also studying gastronomy and culinary arts. She juggles her studies with a part-time job and a Japanese language course to support her family. 
Her cheerful life takes an unexpected turn when she becomes a private chef for a rich businessman, Ferit, who is picky and serious about order. Though they start on the wrong foot, they gradually fall in love. But when a misunderstanding threatens to tear them apart, Nazli must decide if she will choose the friendly Deniz or the distant Ferit.
This is really Can and Demet (the leads) in their element, and if you've been in the Turkish series world for long, this pairing won't be foreign to you. This is another amazing pairing if you're keen on an interesting Turkish series available on YouTube with English subtitles – you'll love it!
Asiye is a strong and beautiful single mother who's been raising her children on her own. But when her husband abandons them due to financial problems, she faces a challenging life. 
Her daughter Nergis kills their neighbor who attempts to rape her, and to protect her daughter, Asiye decides to hit the road. On her way, she meets a young businessman named Mahir, who offers her and her children a ride. But things take a twist when they get into a car accident, and Mahir's family assumes they're his family. Soon, Asiye and her kids find themselves sharing a roof with her ex-husband in Mahir's opulent mansion. 
In No. 309, Onur and Erol's carefree lives change after their grandfather's death. To inherit the family business, they must marry and have a child. Meanwhile, Lale is pressured by her mother to marry and forgets her cheating ex. 
Through a wild coincidence, Lale and Onur have a drunken one-night stand, resulting in Lale's pregnancy. Despite not wanting to marry each other, their families pressure them to do so for the sake of the baby.
Ezgi is a beautiful public relations specialist who's been unlucky in love. After breaking up with her cheating boyfriend, she focuses on her career but gets fired due to lack of attention. 
One day, she plans a dinner with friends to forget her troubles but ends up alone, drunk, and wakes up at a stranger's house. The stranger, Ozgur, is a wealthy bar owner – and her friend's neighbor – who doesn't believe in love. 
Despite her friends' warnings, Ezgi and Ozgur team up in a deal where he'll coach her in dating, and she'll act as his fake girlfriend. 
Bella is a young and educated girl from an aristocratic background who falls in love with Hazar, the heir of a devoted tribe from Adana. They get married without their parents' approval and move to Hazar's home. 
But, while Bella expects an exotic adventure, she finds herself at the bottom of the family hierarchy and facing hostility from Hazar's relatives, who disapprove of their marriage. Despite her modern outlook, Bella tries to win over the family, but their disapproval only grows stronger.
Sanem, a cheerful girl who works at a grocery shop, loves her simple life. But her mother's threat to marry her off forces her to look for an office job. So, she starts working at Countess, where her sister works, but her lack of experience lands her an errand-running role. 
Trouble follows her, and her life gets more complicated when the company's owner retires, and his free-spirited, adventurous son Can takes over – much to the displeasure of Emre, the second son. 
And, while Can is drawn to Sanem's naturalness, he can't trust anyone in the company, including her. This is another amazing Turkish series available on YouTube with English subtitles that you can start watching right now. 
The Lion Family is a happy family of seven who have been living together in the Lion Ranch for 30 years. Vedat is a farmer and his wife Hatice is a housewife who raises chickens and grows vegetables. 
Their eldest son Gayret is a cleaning addict and the second son Murat is a police officer who is clever, handsome, and caring. Umut is a passionate journalist and Mutlu is a carefree young man who spends most of his time at the ranch. 
One day, the family's simple life is turned upside down when a young and beautiful girl named Burcu arrives and claims to be the real owner of the ranch.
Ferit is a young man from a wealthy family who's about to get married to his childhood sweetheart, Hande, but things take a dramatic turn when he catches her kissing his childhood friend, Yaman, just days before the wedding. 
Shaken by the betrayal, Ferit flees to Istanbul, where he meets Ayse, a kind-hearted woman who cares for street animals. In a surprising turn of events, Ferit proposes a marriage of convenience to Ayse, in order to cancel his wedding to Hande. 
Set in Antakya in 1934, Aziz Payidar, a young man from a wealthy family, is a promising carpet seller who works happily with his father and uncle. Despite poverty and oppression under French occupation, he dreams of marrying his childhood love, Dilruba. 
However, his life turns upside down when he kills a French lieutenant to protect a young girl. Forced to flee, he returns two years later to find his father dead, his belongings sold, and Dilruba engaged to his nephew. Meanwhile, his uncle has become more powerful and is cooperating with the French. 
With his remnant feelings for Dilruba and the truth about his father's death unclear, Aziz's return is plagued with difficulties from the very beginning. 
Defne is a hardworking waitress who supports her family by doing multiple odd jobs. Her life turns upside down when her brother is taken by the mafia for his debt, and she has to find 200,000 TL in 24 hours. 
Omer is a serious, introverted CEO who wants to escape from an arranged date, so he pretends to be Defne's boyfriend and kisses her without her approval to ruin the date. 
However, his aunt-in-law sees the scheme and proposes an offer to make Omer fall in love with Defne in six months. Despite not wanting to be involved, Defne accepts the offer to save her brother, and her new challenging life begins – complete with office politics, an unexpected love triangle, and jealousy.
Öykü is a promising fashion designer with a modest life, who's secretly in love with Mete. However, their paths never cross until she meets Ayaz, a successful architect, and the son of the famous fashion designer she dreams of working for. 
They start off on the wrong foot but slowly begin to develop feelings for each other. Meanwhile, Mete falls for Öykü's friend Seyma, who's secretly jealous of her. When Öykü's love letter to Mete accidentally lands in Ayaz's hands, she must pretend to be in love with him, sparking a fake love story that begins to bloom into something more.
Baris is a successful, 35-year-old lawyer who believes he can read anyone's personality at first sight. But when his car is involved in a hit-and-run and he's blackmailed with a video of the accident, his life takes a dramatic turn. 
With the help of his friend Teo, Baris sets out to prove his nephew Hakan's innocence and find the real culprit. They meet Asli, a headstrong taxi driver determined to find the hit-and-run driver, and Teo offers her a job as Baris's private driver, hoping to keep a closer eye on her investigation. 
Baris and Asli's lives become intertwined, and Baris finds himself falling for her while trying to keep his secrets. This is another beautiful and interesting Turkish series with complete English subtitles available on YouTube for free that you can watch right now. 
Elif and Erhan are a happily engaged couple with dreams of a happy home, but when Erhan is hit with a huge debt, their world is turned upside down. The debt is impossible to pay, and their lives and mental state are affected. 
However, a glimmer of hope appears when Erhan's boss Sibel offers them a life-changing opportunity. Despite the tragedy, Elif and Erhan's love will be put to the test, and they will discover how far they're willing to go for each other.
The life of Ali Riza, a young taxi driver, takes an unexpected turn when he meets the beautiful Doctor Halide. While trying to protect his customer, he gets into a fight with Halide's childhood friend, Burak, who seeks revenge and accidentally kills Ali Riza's sister on her wedding day. 
Burak gets away with murder, but Ali Riza decides to take matters into his own hands and enters the dangerous world of mafia gangs. And, Halide supports him as they seek revenge together.
Seher is a beautiful young girl living with her father, whose sister Kevser is banned from visiting after marrying into the Kirimli family. Seher is heartbroken and clueless about Kevser's new life, until tragedy strikes. 
Kevser's dying wish is for Seher to protect her son Yusuf from the Kirimli family. Seher bravely takes on the challenge, but faces resistance from Yusuf's uncle, the powerful businessman Yaman Kirimli. 
As Seher fights to keep Yusuf safe, she also struggles to preserve her sister's legacy. 
I can assure you that this enemies-to-lovers Turkish series will have you on the edge of your seat. If you're looking for a thrilling watch to keep yourself occupied this weekend, then this Turkish series available on YouTube with English subtitles is a perfect watch. 
---
YouTube has made it easier than ever to access these beloved shows, and there's a whole lot out there waiting to be watched. 
I hope this list of the best Turkish series to watch on YouTube has inspired you to discover your next favorite show.
If you're interested in more recommendations, please start here:
1. 18 Fluffy Romantic Kdramas That Will Make You Cry and Smile with Glee
2. 7 Unforgettable Enemies To Lovers Kdramas That Will Melt Your Heart
3. 34 Amazing Kdramas With English Subtitles To Watch On YouTube
4. 15 Legal Websites to Watch & Download Kdramas for Free!