There's something utterly irresistible about watching two people who initially can't stand each other gradually fall in love – and enemies to lovers Kdramas take the hating, loving, and smooching to a whole new level. 
Whether it's due to a forced marriage, apocalypse, workplace rivalry, or even a historical feud, Korean dramas have elevated this trope almost to an art form with memorable romantic pairings with love that feels more than authentic (what's the word for this?).
In this article, I'll be sharing some of my favorite enemies-to-lovers Korean dramas and why they will make your heart flutter. Get ready for feels, smiles, and a bucketload of love. 
Best Enemies to Lovers Kdramas To Watch
1. Love To Hate You (2023).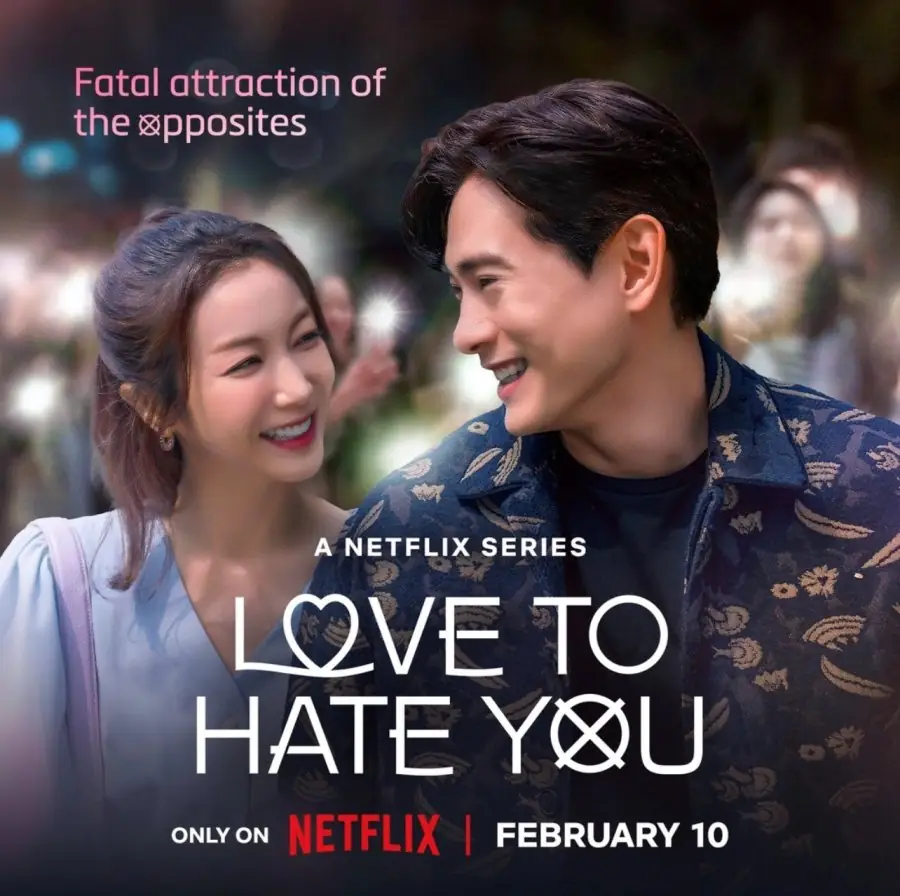 Yeo Mi Ran (Kim Ok Vin), the female lead, is a confident attorney who has little faith in love or men and Nam Kang Ho (Teo Yoo), the male lead, is a renowned actor who finds women annoying. 
That's to say, Mi Ran can't stand losing to men, while Kang Ho harbors a deep dislike for women due to his negative experiences with different female co-stars and his mother. 
On their first meeting, she overheard him talking about his annoying co-star, and she immediately wrote him off. And, the second time they met, she was being interviewed for a role at his management firm and she tripped him. I mean, she actually place her leg in his way and he fell face flat on the ground.
Needless to say, while sparks were flying, their mutual animosity was brewing, but as they clashed, they started realizing that beneath their shared dislike of each other lay an unexpected attraction, which gradually blossomed into an unexpected love. The enemies to lovers trope in this Korean drama was an achievement. From the start, I didn't have any expectations for their potential romance, but I was stunned by how romantic it turned out in the end. 
2. Hyena (2020).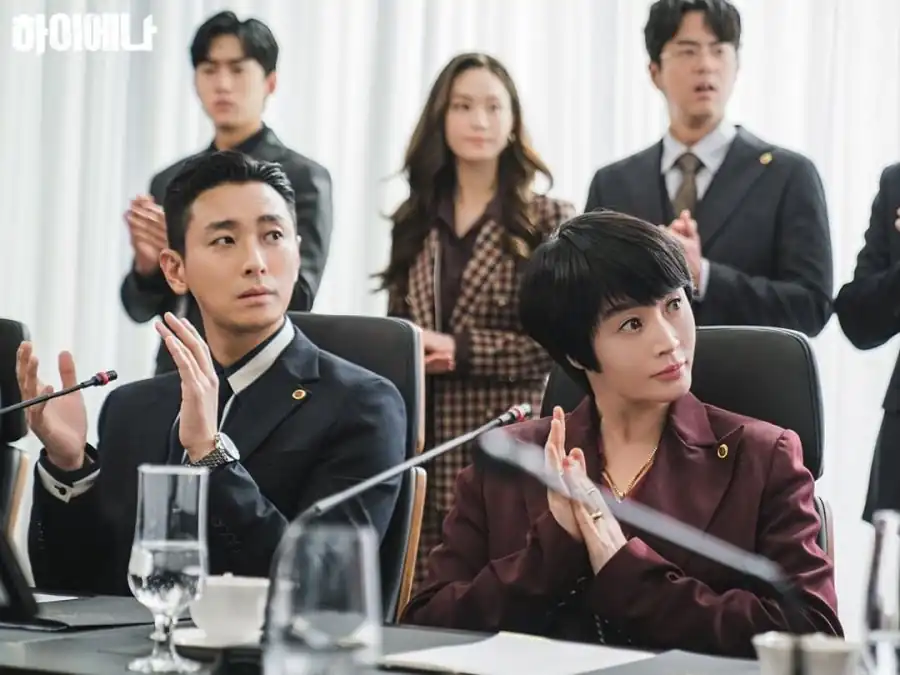 Jung Geum Ja (Kim Hye Soo) is a cunning and resourceful lawyer who is unafraid to blur the lines between justice and injustice in order to secure a win. 
With her hyena-like survival instincts, she pursues success and wealth, even if it means compromising her morals and ethics. Her arch-nemesis is Yoon Hee Jae (Ju Ji Hoon), a self-assured, intelligent, and principled lawyer who stands on the side of righteousness. 
As they engage in a series of legal battles, their animosity slowly evolves into an unexpected journey of love and hate. This legal enemies to lovers Kdrama features incredibly electrifying clashes in the courtroom, as our leads navigate the complex world of law, where winning comes at a high price.
3. Crazy Love (2022).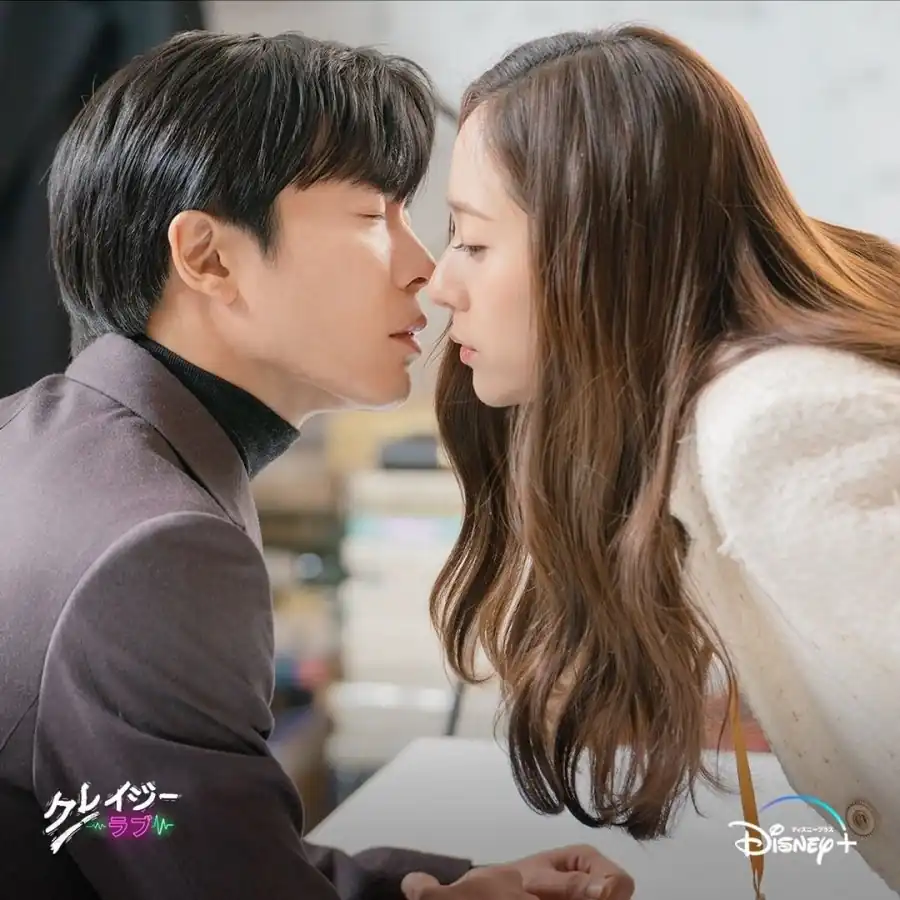 Lee Shin Ah (Krystal Jung) has endured a living nightmare at the hands of her arrogant and rude boss, Noh Go Jin (Kim Jae Wook) since she started working for him in hopes of becoming a tutor one day. Her life has been plagued by misery and she suffers mental breakdowns due to his mistreatment, and when she receives the devastating news of being diagnosed with a brain tumor, she blames Go Jin for all her woes – and, of course, she decides to kill him.
However, fate takes an unexpected turn when Go Jin loses his memories in an accident, where she's placed as the main suspect. Seizing the opportunity for revenge, Shin Ah sees a chance to turn the tables and exonerate herself. As expected of a super whiz mathematician, Noh Go Jin was actually pretending to have amnesia, and, Shin Ah, who didn't know this, decided to lie that she and Go Jin were dating, with the intention to make him suffer as he once made her suffer.
But as Shin Ah spends time with Go Jin, something begins to change. Hatred slowly gives way to affection, and the fake relationship begins to feel all too real. For me, this Korean drama redefined the enemies to lovers trope, as their tumultuous journey was quite literally on the thin line between love and revenge.
4. Her Private Life (2019).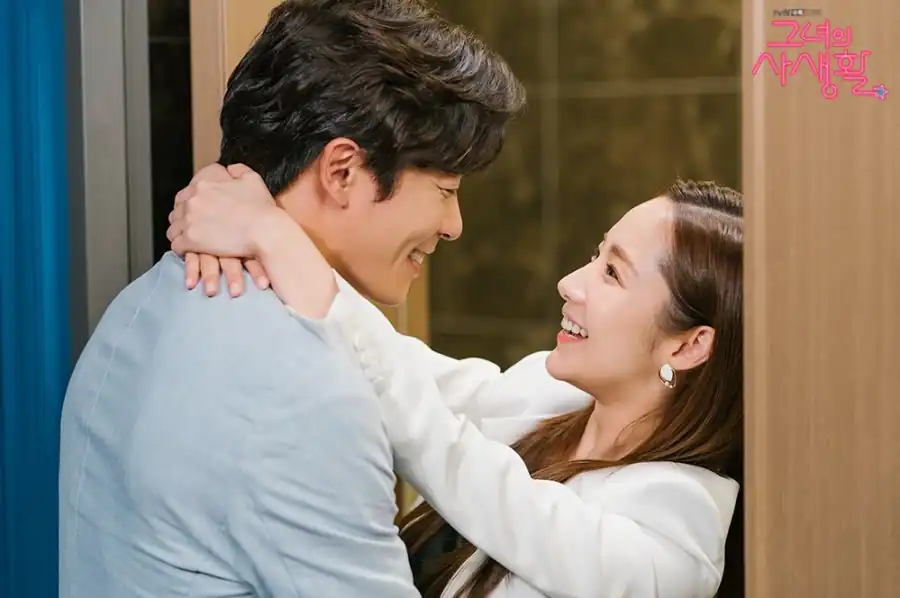 Sung Deok Mi (Park Min Young) and Ryan Gold (Kim Jae Wook) had a really weird encounter when they met at a heated painting auction – he was condescending and she was presumptuous. But, to prove what we know about fate's twisted sense of humor, Ryan turned out to be Deok Mi's new boss – after her old boss was taken in for embezzlement and building a slush pile.
As if that weren't enough, Ryan then discovers Deok Mi's secret life as a devoted fansite manager for idol Cha Shi An. Caught off guard, Deok Mi agrees to be Ryan's fake girlfriend in a desperate attempt to keep her fangirl identity hidden – and protect herself because of some of Shi An's rabid fans.
What starts as a charade soon becomes a rollercoaster of unexpected events. And, as Deok Mi and Ryan navigate their fabricated relationship, they begin to see each other in a different light. Sparks fly, and they find themselves developing deeper feelings for each other. But there's more to their story than meets the eye. As they unravel their past connection, Deok Mi and Ryan are faced with truths that challenge their perceptions of each other and their own selves. 
Ryan was hired for the job that she was absolutely certain would be hers – she had even turned down a better offer in anticipation of the promotion – so there was already a big, big problem with his arrival. The former director had left everything in Deok Mi's capable hands for a long time, so having someone with a completely different way of doing things come in to change the tide was much more than she could handle. I don't want to give everything away, but at a point, Ryan even fired her. This enemies to lovers Kdrama is one for the ages, and I strongly feel everyone should watch it at least once.
5. Level Up (2019).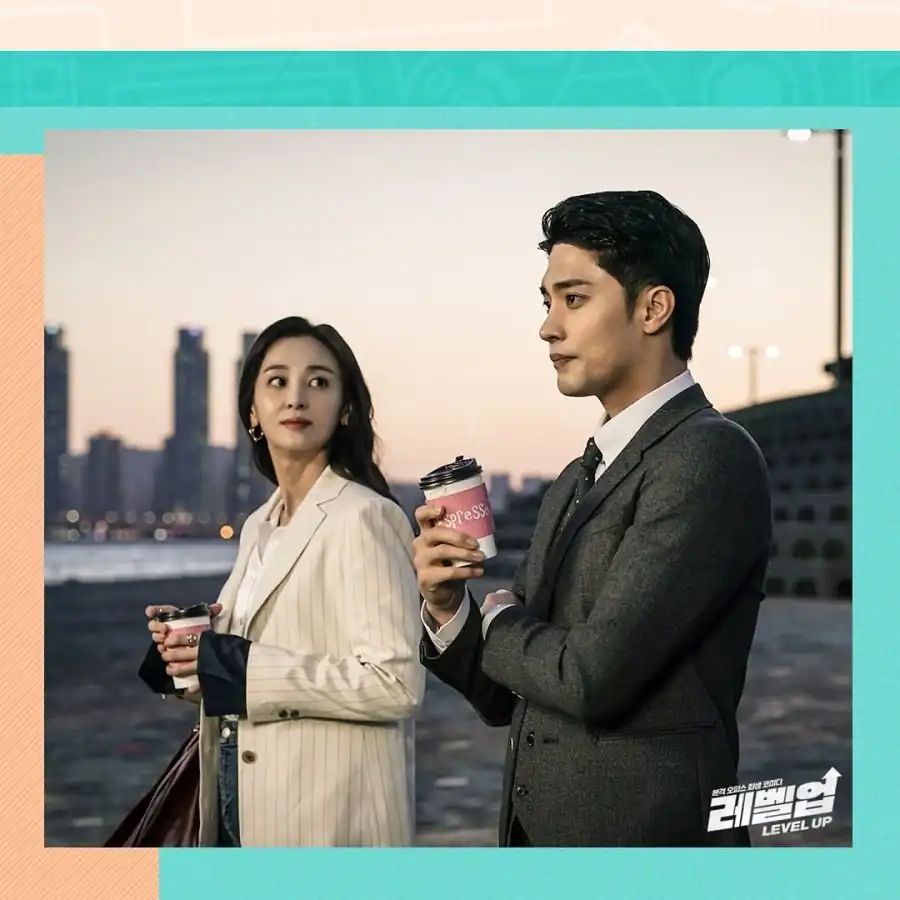 Ahn Dan Tae (Sung Hoon) is renowned for his genius in turning around struggling companies. When a gaming company faces bankruptcy, Dan Tae steps in as the new CEO to rescue it from ruin. Little does he know that he's about to embark on a journey that will change his life in unexpected ways.
At the company, Dan Tae crosses paths with Shin Yeon Hwa (Han Bo Reum), the head of game development. With their clashing personalities and differing opinions, they quickly find themselves at odds with each other. Disliking each other at first sight, they seem to be constantly at loggerheads.
But as they work together on a new game, something shifts. The law of opposites attract comes into play, and sparks begin to fly between them. Despite their differences, Dan Tae and Yeon Hwa start to find themselves drawn to each other in ways they never anticipated.
And, as they navigate the challenges of the gaming industry and their own personal struggles, Dan Tae and Yeon Hwa begin to see beyond their initial animosity. That's to say, they discover unexpected qualities in each other and slowly open their hearts to the possibility of something more. This is another enemies to lovers Kdrama set in the corporate world that you absolutely do not want to miss. 
6. Mad for Each Other (2021).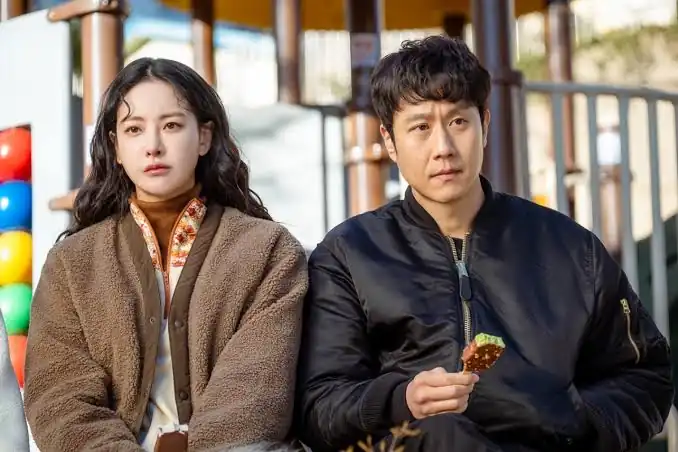 Noh Hwi Oh (Jung Woo) and Lee Min Kyung (Oh Yeon Seo) are two individuals grappling with their own internal battles – anger management and anxiety. Their lives intersect as neighbors, and despite their best efforts to avoid each other, they find themselves constantly at odds, indulging in bickering and fights fueled by misunderstandings and impulsive reactions.
With their shared neighborhood and a common psychiatrist, escaping each other's presence becomes impossible. And, as they navigate their own struggles and come face to face with their flaws and vulnerabilities, they begin to see past their initial clashes.
Through endless cycles of hurting and healing, Hwi Oh and Min Kyung start to understand and accept each other on a deeper level. Their animosity slowly gives way to empathy and understanding, and they discover a connection that they never expected.
As they learn to confront their demons and support each other through their challenges, they find solace in each other's presence, and gradually, their bickering turns into banter, and their fights become moments of intimacy.
With each step forward, Hwi Oh and Min Kyung begin to unravel the layers of their past wounds and discover the possibility of healing together. As they navigate the complexities of their emotions, they realize that love can blossom even amidst the chaos of their lives. 
7. Shooting Stars (2022).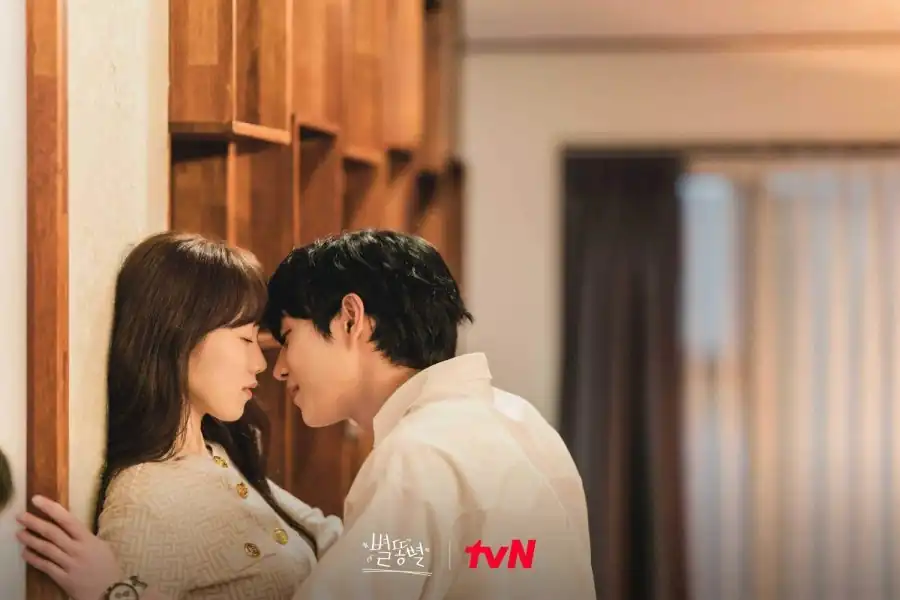 Gong Tae Sung (Kim Young Dae) is a beloved star in South Korea, adored by fans for his perceived kindness and politeness. But, the head of his PR team, Oh Han Byul (Lee Sung Kyung), knows the truth about his real personality. She's constantly tasked with putting out the fires caused by his mayhem, and she can't help but despise him to the core.
Their interactions are like a rollercoaster ride, filled with hilarious incidents and surprising twists and turns. Tae Sung's mischievous antics and Han Byul's sharp wit create a constant battle of wits, as they trade barbs and engage in playful banter. Despite their animosity, there's an undeniable chemistry between them that neither of them can ignore.
As they navigate the ups and downs of their hate-love relationship, they discover unexpected sides to each other. Tae Sung's carefree facade begins to crack, revealing a more vulnerable side, while Han Byul's tough exterior starts to soften, exposing her hidden vulnerabilities.
Amidst the chaos, they find themselves drawn to each other in ways they never expected. Their dynamic shifts from animosity to reluctant admiration, and soon, sparks fly as they engage in a battle of wills that blurs the line between love and hate.
With each passing day, Tae Sung and Han Byul realize that there may be more to each other than meets the eye. As they peel back the layers of their personas, they uncover a deeper connection that challenges their initial perceptions of each other.
This is one of the best slow-burn enemies to lovers Kdramas that might have you biting a pillow with happiness. Tae Sung and Han Byul were so cute together and watching the dynamic of their relationship change was a delight. 
---
There's so much to love about the enemies to lovers trope, and if you know your Korean dramas, you know that these productions blow it out of the park. I enjoyed all the dramas on this list, and I just know you will too!
If you're in the mood for some more recommendations, check out my post on the best friends to lovers Kdramas. You can expect all the slow burn, angst, and longing from those dramas.
And, if you want something sweet and amazing, I've curated a list of (very) short Kdramas you can finish in a day or less. 
Happy watching!