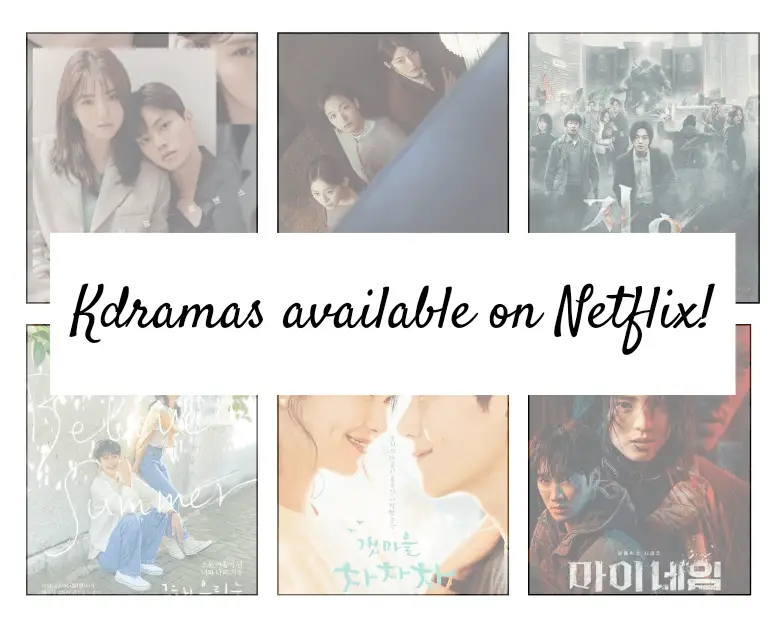 25 Interesting Korean Dramas Available on Netflix!
Netflix has an amazing selection of Korean dramas, but settling on one drama can be a little intimidating. 
Here's a list of some of the most popular and interesting Korean dramas available on Netflix that you can start watching right away.
Sit back and relax with these top kdrama recommendations from a devoted watcher like yourself, and let me know what you think in the comments!
1. The Sound of Magic – 6 Episodes.
Starring: Choi Sung Eun as Yoon Ah Yi, Ji Chang Wook as Ri Eul, and Hwang In Yeop as Na Il Deung.
Plot: Bogged down by the unforgiving realities of life, Ah-yi, a teenage high school student, has to work part-time jobs to support herself and her younger sister. 
One day, she meets a magician, Ri-Eul, at an abandoned amusement park and soon finds solace in magic. Together, they embark on a journey to find the deeper meaning of love, friendship, and magic, as Ri-Eul comforts her along the way.
Watch The Sound of Magic on Netflix.
2. Squid Game – 9 Episodes.
Starring: Lee Jung Jae as Seong Gi Hun, Park Hae Soo as Cho Sang Woo, Wi Ha Joon as Hwang Jun Ho, Jung Ho Yeon as Kang Sae Byeok, O Yeong Su as Oh Il Nam, Heo Sung Tae as Jang Deok-su, Anupam Tripathi as Abdul Ali, and Kim Joo Ryoung as Han Mi Nyeo.
Plot: This Korean drama took the world by storm and it's available on Netflix. Seong Gi-hun, a divorced and indebted chauffeur is invited to play a series of children's games promising him a chance to win ₩45.6 billion. 
In a bid to reverse his fortune, he accepts the offer and is made to contest against 455 other players who are also deeply in debt, including his childhood friend Cho Sang-woo. They quickly learn while playing the games that failing will lead to their demise. To survive,  they have to survive the physical and psychological twists of the games.
Watch Squid Game on Netflix.
3. It's Okay To Not Be Okay – 16 Episodes.
Starring: Kim Soo Hyun as Moon Gang Tae, Seo Ye Ji as Ko Moon Young, Oh Jung Se as Moon Sang Tae, and Park Gyu Young as Nam Ju Ri.
Plot: Moon Gang Tae and his older brother, Moon Sang Tae, who is on the autism spectrum, lost their mother at a young age. Unfortunately, Sang Tae was the one to witness her death and he has suffered because of his trauma which is easily triggered. This caused the pair to move house a lot. 
Gang Tae gets a job at a Psychiatric Hospital where he meets Ko Moon Young, a popular writer of children's literature. Despite her mental health issues and trauma, they develop a romantic relationship that causes both her and the brothers to begin healing.
Watch It's Okay to Not be Okay on Netflix.
4. A Korean Odyssey – 20 Episodes.
Starring: Lee Seung Gi as Son Oh Gong, Cha Seung Won as Woo Hwi / Woo Ma Wang, Oh Yeon Seo as Jin Seon Mi / Sam Jang, Lee Hong Gi as P.K / Jeo Pal Gye, and Jang Gwang as Yoon Dae Sik / Sa Oh Jeong.
Plot: Seon Mi is a young girl born with the ability to see ghosts and spirits. When she was young, she encountered the Monkey King, Son Oh-gong, inside a house, and he promised to protect her if she released him. Upon release, he neglected the promise and fled, unknowingly tying their destinies together. 
They met again in the future as Son Oh Gong was looking for a way to reinstate his status as an immortal. Seon Mi then used a magical bracelet to ensure the obedience of Son Oh Gong. From then on, they had to fight off demons, while dealing with their internal conflicts.
Watch A Korean Odyssey on Netflix.
5. A Business Proposal – 12 Episodes.
Starring: Ahn Hyo Seop as Kang Tae Moo, Kim Se Jeong as Shin Ha Ri, Kim Min Kyu as Cha Sung Hoon, and Seol In Ah as Jin Young Seo.
Plot: Shin Ha Ri goes on a blind date after she accepts to replace her friend, Jin Young Seo, as the latter wasn't interested, but wanted to appease her father who had coordinated the whole affair. 
Their plan to have Ha Ri act obnoxiously so that she would be rejected was foiled as the date turned out to be Kang Tae Moo, the CEO of the company she works for, and he wasn't interested in letting her go.
Watch A Business Proposal on Netflix.
Bonus: If you loved Business Proposal, here's a list of some Kdramas that are just like Business Proposal you're going to enjoy!
6. Crash Landing on You – 16 Episodes.
Starring: Hyun Bin as Ri Jeong Hyeok, Son Ye Jin as Yoon Se Ri, Seo Ji Hye as Seo Dan, and Kim Jung Hyun as Gu Seung Jun / Alberto Gu.
Plot: This is another absolutely amazing – and incredibly popular – Kdrama available on Netflix. Yoon Se Ri is the heiress of a South Korean company. A mishap caused by high winds forces Yoon Se Ri to make an emergency landing in North Korea one day while paragliding. 
There, she meets Ri Jeong Hyeok, a North Korean army officer. Due to the conflicts between the North and the South, he strives to protect and conceal her identity. As time goes on, Ri Jeong-Hyeok starts falling in love with Yoon Se Ri.
Watch Crash Landing on You on Netflix.
7. Chief of Staff – 20 Episodes.
Starring: Lee Jung Jae as Jang Tae Joon, Shin Min A as Kang Seon Yeong, Lee Elijah as Yoon Hye Won, Kim Dong Jun as Han Do Kyeong, and Jung Jin Young as Lee Seong Min. 
Plot: Jang Tae-Jun graduated from the Korean National Police University and worked as a detective in the National Assembly to gain more power. Although now a chief, he still has higher ambitions. 
Meanwhile, Kang Seon-Yeong is an ambitious first-year lawmaker who got elected through proportional representation. Before becoming a lawmaker, she hosted a current affairs TV program. Kang Seon-Yeong and Jang Tae-Jun are as different as can be, but sparks fly and they start a secret love affair.
Watch Chief of Staff on Netflix.
8. Kingdom – 6 Episodes.
Starring: Ju Ji Hoon as Crown Prince Lee Chang, Ryoo Seung Ryong as Lord Cho Hak Ju, Bae Doo Na as Seo Bi, Kim Sang Ho as Mu Yeong, and Kim Sung Kyu as Yeong Sin. 
Plot: If you fancy watching a Kdrama about Zombies, then you will want to check out Kingdom on Netflix. Crown prince Lee Chang gets tangled in a political conspiracy and is forced to embark on a mission to investigate the spread of a mysterious undead plague that had beset the current emperor and the country's southern provinces. 
Accompanied by a physician and his guard, the prince must prevent the advance of the plague toward his country seat, while addressing the coup aimed at his throne.
Watch Kingdom on Netflix.
9. Mr. Sunshine – 24 Episodes.
Starring: Lee Byung Hun as Eugene Choi / Choi Yoo Jin, Kim Tae Ri as Go Ae Shin, Yoo Yeon Seok as Goo Dong Mae / Ishida Sho, Kim Min Jung as Lee Yang Hwa / Kudo Hina, and Byun Yo Han as Kim Hui Seong.
Plot: Eugene Choi was a slave who escaped to the United States and became a Marine Corps officer. On his return from a mission, he meets Go Ae-shin, who he later falls in love with. However, their love is challenged by their different classes. 
Go Ae-shin's betrothed, a ruthless samurai, and the owner of the hotel Eugene Choi stays is just one of the hurdles the couple has to cross while chasing their happily ever after. Soon, a plot is discovered that outlines Japan's intent to colonize Korea, and they soon become embroiled in the fight for Joseon's sovereignty.
Watch Mr. Sunshine on Netflix.
10. Memories of the Alhambra – 16 Episodes.
Starring: Hyun Bin as Yoo Jin Woo, Park Shin Hye as Jung Hee Joo / Emma, and Park Chan Yeol as Jung Se Joo.
Plot: Yoo Jin-woo receives an email regarding a groundbreaking AR game about medieval battles in Alhambra, and travels to Granada, Spain to meet the creator of the game, Jung Se Joo. 
While in search of Jung Se Joo, who has mysteriously gone missing, he lodges in an old hostel, where he meets Se Joo's older sister, Jung Hee Joo. The both of them get tangled in bizarre incidents, as the border between the real world and the AR world built by Se-joo begins to blur.
Watch Memories of the Alhambra on Netflix.
11. Because This Is My First Life – 16 Episodes.
Starring: Lee Min Ki as Nam Se Hee, Jung So Min as Yoon Ji Ho, Esom as Woo Su Ji, Park Byung Eun as Ma Sang Goo, Kim Ga Eun as Yang Ho Rang, and Kim Min Seok as Sim Won Seok.
Plot: Nam Se Hee is a stoic single man in his early 30s, who has chosen to not marry. Meanwhile, Yoon Ji Ho, also a single woman in her early 30s with a failing writing career, has given up on dating due to her financial struggles. 
He owns a home but owes a lot on his mortgage, while she doesn't have a house and envies those that do. They decide to live together as housemates to split the costs, but things don't go as planned when they develop feelings for each other while battling societal conventions and family interactions. 
Watch Because This is My First Life on Netflix.
12. Oh My Ghost – 16 Episodes.
Starring: Park Bo Young as Na Bong Sun, Jo Jung Suk as Kang Sun Woo, Lim Ju Hwan as Choi Sung Jae, and Kim Seul Gi as Shin Soon Ae.
Plot: Na Bong Sun has low self-esteem and a timid personality, which causes her to not have any friends. From childhood, she has had the ability to see ghosts because of her shaman grandmother, and one day, she becomes possessed by a lustful virgin ghost, Shin Soon-Ae. 
She has a secret crush on Kang Sun-Woo, an arrogant and confident star chef at her place of work, where she works as an assistant chef. Though he hasn't gotten over his ex-girlfriend, he begins to notice Na Bong-Sun after her sudden change, and things become steamy fast. 
Watch Oh My Ghost on Netflix.
13. My Name – 8 Episodes.
Starring: Han So Hee as Yoon Ji Woo / Oh Hye Jin, Ahn Bo Hyun as Jeon Pil Do, and Park Hee Soon as Choi Mu Jin.
Plot: Yoon Ji Woo witnessed her father's murder when she was 17 and is now determined to find his killer. The police have no leads, so she turns to her father's best friend, Choi Mu-jin, the head of Korea's biggest drug ring, to go undercover in the police department and becomes a mole for the drug group under the name Oh Hye-jin. 
She's assigned to be partnered with Detective Jeon Pil Do and must be careful with her boss who is trying to take down the gang.
Watch My Name on Netflix.
14. Hellbound – 6 Episodes.
Starring: Yoo Ah In as Jeong Jin Soo, Kim Hyun Joo as Min Hye Jin, Park Jeong Min as Bae Yong Jae, Won Jin Ah as Song So Hyun, and Yang Ik June as Jin Kyung Hoon.
Plot: If you're looking for a short and interesting Korean drama to watch on Netflix this weekend, then you should add Hellbound to your watchlist. Mysterious entities start killing individuals and sending them to Hell, causing terror, bewilderment, and turmoil in modern-day Korea. Yoo Ah In, a religious cult leader who claims it is a portent of divine punishment, stands on one side. Skeptics, including police officer Yang Ik Joon and lawyer Kim Hyun Joo, oppose the cult and its many adherents.
Watch Hellbound on Netflix.
15. Hometown Cha-Cha-Cha – 16 Episodes.
Starring: Shin Min A as Yoon Hye Jin, Kim Seon Ho as Hong Du Sik, and Lee Sang Yi as Ji Seong Hyun.
Plot: Yoon Hye Jin, a dentist living in the big city, loses her job after she righteously accuses the clinic's head doctor of increasing patients' treatment for profit. 
She ends up moving to the seaside village of Gongjin, where she meets Hong Du Sik, who is held in high esteem in the village because he takes care of the elders and does not shy away from any odd jobs. Their paths cross several times and they take a liking to each other.
Watch Hometown Cha-Cha-Cha on Netflix.
16. Move to Heaven – 10 Episodes.
Starring: Lee Je Hoon as Cho Sang Gu, and Tang Jun Sang as Han Geu Ru.
Plot: Geu Ru, who has Asperger's syndrome, works for his father's business, arranging items and personal effects left by the deceased. When his father dies, his ex-convict uncle becomes his legal guardian. They start operating the family's business, and in the course of business, they uncover untold stories about the dead.
Watch Move to Heaven on Netflix.
17. Little Women – 12 Episodes.
Starring: Kim Go Wun as Oh In Ju, Nam Ji Hyun as Oh In Kyung, and Park Ji Hu as Oh In Hye.
Plot: Three sisters get involved in a case that leads them to fight against the richest and most influential family in South Korea. 
Oh In-Joo, the oldest sister, grew up in a poor environment and believes money is important to protect her family. Oh In-Kyung, the middle sister, is an enthusiastic reporter at a news station who believes in doing the right things. Oh In-Hye, the youngest of three sisters, is a student at an arts high school and she has a natural talent for painting.
Watch Little Women on Netflix.
18. Alchemy of Souls – 20 Episodes.
Starring: Lee Jae Wook as Jang Uk, Jung So Min as Mu Deok / Nak Su / Jin Bu Yeon, Go Yoon Jung as Nak Su / Cho Yeong, and Hwang Min Hyun as Seo Yul.
Plot: This is one of the best Kdramas of 2022, and I'm sure any lover of fantasy and badass female leads will enjoy this story. Alchemy of Souls features one of the most compelling storylines, an absolutely stunning cast, and drool-worthy visuals. As at the point this article is being written, only season 1 of this Kdrama is available on Netflix. 
Jang Uk, the male lead, comes from the noble Jang family, in the fictional country of Daeho – which is sort of like Joseon but with a more relaxed political atmosphere. All his life, uncomfortable rumours about his birth have been whispered behind his back, and he has had alterations with dozens of teachers which led to him being branded as a troubled child. 
As a result of his father's actions, Jang Uk is denied any education about fighting and is pretty much defenseless until he meets Mu Deok, an elite warrior trapped in a physically weak body, and she secretly teaches him how to fight, which later comes as an advantage to him along the way.
Watch Alchemy of Souls on Netflix.
19. Our Beloved Summer – 16 Episodes.
Starring: Choi Woo Shik as Choi Ung, Kim Da Mi as Kook Yeon Soo, Kim Sung Cheol as Kim Ji Ung, and Roh Jeong Eui as NJ.
Plot: Choi Ung and Kook Yeon-Su separated five years ago, but then a documentary they made in high school blows up, making them famous overnight, effectively shooting them into the limelight and forcing their reunion. 
Years later, Choi Ung appears innocent and free-spirited, yet he desires something for the first time in his life. Yeon Su once aspired to be the top student at her school, but now lives as an adult is passionate about her interests, and adapts to her circumstances.
Watch Our Beloved Summer on Netflix.
20. Itaewon Class – 16 Episodes.
Starring: Park Seo Joon as Park Sae Ro Yi, Kim Da Mi as Jo Yi Seo, Yoo Jae Myung as Jang Dae Hee, and Kwon Nara as Oh Soo Ah.
Plot: Due to an accident that killed his father, Park Sae-ro-yi attempted to kill Jang Geun-won, the son of Jangga Group's founder, Jang Dae-hee. This led to his being imprisoned. 
After his release, Park Sae-ro-yi opens a restaurant so that he can be successful and seek revenge on the people that hurt him. In trying to manage his business, he then meets Jo Yi-seo, who later starts having feelings for him.
Watch Itaewon Class on Netflix. 
21. The King: Eternal Monarch – 16 Episodes.
Starring: Lee Min-ho as Lee Gon / Lee Ji-hun, Kim Go-eun as Jeong Tae-eul / Luna, Woo Do-hwan as Jo Yeong / Jo Eun-sup, Kim Kyung-nam as Kang Shin-jae / Kang Hyeon-min, Jung Eun-chae as Koo Seo-ryeong / Koo Eun-ah, and Lee Jung-jin as Prince Imperial Geum / Lee Lim / Lee Seong-jae.
Plot: Lee Gon, a modern-day Emperor of the Kingdom of Korea, tries to cross the barrier into an alternate world. He meets investigator Jung Tae-eul, whom he recognizes from an identity card he acquired during a turning point in his life (the killing of his father). 
Meanwhile, Lee Lim, Lee Gon's half-uncle, who killed the former king Lee Gon's father, Lee Ho, is hiding and collecting soldiers while crossing back and forth between the two parallel realms.
Watch The King: Eternal Monarch on Netflix. 
22. Nevertheless – 10 Episodes.
Starring: Han So-hee as Yoo Na-bi, Song Kang as Park Jae-eon, Chae Jong-hyeop as Yang Do-hyeok, Lee Yul-eum as Yoon Seol-ah, and Yang Hye-ji as Oh Bit-na.
Plot: Park Jae-Eon is a university student, majoring in art. He seems nice to everyone and is usually cheerful. He always seems indifferent to the idea of love and isn't interested in having a romantic relationship. 
Yoo Na-Bi is an art student at the same university as Park Jae-Eon. Due to her break-up experience in the past, she decides to become un-swayed by love. They meet and start developing feelings for each other.
Watch Nevertheless on Netflix. 
23. Her Private Life – 16 Episodes.
Starring: Park Min-young as Sung Deok-mi / Sinagil, and Kim Jae-wook as Ryan Gold / Heo Yoon-je.
Plot: Sung Deok-Mi works as a curator at an art gallery. She is a huge fan of Shi-An and secretly runs a fan website about him. Due to several bad break-ups, she now focuses only on her job and doing activities as Shi-An's fan in her private life. 
One day, Ryan begins work as the new director of the art gallery where Sung Deok-Mi works. Ryan doesn't have much interest in other people, but when he learns that Sung Deok-Mi is a fan of Shi-An and runs his fan website, he begins to take an interest in her.
Watch Her Private Life on Netflix. 
24. One Spring Night – 32 Episodes.
Starring: Han Ji-min as Lee Jeong-in, Jung Hae-in as Yoo Ji-ho, and Kim Jun-han as Kwon Gi-seok.
Plot: After realising that she wasn't living the life she had always envisioned for herself, Lee Jeong-In, who works as a librarian, decides to prioritize happiness in her life. 
While Yoo Ji-ho is a pharmacist and a single dad. Little do they realize after meeting each other, Ji-ho and Jeong-in will begin to see love and relationships in a whole new light.
Watch One Spring Night on Netflix. 
25. All of Us Are Dead – 12 Episodes.
Starring: Yoon Chan-young as Lee Cheong-san, Park Ji-hu as Nam On-jo, Cho Yi-hyun as Choi Nam-ra, Lomon as Lee Su-hyeok, Yoo In-soo as Yoon Gwi-nam, Lee Yoo-mi as Lee Na-yeon, Kim Byung-chul as Lee Byeong-chan, Lee Kyu-hyung as Song Jae-ik, and Jeon Bae-soo as Nam So-ju.
Plot: This is another interesting Kdrama on Netflix that you definitely want to consider checking out. At Hyosan High School, a viral outbreak erupts, and the infected rapidly transform into flesh-eating zombies. Students at the high school are now fighting for their lives while trying to find a way out. 
Nam On-Jo and Lee Cheong-San have known each other since they were children. They are two of the kids that are imprisoned in a classroom with flesh-eating zombies. Meanwhile, the Korean military tries to contain the infection and keep the country safe from breakout.
Watch All of Us Are Dead on Netflix. 
---
If you liked this post and you want something short and engaging to watch this weekend, here are my favourite short Korean dramas to binge in one weekend. Also, if you fancy rich boy and poor girl Korean dramas, I have just the thing for you!