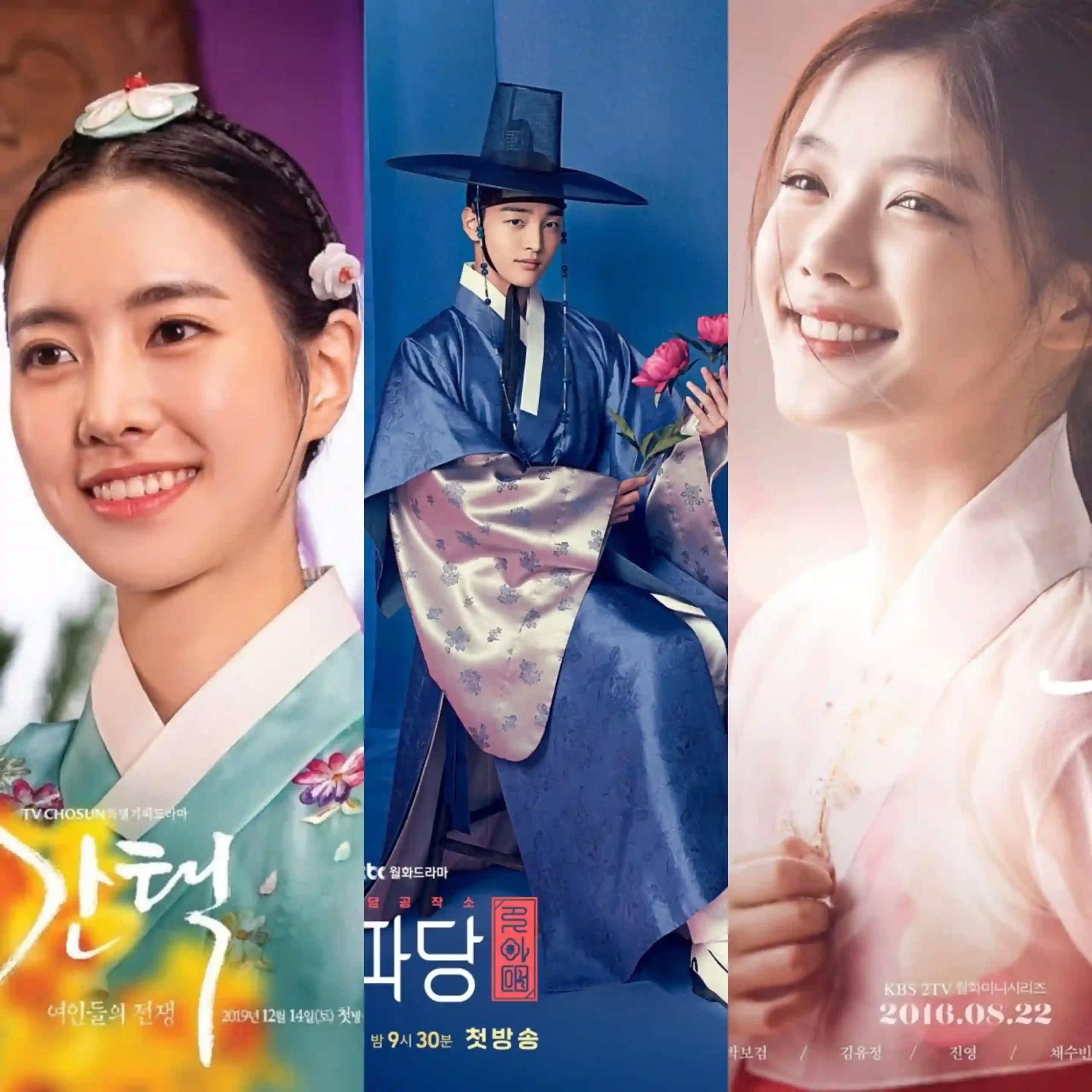 21 Captivating Kdramas Set in Joseon Dynasty You Need to Watch
The Joseon Dynasty was a time of great change and transformation in Korea, spanning over 500 years from the late 14th century to the late 19th century. 
During this time, Korea saw the rise and fall of powerful dynasties, the spread of Confucianism, and the creation of a unique cultural identity. It was also a period of great storytelling and filled with so many enigmatic and memorable personalities.
Because of this, there are so many Korean dramas that take place during the Joseon dynasty. Rife with political maneuvering and scheming, these dramas will utterly captivate you. 
In this post, I'll be listing some of the most beloved Korean dramas that take place in this era. And, if you've watched a good many in this post, this is a sign for you to rewatch it – trust me, your watchlist will thank you!
Here are some of the most interesting Kdramas set in the Joseon Dynasty: 
1. Moon Embracing The Sun
Heo Yeon Woo, a thirteen-year-old high-ranking official's daughter, falls in love with Crown Prince Lee Hwon at her brother's congratulatory ceremony in the royal palace. 
Despite being chosen as the Crown Princess of Joseon, Yeon Woo is secretly ordered to be killed by the Dowager Queen to install Yoon Bo Gyeong as the new Crown Princess. 
After being resurrected from the dead, Yeon Woo returns as a shaman named Wol eight years later, and the king investigates her death. But the queen's powerful clan is determined to remove him from power.
2. 100 Days My Prince
A lonely prince in the Joseon Dynasty named Lee Yul makes a law that forces people to marry young. Shortly after this, he suffers an attack by his enemies and is left for dead. 
Hong Shim is a brave and clever woman who lives with her father. While scavenging for herbs, her father finds Lee Yul – who is now amnesiac – and tells him that he is his daughter's fiancé.  They eventually get married and this kicks off their ill-fated romance. 
While amnesia can feel a little cliché, I promise that this wasn't too bad. Really interesting and with amazing cinematography, this amazing Kdrama set in the Joseon Dynasty period is quite interesting. 
3. The King's Affection
This romantic historical Kdrama takes place in a Joseon where twins are regarded as cursed. When the crown princess gives birth to twins.
She's instructed to "dispose of" her daughter, which she does by telling her trusted guard to hide her in secret.
Years later and Dam Yi – the princess who was hidden, although she isn't aware of this fact – works as a maid, and this is where she meets her twin brother, who promptly suggests a little switcharoo. Soon enough, they're swapping places and it was on one of these excursions he was killed. 
When the crown princess (now the queen) finds out about their game and then gets news that her "daughter" has been killed. She pleads with Dam Yi to continue living in the palace as the prince.
The rest of this absolutely interesting historical Kdrama develops as she fumbles her way through manhood and falls in love with her enemy's child. 
4. The Red Sleeve
In 18th century Korea, Prince Yi San is a perfectionist haunted by his father's murder. He's next in line for the throne, which he plans to use to enact benevolent reforms, and while at court, he meets Sung Deok Im, a strong-willed woman who captures his heart. 
Though he asks her to be his official concubine, Sung Deok Im is hesitant to take on the role of royal consort.
But, Yi San's love is sincere, and Sung Deok Im realizes that their union could bring positive change to the kingdom.
5. Love In The Moonlight 
In a bid to protect her family, Hong Ra On poses as a man to offer dating advice. However, a love letter she wrote for a client leads her to meet Crown Prince Hyo Myung, who is unaware of her true gender. 
Through a bad stroke of luck – and plenty of scheming by the crown prince who is now aware of her identity – Ra On becomes a eunuch after being targeted by loan sharks. 
Despite the challenges they face, the Crown Prince and Ra On develop feelings for each other. And as they navigate palace politics and the Prince's path to the throne, they must fight to keep their love alive.
6. Lovers Of The Red Sky
Set in the Joseon Dynasty, this unique fantasy historical Kdrama follows Hong Chun Ki and Ha Ram who are connected by the red thread of destiny.
Hong Chun Ki is a rare female painter born blind, yet with a unique sense of vision, who mysteriously gained he sight.
She gets accepted into the most prestigious art college in the land, where she meets Ha Ram, a skilled astrologer who is also blind. 
The two become embroiled in the political intrigues of the royal court, including the rivalry between Prince Yang Myung and the ambitious Prince Joo Hyang, who aspires to the throne, while battling spiritual forces who are beyond their control. 
7. Mr. Queen
In this time-travel Kdrama that takes place in the Joseon Dynasty, Jang Bong Hwan, a top chef at the Blue House, finds himself in the body of Queen Kim So Yong after a serious accident sends him back in time. 
Her husband, King Cheol Jong, is merely a figurehead as his deceased predecessor's queen, Sun Won, controls the realm. However, her grip on power is threatened by her ambitious brother, Kim Jwa Guen. 
As Queen Kim So Yong uncovers secrets about her husband, she learns that he is not as docile as he seems. If you're in the mood for a Kdrama that will have you roaring with laughter, I can't recommend this more. 
8. Arang And The Magistrate
Eun Oh, a government official searching for his missing mother, is unfriendly and skeptical, and his ability to see ghosts has made him unfazed by their presence. 
That changes when he encounters Arang, a murdered virgin ghost seeking revenge. Eun Oh is enlisted to help her find justice, and he sets out to solve the mystery of her death as he believes it's linked to his mother's curious disappearance.
9. Kingdom
As soon as the Joseon King dies of smallpox, rumors spread like wildfire. The Cho Clan, led by the pregnant Queen's father, Chief State Councillor Cho Hak Joo, accuses the Crown Prince of treason. 
Doubting his father's death, the Crown Prince and his guard, Moo Young, search for Lee Seung Hui, the last doctor to treat him.
But they find themselves in a village plagued by a mysterious disease, alongside Assistant Physician Seo Bi and a stranger named Young Shin.
10. Under The Queen's Umbrella
The palace is filled with mischievous princes who are about to undergo a transformation into responsible crown princes. Their mother, Im Hwa Ryeong, is the queen of a great king. 
Despite her position, she's often hot-tempered and easily agitated. Nevertheless, she endures each day's challenges for the sake of her children.
This Kdrama features a strong, awe-inspiring female lead who will have you rooting for her from day one. There's also a healthy dose of politics in here, so if you're in the mood for some political juggling in the Joseon era, this is a perfect pick. 
11. My Sassy Girl
Gyeon Woo, a renowned scholar of his generation, is tasked by the king to properly educate his sassy daughter, Princess Hye Myung.
But when rebels threaten Hye Myung's future reign, Gyeon Woo inadvertently becomes her protector. 
His job becomes something he didn't anticipate, but he is determined to save Hye Myung from a terrible fate and ensure her rightful place on the throne.
12. Our Blooming Youth
Min Jae Yi is the daughter of a prominent family who prepares for her future by learning how to become a good wife and mother while moonlighting as a detective in her brother's name, but destiny has other plans for her when her family is brutally murdered just days before her wedding, and she is falsely accused of the crime. 
Enter the cursed crown prince, Lee Hwan, who agrees to help her in exchange for her assistance in breaking his curse.
As they navigate challenges together, they begin to develop unexpected feelings. However, their love faces countless obstacles, including their pasts, uncertain futures, and the threat of the curse.
13. Queen For Seven Days
This tragic drama tells the romantic tale of King Jung Jong and his beloved Queen Dan Kyung, who was crowned and dethroned within a week due to political machinations. 
Despite their separation, the king remains devoted to her and sighs for her every day while gazing at the mountain she loved.
Upon hearing this, the queen places her favorite red skirt on a rock on the mountain as a sign of her enduring love.
14. Tinted With You
In Korea's feudal past, deposed Crown Prince Lee Heon feared for his life after his cruel older brother usurped the throne. With only his loyal guard Geum by his side, he faced an uncertain future. 
Fast forward to the modern-day, where high school student Eun Ho is drawn into the past and forms a romantic bond with Lee Heon. But when the acting king seeks to kill the exiled prince, Eun Ho may be his only hope for survival. 
Meanwhile, Eun Ho must navigate his newfound connection to the past and the dangers it poses. This is a fantastic Bl Kdrama that will have you thinking for days. I honestly can't recommend this enough. 
15. Flower Crew: Joseon Marriage Agency
Lee Soo, a former blacksmith turned king, struggles to adapt to palace life and the restrictions that come with it. He loves Gae Ddong but as a commoner, marrying her seems impossible. 
Determined to make her his bride, Lee Soo hires the best matchmaking agency in Joseon, the Flower Crew – whom he had commissioned to foster their union before he was kidnapped and sent into the palace – to transform Gae Ddong into a noblewoman. 
However, this transformation is no easy task, and the Flower Crew risks their lives to help the king, and love starts blooming between Gae Ddong and Ma Hoon, one of the members of the flower crew. 
16. Dong Yi
Set in the Joseon dynasty, Dong Yi tells the story of Choi Suk Bin, a water maid who becomes the concubine of King Sok Jong and gives birth to the future king, Yeong Jo. 
Despite being branded as murderers, Dong Yi's determination to prove her family's innocence leads her to enter the palace disguised as a servant for the Bureau of Music. 
As she uncovers the truth about the nobleman's deaths, Dong Yi must also navigate palace politics and maintain her secret identity.
17. Bloody Heart
This historical drama follows Lee Tae's ascension to the throne after his father deposed the previous king.
Lee Tae is determined to rule as an absolute monarch, but he faces opposition from powerful First Vice-Premier Park Gye Won. 
In the midst of a power struggle, Lee Tae has his sights set on Yoo Jung, a noblewoman whom he hopes to make his wife because of their shared complicated past. 
This is honestly one of my favorite historical Kdramas of all time. Rather than having a weak king that's sort of like a placeholder and a queen who's simply standing there, Lee Joon and Kang Han Na absolutely stunned in their roles, and the ending – which really felt like a compromise between the warring factions – was sublime and realistic.  
While the romance is quite prominent in this, what really stood out to me was all the politics, which I frankly felt was so captivating. 
18. Queen: Love And War
In Joseon Dynasty-era Korea, Kang Eun Bo is determined to find her twin sister's killer and bring them to justice.
To do so, she must win the title of Queen, the only woman with the power to order a manhunt. 
However, winning the heart of King Lee Kyung won't be easy, as the royal court is filled with women vying for his attention. 
Despite this, Kang Eun Bo and the king begin to form a bond, and when he recognizes her from a dream, their relationship takes an unexpected turn. 
19. The Nokdu Flower
In the midst of the Donghak Peasant Revolution, two half-brothers find themselves on opposite sides.
Yi Kang, born to a lowly mother and a wealthy father, faces prejudice from those around him. Yi Hyun, his younger half-brother, is handsome, smart, and kind to Yi Kang. 
Meanwhile, Song Ja In, the daughter of a prominent peddler, owns the Jeonjoo Yeokak Inn and dreams of becoming the best merchant in Joseon.
As the revolution rages on, the three must navigate their relationships and ambitions amidst the turmoil of their era.
20. Haechi
In the Joseon Dynasty, four individuals with different backgrounds unite to help Prince Lee Geum become king and reform the Saheonbu.
Lee Geum, a smart prince, struggles with recognition due to his mother's social status. Yeo Ji, a skilled damo at the Saheonbu, investigates cases with enthusiasm and is the best investigator among her colleagues. 
Park Moon Soo is an honest, kindhearted man who struggles with passing his exam to become a public officer. Dal Moon is a famous martial arts clown who joins the group with his skills. Together, they work to make a better Joseon.
21. Moonshine
Despite the extended prohibition in the Joseon era, human desire for alcohol could not be quenched. Inspector Nam Young, Kang Ro Seo, and Crown Prince Lee Pyo all faced different challenges due to the ban. Inspector Nam Young left his hometown to seek success and restore his family's status, while Kang Ro Seo, an impoverished aristocrat, made moonshine to reduce her debt. 
Even Crown Prince Lee Pyo, despite his royal status, risked scaling palace walls in search of alcohol. These three unlikely companions cross paths and discover a hidden stash of alcohol and coupled with Ro Seo's alcohol-making business, they're thrust into a world of danger and crime. 
---
The Joseon Dynasty was the perfect backdrop for some of the most captivating Kdramas of all time – and the dramas on this list are only the tip of the iceberg.
And, I hope that this article has given you with some great recommendations for Joseon Dynasty Kdramas to watch. 
And, if you want to explore more Korean dramas and related content, check out the related posts below.