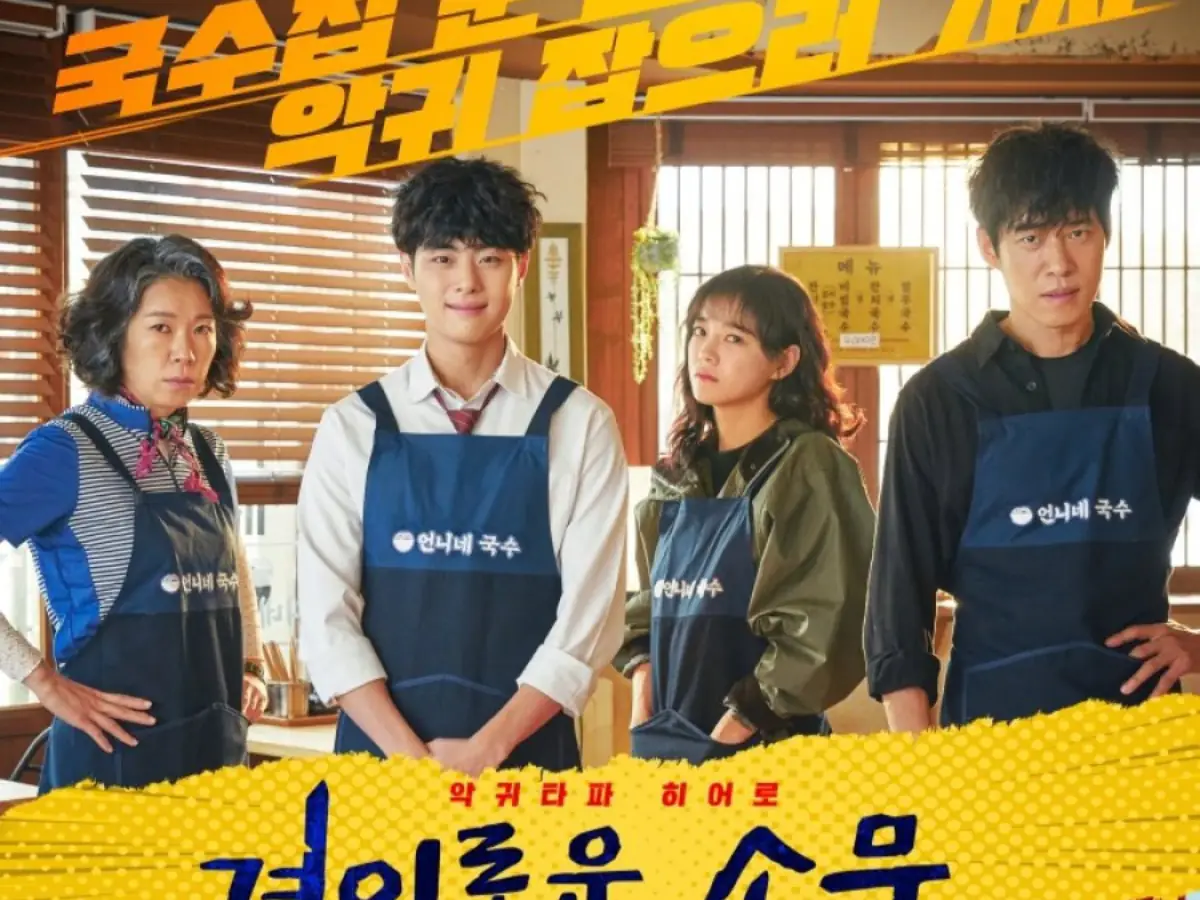 23 Interesting Kdramas to Watch If You Loved The Uncanny Counter!
In the Kdrama world, there's no shortage of supernatural shows to choose from, but few can rival the excitement and thrills of The Uncanny Counter. 
And, as we eagerly await the next season we were promised sometime this year, there's nothing more soothing than indulging in a Kdrama (or twenty) reminiscent of the popular show.
If you've been on the lookout for ways to entertain yourself and keep your mind engaged after enjoying The Uncanny Counter, then you're in luck – I have compiled a list of Kdramas similar to The Uncanny Counter that are sure to pique your interest. 
Personally, I found these shows to be just as thrilling as The Uncanny Counter, and I am confident you will too. 
So, grab your coziest blanket, sit back, and prepare to fall in love with one, two, or all of the dramas on this list.
Kdramas Like The Uncanny Counter
1. Tomorrow (2022)
Tomorrow centers around Rowoon, a determined job seeker who finally lands a job in the after-world after being in a coma from an accident he got into while job-hunting. He joins a team of elite grim reapers, led by the talented Kim Hee Sun as Koo Ryeon.
Just like the counters in The Uncanny Counter, this group of reapers is on a mission to bring hope and justice to those who are struggling and on the brink of giving up. However, their focus is on saving lives rather than catching evil spirits. 
If you loved the idea of a team working to make the world a better place which was the bedrock of The Uncanny Counter, then this Kdrama is right up your alley. 
2. Island (2022)
After being exiled to Jeju Island by her father, Won Mi Ho discovers that the island is home to a plethora of evil spirits, and these spirits are out to get her.
But with the help of her allies Van (Kim Nam Gil) and heartthrob Johan (Cha Eun Woo), she's determined to fight against the malevolent entities that threaten her safety.
What makes Island so reminiscent of The Uncanny Counter is the unlikely yet dynamic team that forms to fight against evil. While Won Mi Ho, Van, and Johan may not seem like the most cohesive group at first glance, their unique strengths and personalities complement each other perfectly in battle. 
If you're looking for a Kdrama like The Uncanny Counter that will keep you on the edge of your seat with its action-packed scenes and engaging characters, Island should definitely be on your watchlist.
3. Dokgo Rewind (2018)
Dokgo Rewind centers around Kang Hyuk (played by Oh Se Hun), a high school dropout who rescues Kyu Soo (played by Yoo In Hwan) from his relentless bullies. But their friendship is short-lived, as the bullies take their revenge and beat Kyu Soo to death.
Determined to put a stop to bullying and protect innocent students, Kang Hyuk teams up with Kim Jong Il (played by Jo Byeong Kyu) and Pyo Tae Jin (played by Ahn Bo Hyun). 
Together, they form a powerful team that's ready to take on the bullies and bring them to justice. With an engaging plot, compelling characters, and thrilling action scenes, this Kdrama is a must-watch for fans of The Uncanny Counter.
4. Mystic Pop-up Bar (2020)
Another Kdrama you can watch if you enjoyed The Uncanny Counter is Mystic Pop-Up Bar. Weol Ju, played by Hwang Jung Eum, is a woman with a mysterious past who runs a night-time outdoor drinking stall. Her job is to resolve the grudges of 100,000 souls, whether they are living or dead. 
As expected, this leads to some interesting encounters and storylines, all while Weol Ju works with her team consisting of a grim reaper, an afterlife detective, and a unique human with the ability to make others express their true emotions with a simple touch.
The show is chock-full of supernatural elements, humor, and a touch of romance, all while exploring the themes of redemption and forgiveness.
With only 12 episodes, Mystic Pop-Up Bar is a quick and enjoyable watch that is perfect for fans of The Uncanny Counter who are looking for a similar storyline and live for that team dynamic.
5. Tale of the Nine-Tailed (2020)
Starring the swoon-worthy (read as utterly, devastatingly, almost ethereal) Lee Dong Wook as the nine-tailed fox Leo Yeon, Tale of the Nine-Tailed follows his demotion from being the God of Baekdu Mountain after meddling with the afterlife for his beloved. Now, he is tasked with capturing malevolent spirits and other supernatural entities.
What makes Tale of the Nine-Tailed's storyline simar to The Uncanny Counter's is how Lee Yeon interacts with humans while working alongside a team that manages the afterlife. Like the counters, he must navigate the challenges of living amongst humans while keeping the supernatural world in balance. 
6. He is Psychometric (2019)
If you enjoyed the heart-pumping action and supernatural elements in The Uncanny Counter, then you're in for a treat with this Kdrama. Like our beloved series, this show centers around a baffling case that involves a tragic loss – in this case, Lee Ahn's parents. 
But what sets this drama apart is Lee Ahn's unique ability to read a person or object's past through physical contact. Just like in The Uncanny Counter, we have a protagonist trying to come to terms with their supernatural powers and their own painful past.
And just like Ha Na in The Uncanny Counter, Yoon Jae In is also trying to keep her traumatic history hidden. But fate brings her and Lee Ahn together, and they team up with prosecutor Kang Sung Mo and investigator Eun Ji Soo to solve the case.
With thrilling action sequences and a gripping mystery at the core of the story, this Kdrama is sure to keep you on the edge of your seat – just like The Uncanny Counter.
7. Bring it On, Ghost (2016)
The show follows Park Bong Pal (played by Ok Taec Yeon), a guy who can communicate with ghosts and earns a living by exorcising them. One day, he meets the ghost of Kim Hyun Ji (played by Kim So Hyun), who died in a tragic accident. Together, they team up to hunt ghosts and unravel the mystery behind Kim Hyun Ji's death. Sound familiar?
But Bring It On, Ghost isn't just a carbon copy of The Uncanny Counter. It has its unique charm, with a touch of romance between the two leads and plenty of comedic moments that balance out the eerie ghost-hunting scenes.
The show also has a compelling storyline, with a powerful evil spirit lurking in the background that's connected to Park Bong Pal and Kim Hyun Ji's past.
8. The Guest (2018)
Like The Uncanny Counter, this show features a team of heroes fighting against a menacing evil spirit. But this time, the spirit has a terrifying power – it can control other ghosts and use them to possess innocent people, turning them into killers.
To stop this malevolent force, a psychic taxi driver teams up with Priest Matthew (played by Kim Jae Wook) and detective Kang Gil Young (played by Jung Eun Chae). 
9. Hotel Del Luna (2019)
Hotel Del Luna revolves around Man Wol, who has been bound to an establishment for a thousand years. This establishment is transformed into Hotel Del Luna, a hotel that only ghosts can see.
Man Wol is joined by a staff of three spirits and a human manager, and together they cater to every need and desire of the hotel's ghostly guests. 
They also help these ghosts resolve any lingering grudges so that they can move on to the other side peacefully. And just like in The Uncanny Counter, Man Wol and her staff encounter many evil spirits that they must deal with.
10. Taxi Driver (2021)
Kim Do Gi (played by Lee Je Hoon), who is an honest special force officer felt powerless after a serial killer murdered his mother. To seek justice, he joins Rainbow Taxi, a covert organization that aids people seeking revenge for wrongdoings against them.
Much like The Uncanny Counter, Taxi Driver explores the conflicts between the legal system and a secret group working towards justice. It's a thrilling watch that will keep you on the edge of your seat as you witness Kim Do Gi and his team take matters into their own hands to bring about retribution. 
11. Moorim School (2016)
Just like So Mun in The Uncanny Counter, a student in Moorim School enters the academy despite not being qualified. The school is shrouded in secrecy and only visible to those with special abilities.
But when Yoon Shi Woo, a K-pop idol with hearing loss, stumbles upon the school, he ends up being enrolled as a student, and things take an interesting turn.
Moorim School offers a unique blend of action, drama, and romance that's sure to keep you on the edge of your seat. With a diverse cast of characters and an intriguing storyline, you'll quickly find yourself invested in the world of Moorim School and drawing comparisons between it and The Uncanny Counter
12. The Fiery Priest (2019)
When a senior Catholic priest is murdered, a priest named Kim Hae Il, played by the talented and incredibly delicious Kim Nam Gil, teams up with detective Goo Da Young, portrayed by Kim Sung Kyun, and prosecutor Park Kyung Sun, played by Lee Hanee, to solve the case. 
The Fiery Priest delves into the complexities of the crime and the intricate relationships between the characters, and I know this will appeal to any bodu that watched and loved The Uncanny Counter.
As the story unfolds, you'll witness the power of teamwork as people from different backgrounds unite to fight for justice and rid society of evil.
13. Memorist (2020)
Memorist revolves around Detective Dong Baek (played by Yoo Seung Ho), who has a unique ability to see people's memories through physical contact. The plot thickens as he works with Han Su Mi (played by Lee Se Young) to catch a serial killer. 
The show is similar to The Uncanny Counter in its plotline, which also revolves around a team of supernatural beings fighting against evil. Both shows also share a protagonist who has a special ability and is troubled by childhood trauma. If you loved The Uncanny Counter, then you're definitely going to enjoy Memorist. 
14. The Cursed (2020)
If you loved The Uncanny Counter, you'll appreciate the high stakes and suspenseful storyline of The Cursed.  Baek So Jin (Jung Ji So) is a high school student with the ability to cause death using people's names and belongings. 
Together with a righteous reporter named Im Jin Hee (Uhm Ji Won), they uncover the dark secrets of South Korea's largest conglomerate and fight against the powerful and evil man hidden behind a respected businessman.
15. The Great Shaman Ga Doo Shim (2021)
Na Woo Soo (played by Nam Da Reum) starts seeing ghosts after a student in his class dies. He teams up with Ga Doo Shim (Kim Sae Roon), a newly transferred student who is destined to become a shaman, to battle the supernatural forces haunting their school. I loved this drama so much, and I just know you'll enjoy it if you loved The Uncanny Counter. 
16. Missing: The Other Side (2020)
After a fateful incident, Kim Wook is brought to a hidden village of ghosts. Similar to the spirit world in The Uncanny Counter, this village is invisible to living humans and is home to people whose bodies were never found. 
Kim Wook has the unique ability to see these ghost villagers and uses his gift to help them understand the circumstances of their deaths. With its focus on a normal human navigating a secret world filled with spirits, this is a drama you'll want to watch after The Uncanny Counter. 
17. From Now On, Showtime (2022)
Park Hae Jin stars as the talented magician Cha Cha Woong in this Kdrama with a twist. Little do his fans know that he's not working alone – he has a team of ghosts assisting him in his performances. 
After an incident at one of his shows, Cha Woong crosses paths with detective Go Seul Hae, played by Jin Ki Joo. Intrigued by his otherworldly abilities, Seul Hae convinces Cha Woong to team up with her to fight crime with the help of his ghostly crew.
Fans of The Uncanny Counter will appreciate the similar theme of a team of supernatural beings and law enforcement working together to bring down villains.
18. Tell Me What You Saw (2020)
This Korean drama follows criminal profiler Oh Hyun Jae (Jang Hyuk) as he teams up with detective Cha Soo Young (Choi Soo Young) to catch a serial killer.
Cha Soo Young's photographic memory proves to be a valuable asset in solving their cases, and the dynamic between the two protagonists is similar to that of So Mun and Ga Mo Tak in The Uncanny Counter, as they work together to bring a dangerous criminal to justice.
19. Govengers (2018)
In this show, a group of high school students stumble upon a mysterious phone that grants them unique superpowers. From stopping time to transforming into the Hulk, each student has their special ability.
Just like the team in The Uncanny Counter, these students must work together to learn how to control their powers and use them for the greater good of others.  
20. Catch The Ghost (2019)
If you're looking for a show that's similar to The Uncanny Counter, then you should definitely check out Catch the Ghost. This drama follows police officer Yoo Ryeong as she sets out to catch the Subway Ghost who killed her twin sister.
Along the way, she teams up with fellow officer Go Ji Seok to crack the case and they unravel a web of corruption in the legal system.
What makes Catch the Ghost so appealing is its mix of supernatural elements and a strong, character-driven plot. Just like in The Uncanny Counter, the characters in Catch the Ghost are on a mission to catch ghosts (haha!) and protect innocent people. 
But the show also delves deeper into the struggles and personal lives of its characters, making it a well-rounded and satisfying watch. Plus, with the talented Moon Geun Young and Kim Seon Ho in the lead roles, you're sure to be entertained from start to finish. 
21. Diary of A Night Watchman (2014)
Rin (Jung Il Wooo), a banished prince starts seeing ghosts after his parents, the king, and the queen, get murdered by evil spirits. He meets a young shaman Do Ha (Ko Sung-Hee) and Kang Moo Seok (Jung Yun Ho), a swordsman who once worked for Rin's father and the late king.
Together, these three create the ream of night watchmen who protect the people at night by hunting the evil spirits haunting the capital. From the plot of ghost-hunting to fighters with special abilities and a male lead who lost his parents due to evil spirits, this drama has a lot in common with The Uncanny Counter. 
22. The School Nurse Files
Ahn Eun Young is a high school nurse with a special ability to see jelly-like monsters left behind by human desires. Together with her partner, Hong In Pyo, a Chinese teacher with his unique energy, they fight to protect their school from otherworldly threats.
What's great about the show is that it's both unique and entertaining, with its colorful and quirky tone keeping you hooked from the start.
Like The Uncanny Counter, this drama features supernatural beings and an unlikely duo with special powers who come together to protect people. 
23. The Ghost Detective
This show also features a team of ghost-hunters, but with a different setup. The main character, Lee Da Il (Choi Daniel), is a private detective who can see ghosts after a traumatic incident in his past.
He partners up with a high school student, Jung Yeo Wool (Park Eun Bin), who possesses a unique ability to communicate with spirits, and wants to solve her sibling's death. Together, they solve supernatural cases and uncover the secrets of their pasts.
---
Each drama on this list is truly remarkable, but if you were a fan of The Uncanny Counter and enjoyed it thoroughly, you'll discover numerous similarities between the two, and that's a good thing.
If you found this post helpful and are in the mood for more recommendations, feel free to explore my post on Kdramas similar to Extraordinary Attorney Woo. 
And, I've put together a list of super short Kdramas that can be watched in a single day if you're in the mood for a binge-watching session.
Remember, the most important thing is to discover a drama that you truly adore.