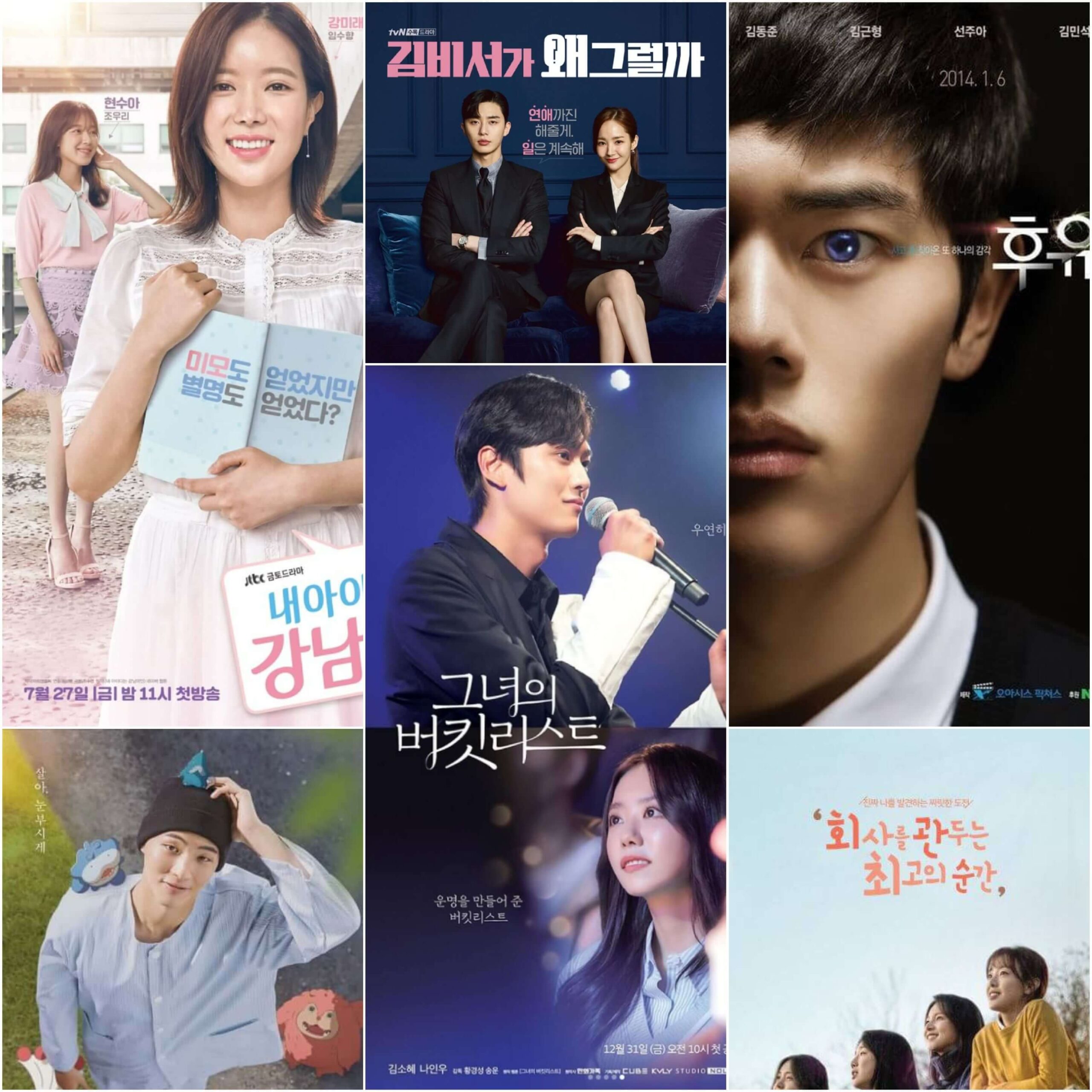 25 Must-watch Kdramas based on Webtoons to keep you glued to your screens.
As an avid reader and a dedicated Kdrama watcher, Kdramas based on webtoons are my sweet spot. The sheer experience of watching a Korean drama that has been adapted from a Webtoon is exhilarating, and I reckon this is the same with other watchers and readers.
So, if you fancy getting lost in the cinematic adaptation of your favourite webtoon or (like me) you're keen to draw comparisons between the source text and the translation, there are many recommendations in this post. 
Here's a list of some of the best Korean dramas adapted from webtoons in recent years.  
1. Itaewon Class (2020)
Starring: Park Seo-joon as Park Sae-ro-yi, Kim Da-mi as Jo Yi-seo, and Kwon Nara as Oh Soo-ah.
Plot: Itaewon Class is based on a very popular webtoon of the same name. It follows Sae-ro-yi, who suffers misfortune after misfortune and ends up opening a pub in Itaewon. Featuring a colourful and highly talented cast ensemble, Itaewon Class is one Kdrama you wouldn't forget in a hurry. There are marked differences in the adaptation, but it's just as great. A few characters have been added, and some storylines tweaked to provide a whole cinematic experience, and it's even more enjoyable!
2. Sweet Home (2020)
Starring: Song Kang as Cha Hyun Soo, Lee Do Hyun as Lee Eun Hyuk, Go Min-si as Lee Eun-Yoo, Lee Jin Wook as Pyeon Sang Wook, and Lee Si Young as Seo Yi Kyung.
Plot: Sweet Home is adapted from a popular webtoon of the same name created by Kim Dan Bi and Hwang Young Chan. Song Kang shines in his role as Hyun Soo, a recently orphaned teen who moves into a small apartment, where he experiences many strange things. With the rest of the world being ravaged by a virus that turns humans into monsters, Hyun Soo and the other residents in the apartment must take up arms to defend themselves.
3. Hellbound (2021)
Starring: Yoo Ah-in as Jeong Jin-soo, Kim Hyun-Joo as Min Hye-jin, Yang Ik Jun as Jin Kyung Hoon, Park Jung Min as Bae Young Jae, and Won Jin Ah as Song So Hyun.
Plot: This is another Kdrama based on a webtoon with the same title. This drama follows the growth of a hyper-religious sect in a world riddled by the sudden appearance of some dangerous supernatural beings. With talented actors, an addictive storyline, stunning visuals, and drool-worthy CGI, Hellbound is a Kdrama adapted from a webtoon you'll want to consider having on your list.
4. Jinxed At First (2022)
Starring: Na In-Woo as Gong Soo-kwang, Seohyun as Seon Seul-bi, Ki Do-hoon as Seon Min-joon, and Lee Ho-Jung as Jo Jang-kyung.
Plot: If you fancy a Kdrama with hilarious scenes and an engaging storyline, Jinxed at First is your surest bet. Adapted from the webtoon "The Jinx's Lover" by writer Han Ji Hye and illustrator Gu Seul, this drama brings the best of fairytales to the forefront with a female protagonist with an almost child-like innocence who has supernatural powers and a responsible young man embroiled in some issues of his own.
Together they make a dynamic duo, and joined with the hilarious cast, Jinxed at First promises a truly memorable cinematic experience.  
5. Love In Spring (2022)
Starring: Yoo Young Jae as Jin Geum Seong, Kim Song as Choi Hye Seong, and Woo Tae Ha as Min Seo Yoon.
Plot: A common thread in webtoons adapted into Kdramas is that they're usually in the contemporary genre, so this was really exciting to watch. I love Saeguks, and I appreciated the depth of the characters and the sheer beauty of their relationship. This drama is also adapted from a webtoon of the same name and follows a poor nobleman who accidentally comes across a cross-dresser.
The actors pulled their weight, and the execution was beautiful, with the growth of their relationship portrayed in the most beautiful ways. This is one Kdrama based on a webtoon you'll definitely want to check out. 
6. Seasons Of Blossom (2022)
Starring: Seo Ji Hoon as Lee Ha Min, Kim Min Kyu as Lee Jae Min, So Ju Yeon as Han So Mang, Kang Hye Won as Yoon Bo Mi, and Yoon Hyun Soo as Choi Jin Young.
Plot: In this exceedingly heartbreaking Kdrama about a friend and a younger brother seeking answers to the many questions surrounding the death of their friend and older sister, respectively, viewers are treated to haunting vignettes and incredibly moving episodes exploring the complexities of their various relationships.
I'm not easily moved to tears, but this drama activated my dormant tear ducts. This Kdrama is adapted from a webtoon of the same name created by Hongduck and Nemone, and I feel viewers will enjoy drawing comparisons between the series and the original text. 
7. Mama Fairy and the Woodcutter (2018)
Starring: Moon Chae Won as Sun Ok Nam, Go Doo Shim as Sun Ok Nam, Kang Mi Na as Jeom Soon, and Yoon Hyun Min as Jung Yi Hyun.
Plot: Adapted from a webtoon of the same name, this is one Kdrama that I feel set out to do something, and the execution was beyond flawless. There are bits of fantasy, the romance is ever-present in the storyline, and the plot didn't feel overbearing – as I initially thought it would be. The character development was splendid, and I enjoyed the didactic snippets that ran through the plot.
8. Feel Good to Die (2018)
Starring: Kang Ji Hwan as Baek Jin Sang, Baek Jin Hee as Lee Roo Da, and Gong Myung as Kang Jun Ho.
Plot: If you like Kdramas where a time-loop is front and central to the story, then you'll enjoy this one. I'm usually wary of Kdramas with this particular element because I find them somewhat repetitive, but this was such a breath of fresh air. I loved the character development, and I found the plot development very sequential–and engaging.
Roo Da and Jin Sang were such an unlikely couple, but they made so much sense by the end of the drama. This Kdrama is also adapted from a webtoon of the same name, and while I haven't read the webtoon, with a drama as memorable as this, there's no way the webtoon won't be just as enjoyable. 
9. Aftermath (2014)
Starring: Kim Dong Jun as Ahn Dae Young, Joo Yeon Woo as Kim Jun Gu, and Sun Joo Ah as Joo Hee Kyung.
Plot: This is one of those Kdramas with a genuinely unique storyline—and that's probably because it's adapted from one of the better webtoons. While this isn't the first Kdrama that features a character with supernatural powers, it's the first time I have seen a character with the ability to detect people who are about to commit murders.
When Dae Young suddenly develops this power, he takes it upon himself to help people, and the attendant side-effects of this power made the series very engaging. Each episode is easily below 15 minutes, but it still packs a punch. Run, don't walk to watch this very bingeable Kdrama. 
10. Amanza (2020)
Starring: Kim Ji Soo as Park Dong Myung and Lee Seol as Min Jung.
Plot: Adapted from a webtoon of the same name, Amanza is another mini-series that managed to crawl into my heart and make me cry several times. This drama follows a young man who is diagnosed with terminal stomach cancer. He retreats into his mind, and we follow him into his imaginary world.
At times, we are taken out of his world and treated to his suffering in real-time. This was heart-breaking in all the ways possible, and I would absolutely recommend it to everyone. 
11. Her Bucket List (2021)
Starring: Kim So Hye as Cha Ra Ri, Kim Woo Rin as Jung Mi Kyung, Na In Woo as Kang Han Sol, and Lim Se Jun as Ryu Ha Joon.
Plot: When Ra Ri's boyfriend dies, she's distraught and decides to follow him in death. By chance, she finds a wishlist they made together several years ago, and her life regains purpose—she chooses to fulfil every wish on the list.
Together with Mi Kyung, a stage-shy performer, she crosses off the items on the list and learns that love can be found in the most unexpected places. This Kdrama is also based on a Webtoon of the same name.
12. My Roommate Is A Gumiho (2021)
Starring: Jang Ki Yong as Shin Woo Yeo, Kim Do Wan as Do Jae Jin, Bae In Hyuk as Gye Sun Woo, Kang Han Na as Yang Hye Sun, and Lee Hye Ri as Lee Dam.
Plot: Guys, when I say that I found the eternal love of my life through this drama, you may not believe me. I watched Come and Hug Me when it came out a few years ago, but it didn't prepare me for the beauty that was this drama.
In this drama, the irresistible Jang Ki Yong plays Woo Yeo, a 999-year-old nine-tailed fox who moonlights as a writer and a lecturer. In his quest for human life, he collects human energy into a bead, which accidentally falls into Lee Dam's mouth, and this is where their incredible story begins.
Now, I don't want to spoil it for you, but trust me when I say that you'll get the laughs, the feels, and, of course, the full cinematic experience that every Kdrama promises. Just as the other Kdramas on this list, My Roommate is a Gumiho is based on an equally interesting Webtoon of the same name. 
13. The Uncanny Counter (2020)
Starring: Cho Byeong Kyu as So Moon, Kim Se Jeong as Do Ha Na, Yoo Joon Sang as Ga Mo Tak, and Yeom Hye Ran as Chu Mae Ok.
Plot: If you've watched adaptations, you'll admit that most of them leave a lot to be desired when it comes to casting. In The Uncanny Counter, there's no such problem, as it's almost as if the Webtoon is based on the actors.
If you fancy a Kdrama about a group of gifted demon-hunters intent on ridding the earth of some evil spirits' malevolent presence and who face different challenges in their quest, this is the perfect show for you.
14. Clean With Passion For Now (2018)
Starring: Yoon Kyun Sang as Jang Sun Gyeol, Song Jae Rim as Choi Ha In, and Kim Yoo Jung as Gil Oh Sol.
Plot: This Kdrama is also based on a webtoon of the same name. It tells the story of a CEO with severe mysophobia who runs an elite cleaning company and a down-on-her-luck unemployed woman who doesn't mind rolling in filth if it gets the work done.
What starts out as a less-than-amicable employee-employer relationship morphs into perhaps one of the most romantic stories I have watched in a decade. It's full of laughs, and emotions, and the characters' vulnerability and superb execution of the webtoon scenes made this a very memorable drama.
15. Yumi's Cells (2021)
Starring: Kim Go Eun as Kim Yu Mi and Ahn Bo Hyun as Ku Woong.
Plot: Starring the amazing Kim Go Eun, this unique Kdrama based on a webtoon of the same name will have you laughing, screaming, and cringing at the complexity that is the human emotion. I loved every bit of this drama, and, friends, the optics are to die for. This is a delightful blend of animation and live-action, but it's not off-putting in the least. 
16. Memorist (2020)
Starring: Lee Se Yong as Han Sun Mi, Yoo Seung Ho as Dong Baek, and Jo Sung Ha as Lee Shin Woong.
Plot: Before I go into the plot, I just want to say that this Kdrama has the biggest twist I have ever seen in my history of watching Korean dramas. I won't go into details because if I do, you may have to physically restrain me from dropping spoilers, but this was so good. In this crime thriller, Yoo Seung Ho plays the role of Dong Baek, a man who can read memories when he comes in contact with a person's skin. 
There's a distinct lack of romance in the plotline, and the drama starts off a little slow, but this quickly became one of my favourite Kdramas. Dong Baek becomes embroiled in a murder investigation which significantly ups the stakes in the drama.
I really enjoyed watching the story unfold, and I feel it's a nice break from all the Kdramas based on webtoons in the romance genre. I know you're going to love it as much as I did! 
17. Dinner Mate (2020)
Starring: Song Seung Heon as Kim Hae Kyung, Lee Ji Hoon as Jung Jae Hyuk, Seo Ji Hye as Woo Do Hee, and Son Na Eun as Jin Noh Eul.
Plot: Based on a webtoon aptly titled "Would You Like to Have Dinner," Dinner mate has food as one of its central themes. Perhaps my favourite thing about this Kdrama is how the producers took the leads' mutual love of food and created a truly unique story, complete with drool-worthy shots and an incredibly engaging storyline.
When an unexpected meeting on Jeju Island between Hae Kyung and Do Hee sees both falling into different unexpected situations and bonding over their love of food, they learn to navigate a new relationship while healing their wounds. Dinner Mate is beautiful in every way, and I reckon every food lover will appreciate the bits of food therapy weaved into the storyline. 
18. Women At A Game Company (2016)
Starring: Lee Min Ji as Maci Mel, Irene as Ah Reum, and Lee Ji Yeon as Yeo Gi Hye.
Plot: This was a charming and enjoyable drama. It follows three friends who work for a mobile games company, whose pitches are always either dismissed or ignored. After another embarrassing incident, they're forced to develop a completely new and unique concept, and this challenge sees them drawing closer to each other. 
19. The Best Moment To Quit Your Job (2017)
Starring: Go Won Hee as Yeon Ji, Lee Chung Ah as Sun Hee, Jei as Nam Hee, Jung Yeon Joo as Hye Young, and Kim Ji Eun as Hyun Yi.
Plot: I won't lie – this drama made me cry several times. As a woman in her twenties who has also asked myself the most essential career-related question many times—When is the best moment to quit my job?—I strongly identified with this drama.
While some people will look over it because of its trademark melancholic tones and the somewhat dreary tone from start to finish, I believe there are a lot of takeaways to glean from this drama.
The Best Moment to Quit Your Job follows four friends in their twenties who have different dreams and face varying degrees of issues at their workplaces. It's sad and emotionally filled through and through, showing the painful vulnerability of friendship that tries to survive tense moments. 
20. Imitation (2021)
Starring: Jung Ji So as Lee Ma Ha, Lee Jun as Young Kwon Ryok, Park Ji Yeon as La Li Ma, and Jeong Yun Ho as Lee Yoo Jin.
Plot: I became absolutely obsessed with idols after watching True Beauty and falling in love with just about every character there. While it didn't really focus on the idol aspect of their lives, it still intrigued me.
Imitation, based on a Webtoon with the same name, follows a group of older teens making their lives in a highly competitive industry. It explores their relationships, and career progressions and is overall an engaging drama that will have you hooked from the beginning till the end.
21. What's Wrong With Secretary Kim (2018)
Starring: Park Min Young as Kim Mi So and Park Seo Joon as Lee Young Joon.
Plot: Min Young is absolutely splendid in this drama, where she plays Kim Mi So, a more-than-capable secretary who decides to quit her job after nine years. Her impending resignation sends her boss, the self-absorbed Lee Young Joon, into a fit as he scrambles to convince her to stay on as his right-hand woman.
What follows is a thoroughly amusing story of humbling first love, filled with twists that will have you swooning. WWWSK is based on a webtoon titled Kimbiseoga Wae Geureolgga by Jung Kyung Yoon. 
22. My ID Is Gangnam Beauty (2018)
Starring: Im Soo Hyang as Kang Mi Rae, Jo Woo Ri as Hyun Soo Ah, Cha Eun Woo as Do Kyung Suk, and Kwak Dong Yeon as Yeon Woo Young.
Plot: Based on a webtoon of the same name, My ID is Gangnam Beauty follows Kang Mi Rae, who is relentlessly bullied because of her looks. She eventually gets plastic surgery in order for her life to start anew but she is still teased by people because of this. She eventually meets Kyung Suk, who teaches her that there's more to beauty than what's on the outside.
23. Cheese in the Trap (2016)
Starring: Kim Go Eun as Hong Seol, Park Hae Jin as Yoo Jung, Seo Kang Joon as Baek In Ho, and Lee Sung Kyung as Baek In Ha.
Plot: This is another Kdrama that's based on a webtoon of the same name, which follows Hong Seol, who comes back to school after taking a year off to put her finances in order and unintentionally annoys Yoo Jung, who is her sunbae.
A series of unfortunate events later, Seol is convinced that Yoo Jung has it out for her and that she's the only one that sees his dark side. Through a pure twist of fate, they spend an inordinate amount of time together and learn that there's more to each other than what's on the surface.
24. Love Alarm (2019)
Starring: Kim So Hyun as Kim Jo Jo, Jung Ga Ram as Lee Hye Yeong, and Song Kang as Hwang Sun Oh.
Plot: This truly unique romantic Kdrama revolves around some high-school students who download an app that lets the user know when someone who has feelings for them is in their orbit. Now, I know that this might sound like a fairly ludicrous idea to pull off, but they did what they came to do.
Song Kang absolutely dazzled in this role, and I enjoyed the colorful array of characters. Jo Jo, the female lead, was a breath of fresh air with her strong personality, and I liked how she carried the character. Love Alarm is also based on a webtoon with the same title, and I feel you'll enjoy watching this cute, easy, and fun drama. 
25. Romance Written Differently (2018)
Starring: Hwang Chan Sung as Hwang Chan Sung, and Jang Seo Kyung as Jang Seo Kyung.
Plot: This was a really cute drama! It follows the male and female leads who meet each other when they're in unhappy and unfulfilling relationships. The drama takes a rather unique format and is shown from the different POVs to show how women and men remember an occurrence differently. This was a pretty nice watch, complete with memorable vignettes and heart-warming scenes.
---
There you have it. 25 Korean dramas based on totally interesting webtoons that I'm sure you'll want to check out after watching.
If you liked this post, you might enjoy looking through recommendations on the best Korean dramas with the rich boy and poor girl trope. If you're in the mood for something more binge-able, you can check out Kdramas with less than ten episodes and Kdramas with less than 16 episodes here.