Rich boy, poor girl. It's a cliché, but it works.
It's a simple premise that can be developed into an incredibly complex and compelling story. 
This trope has been used in many Chinese romance dramas, creating some of the most unforgettable and beloved couples. 
In this article, I'll be listing 20 of these rich boy and poor girl Chinese dramas that I'm sure you'll enjoy!
Here are 20 romantic rich boy and poor girl Chinese dramas to watch right now:
1. Boss and Me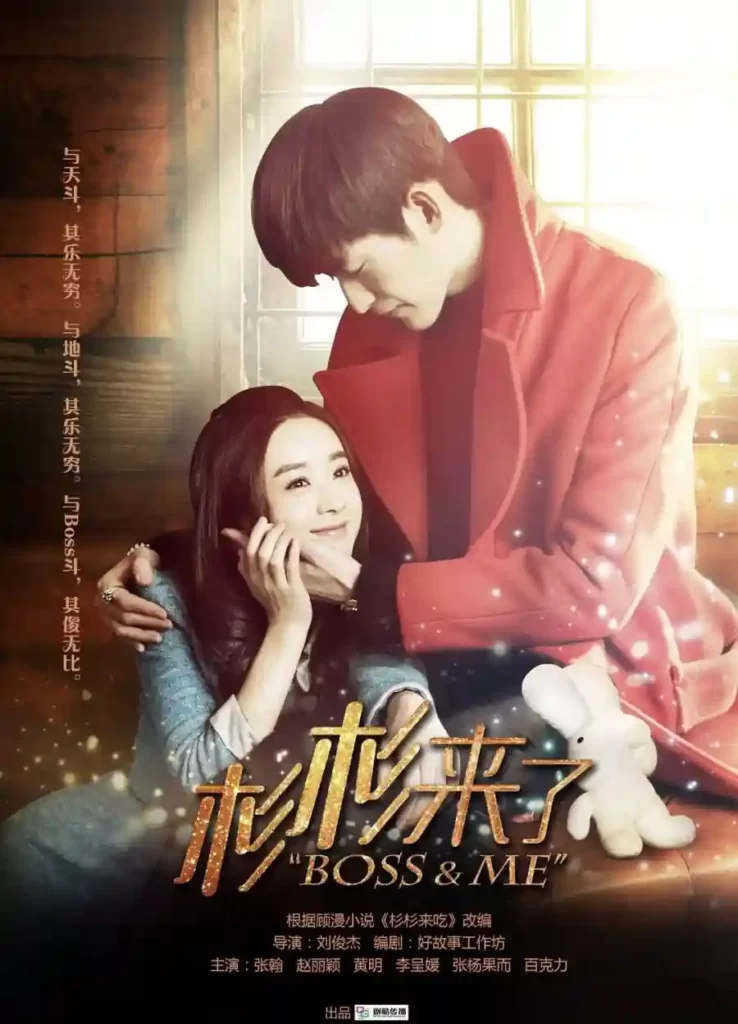 Feng Teng is a president of a big conglomerate who's in a bind. His younger sister urgently needs a transfusion, and her rare blood type is hard to come by. 
Luckily, he finds a willing donor in Xue Shan Shan, an employee at his company. Grateful for Shan Shan's generosity, the siblings decide to show their thanks in a more personal way. 
Rather than just paying her off, they start sending her delicious, nutritious packed lunches to help her recover.
Shan Shan's sunny personality and love for food slowly break down Feng Teng's walls, leading to an unexpected connection and many heartwarming moments.
2. Warm Time With You
Wu Yi is a little boy who may have lost his parents, but still finds joy and love in the warm embrace of his aunt Wu Jiao Jiao. She runs a martial arts hall and takes care of Wu Yi with all her heart. 
But, things get complicated when his domineering uncle, President Qi Mo, decides he wants to meet his only nephew. A fierce custody battle ensues, and Wu Jiao Jiao won't back down. 
She's a passionate young woman who's not afraid to fight for what's right and defend those she loves, and in doing this, she discovers you can find love in the most unexpected places.
If you're in the mood for a rich boy and poor girl Cdrama with a male lead who isn't afraid to pull out all the stops, you're going to enjoy this one. 
3. Love You Day and Month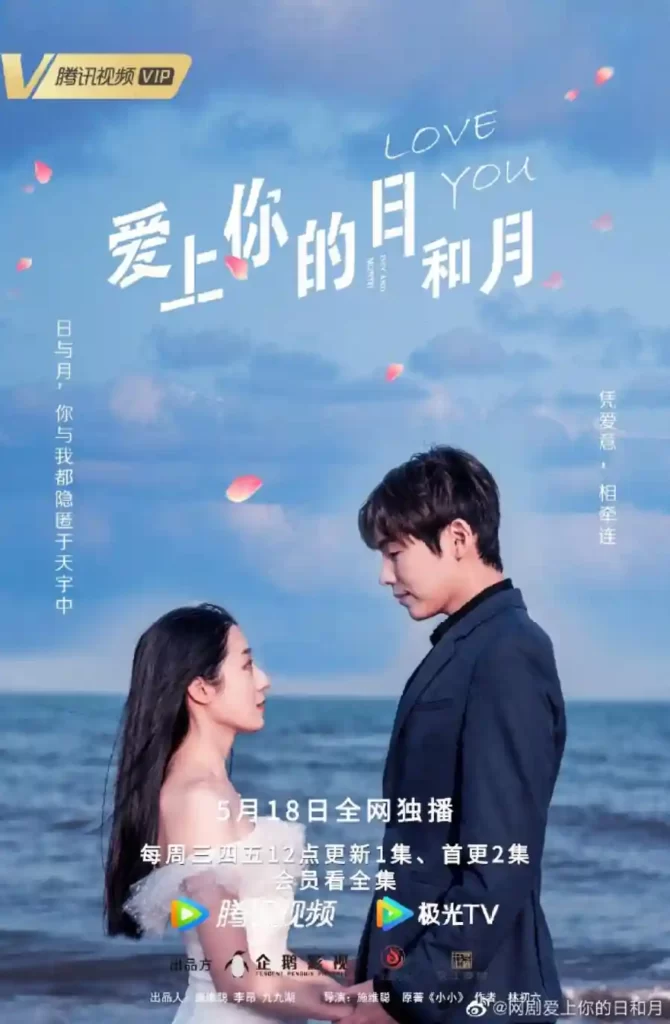 Ming Xiao Xiao, a young cleaning woman known for her simplicity and charm, meets the powerful, wealthy, and ruthless Huo Yun Ting by chance at a resort.
A misunderstanding between them leads to an unexpected kiss and the beginning of an unlikely friendship.
But, things get more complicated when Huo Yun Ting gets injured and needs a personal caretaker. Ming Xiao Xiao steps in, and they end up living together. 
Despite the misunderstandings and challenges they face, they share many sweet moments that bring them closer, and as time passes, they evolve into an intimate couple who complement each other perfectly.
4. The Memory About You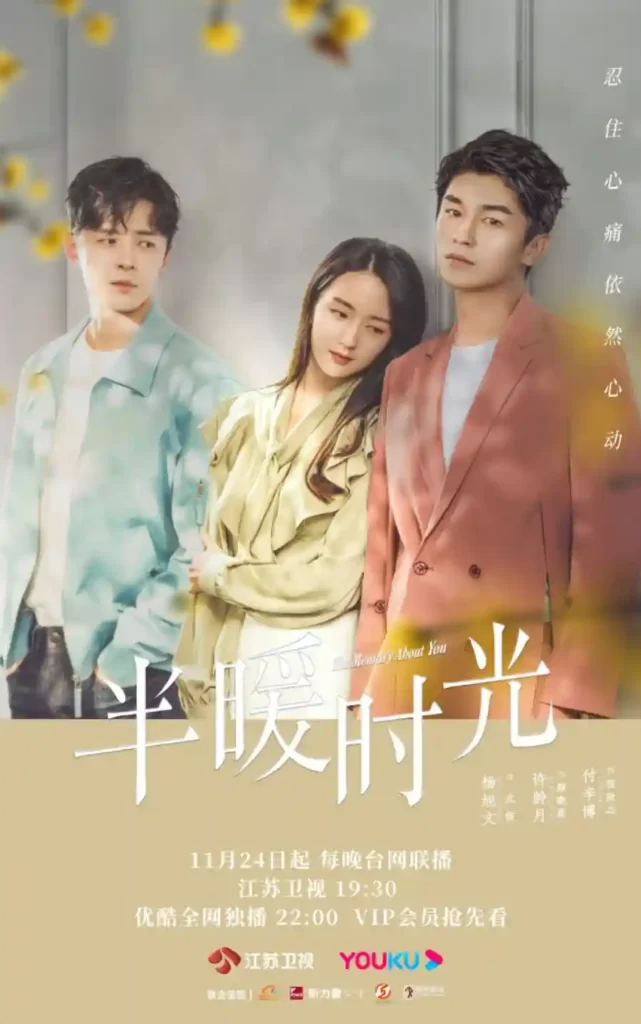 Yan Xiao Chen is an ordinary girl from a happy family whose life takes a drastic turn in her final year of high school and she has to start working part-time at a bar to pay for her school fees. 
There that she meets Cheng Jin Yuan, a wealthy guy, and this makes her boyfriend Shen Hou jealous.
After university, Xiao Chen and Shen Hou struggle to manage their careers but work hard and achieve satisfactory results.
They decide to get married, but things take a dark turn when Xiao Chen discovers that Shen Hou's mother is responsible for her father's death.
Heartbroken, she cancels the wedding and flees to America, where she faces trouble and turns to Cheng Jin Yuan for help.
During her hardest time, Jin Yuan is there for her, and she becomes reliant on him.
However, when Shen Hou suddenly resurfaces with Jin Yuan's deepest secret, Xiao Chen finally realizes she needs to make up her mind about what truly wants and feels.
5. Once We Get Married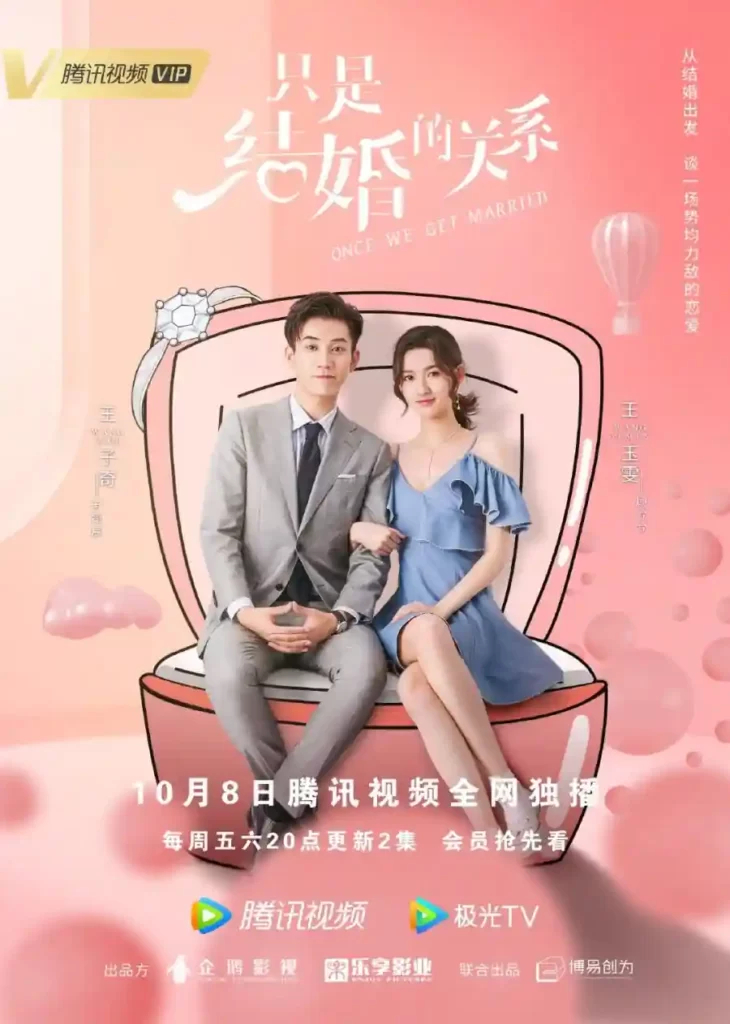 Gu Xi Xi is a fashion shopper who runs a small online shop from home. She buys couture wedding dresses from Alex for her clients and attends a private reception one day where she meets Yin Si Chen, the kind and wealthy president who's there to discuss business cooperation with Alex.
An incident at the reception leads to a temporary contract marriage between Xi Xi and Chen, all for the sake of business, and even though they have vastly different personalities, they slowly start to fall in love during their time together.
I think we can all agree that fake relationship Cdramas are supreme, and watching this together with the rich man and poor woman trope in this Chinese drama was the ultimate experience. 
6. Love Unexpected 
Three years after losing his mother in a terrible accident, Xu Nuo has become emotionally detached, unable to feel love or empathy.
His talent for corporate mergers and acquisitions has made him successful, but it has also made him many enemies. 
When he realizes he needs a bodyguard, he hires Ke Si Yi, an economics major who dreams of becoming a professional fighter.
This kicks off this bodyguard Chinese drama in which an incredibly wealthy man falls in love with a poor woman.
And, although Si Yi's use of violence makes him uneasy at first, he soon begins to develop feelings for her. 
As their relationship deepens, Xu Nuo's emotions slowly return, leading him to question whether he can accept the newfound love he has for Si Yi.
7. You Are My Destiny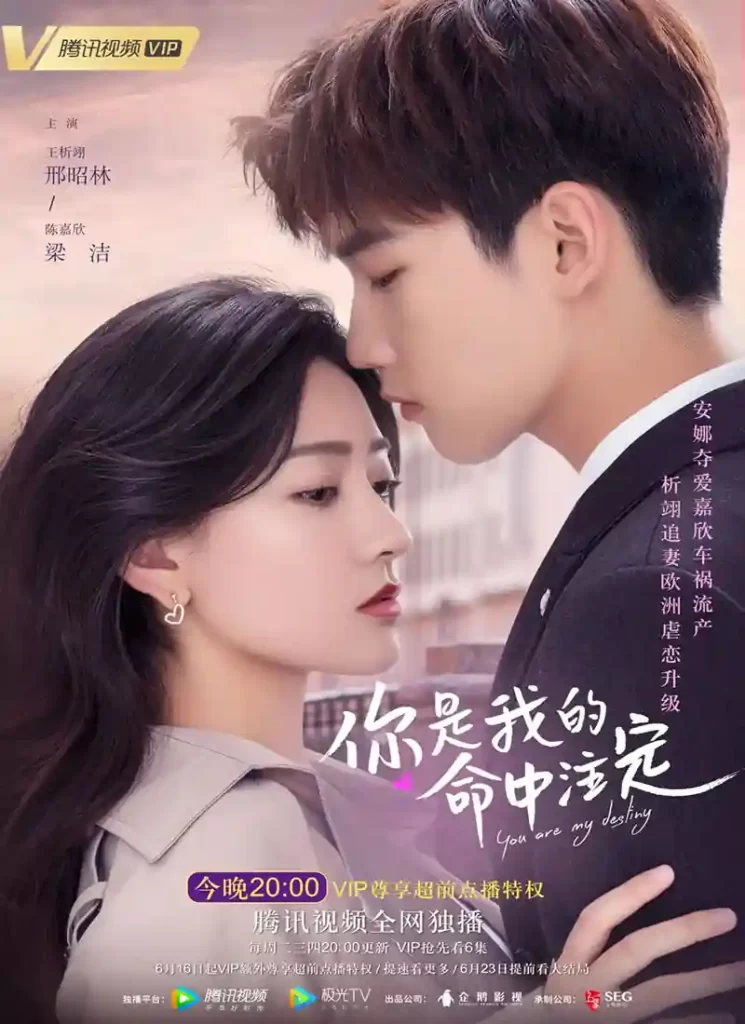 On a cruise ship to the Bahamas, Chen Jia Xin, an unassertive admin assistant, and Wang Xi Yi, a charming heir to a toiletries conglomerate, have a chance encounter that changes their destinies. 
Despite a mistaken identity, they reconnect on land due to family pressures from Jia Xin's unexpected pregnancy, and they agree to a contract marriage with a divorce clause and plan to move on with their lives. 
But, tragedy strikes, and Jia Xin flees to Hungary to pursue pottery, with the help of her friend, Dylan.
As fate would have it, Jia Xin and Xi Yi are reunited years later, but with complications that may alter their future.
8. Walk Into Your Memory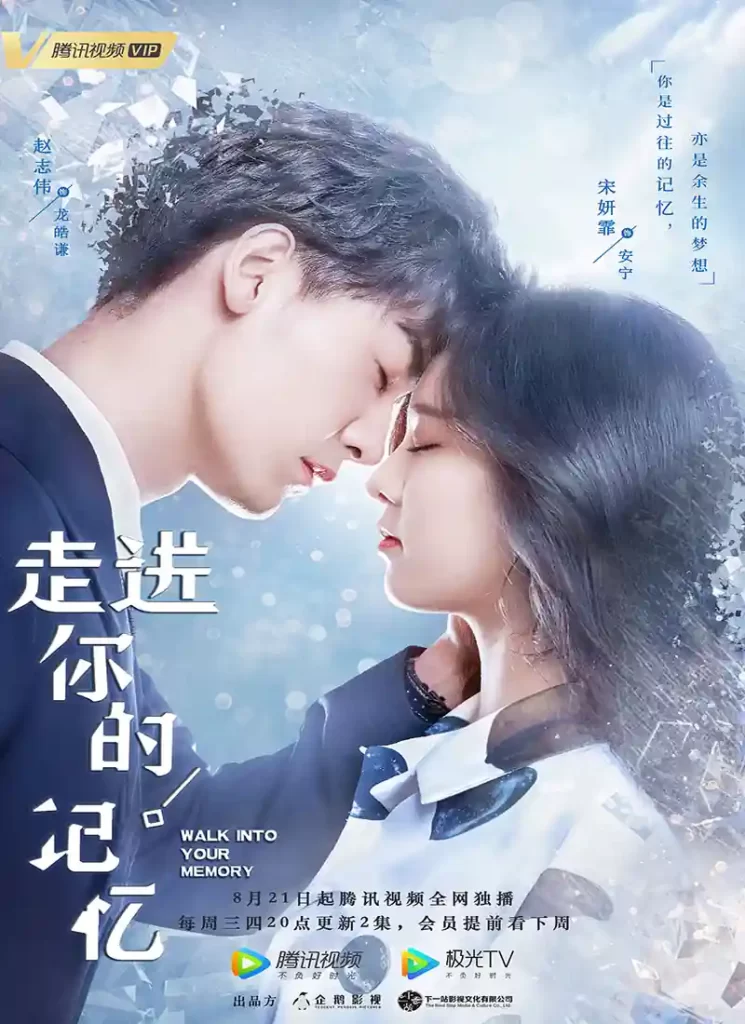 An Ning is a talented chef who has a unique ability to see other people's memories.
When her boss, Long Haoqian, suddenly loses a year's worth of memories, she takes it upon herself to help him recover them.
Despite their initial disagreements, they begin to bond over their shared experiences and their growing feelings for each other. 
Along the way, they encounter many funny and heartwarming moments that bring them closer together, making their journey toward uncovering the truth all the more special.
9. My True Friend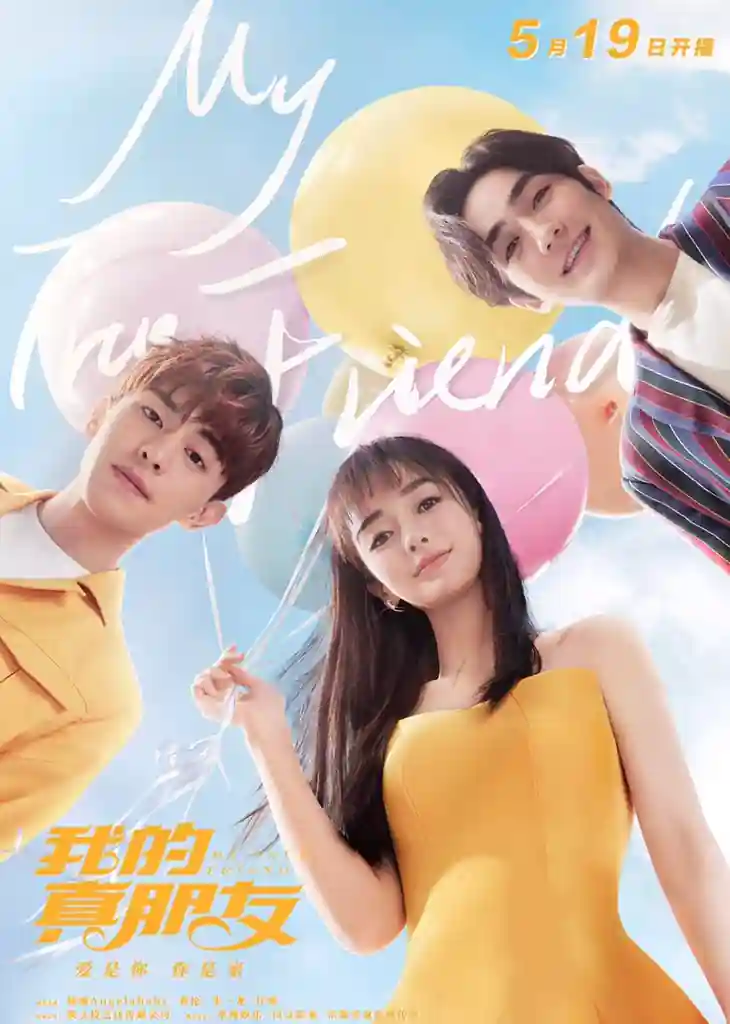 Cheng Zhen Zhen is a newbie in the real estate industry and she's got a fire in her belly to become the best.
She lands an entry-level gig with Love and Family, a local real estate agency, and is paired with another rookie named Shao Peng Cheng. 
He's the company president's only child, but he's keeping his identity a secret to prove his worth.
Together, they take on the challenges of buying and selling homes, learning firsthand how personal and emotional it can be. 
As they navigate through the ups and downs of their client's lives, they also discover valuable life and love lessons that will change them forever.
This is another absolutely beautiful romantic Chinese drama about a rich man falling for a poor woman, that's going to make you believe in the power of love.
10. Meteor Garden
Shan Cai, a down-to-earth girl from a humble family, unexpectedly gets accepted into the most prestigious school in the country.
There, she meets the F4, a group of four incredibly wealthy and good-looking boys – Dao Ming Si, Hua Ze Lei, Xi Men, and Mei Zuo.
From the get-go, Shan Cai finds herself at odds with Dao Ming Si, a spoiled and haughty bully.
Despite becoming a target of their pranks, she refuses to back down. Fortunately, Hua Ze Lei, a kind and supportive classmate, is always there to lend a hand.
As the story unfolds, Shan Cai's strength and resilience begin to win over the F4. And, as she discovers their true selves, the path to friendship and perhaps even romance is paved.
If you're in the mood for a high school Chinese drama about wealthy heirs, Meteor Garden is the perfect watch for you. 
11. Unforgettable Love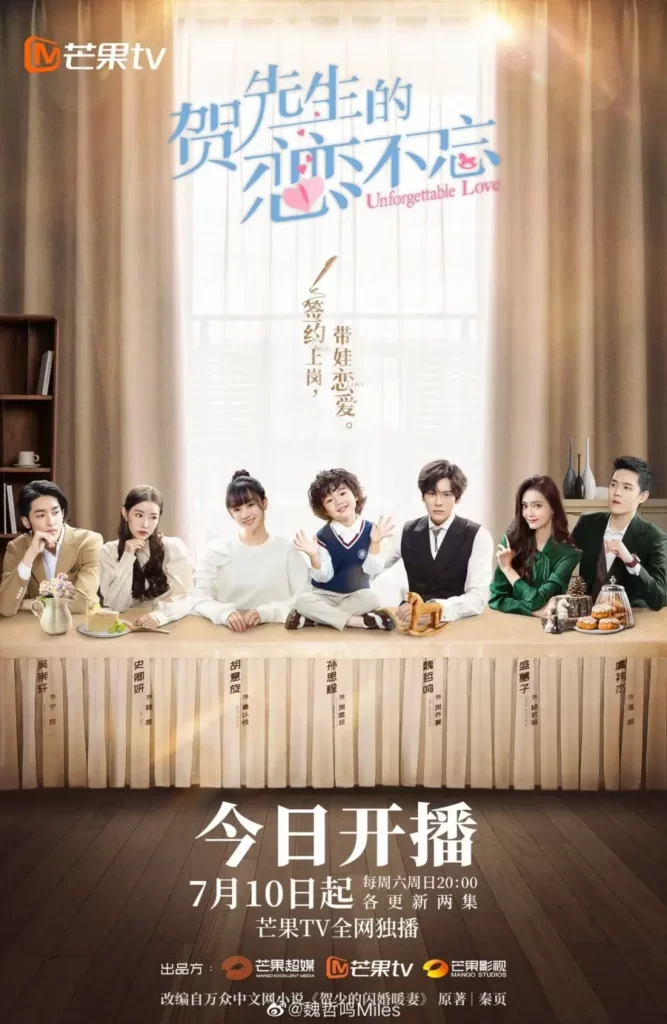 He Qiao Yan is the wealthy CEO of Heshi Group, and Qin Yi Yue is a child psychologist. In this heartwarming drama, we follow the journey of two very different individuals who meet and fall in love. 
While he is a serious, pragmatic businessman who is always in control, she is a kind-hearted and empathetic psychologist who devotes herself to helping children. 
As they spend more time together, their feelings grow and they begin to understand each other on a deeper level. Their unexpected romance then blossoms into this eternally beautiful love story. 
12. Please Feel At Ease, Mr. Ling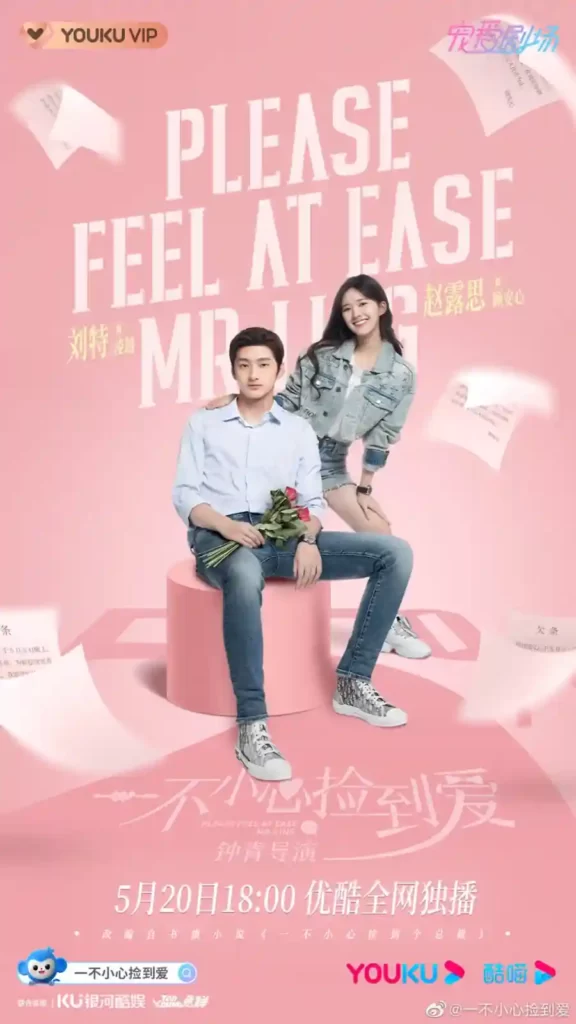 In this story, Gu An Xin unexpectedly takes in Ling Yue, a powerful executive, after a chance encounter.
The two couldn't be more different, but as they spend time together, they realize they have more in common than they thought. 
Ling Yue, who at first seemed like a bit of an airhead, turns out to be quite clever and talented.
Meanwhile, Gu An Xin learns to see beyond Ling Yue's tough exterior to the caring person underneath. 
As they navigate their differences and grow closer, their relationship takes unexpected twists and turns.
This romantic rich man and poor woman Chinese drama is a perfect watch if you're in the mood for an office romance between two mature characters. 
13. Tears In Heaven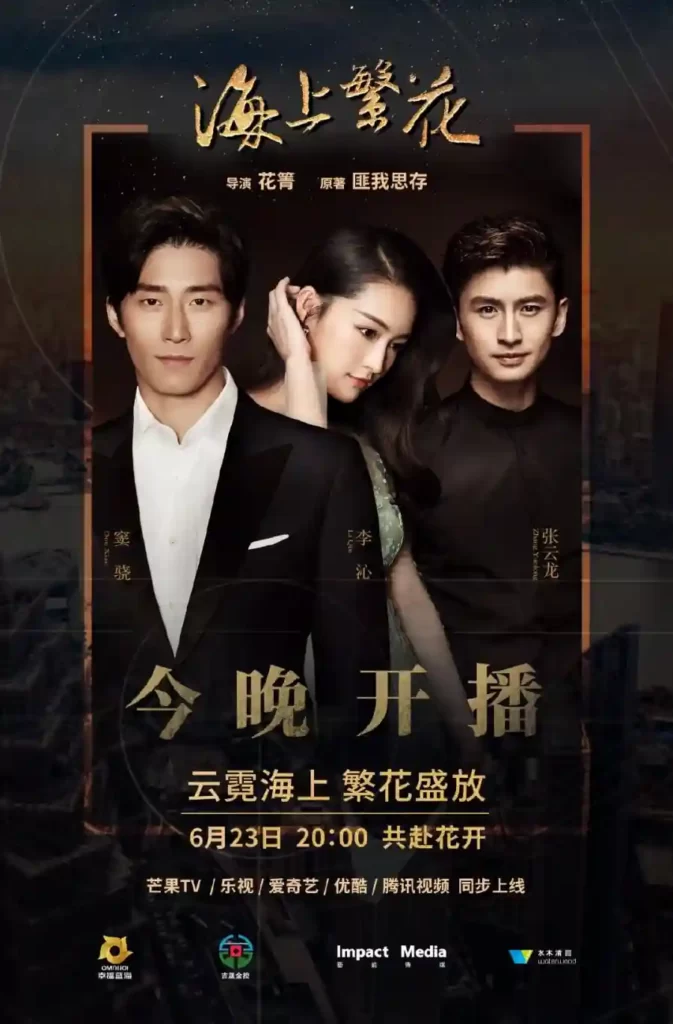 Du Xiao Su is a spirited entertainment reporter who accidentally meets suave doctor Shao Zhen Rong while sneaking into a hospital ward. Despite a rocky start, the two develop a bittersweet romance. 
But, things take an unexpected turn when Du Xiao Su discovers that Shao Zhen Rong's brother is the man she had a one-night stand with years ago.
To make matters worse, Shao Zhen Rong tragically dies during an earthquake rescue mission. 
As time goes by, his brother Lei Yu Zheng finds it increasingly difficult to resist his feelings for Du Xiao Su, and Xiao Su's heart being pulled in two different directions was such a heartbreaking sight. 
14. Dating In The Kitchen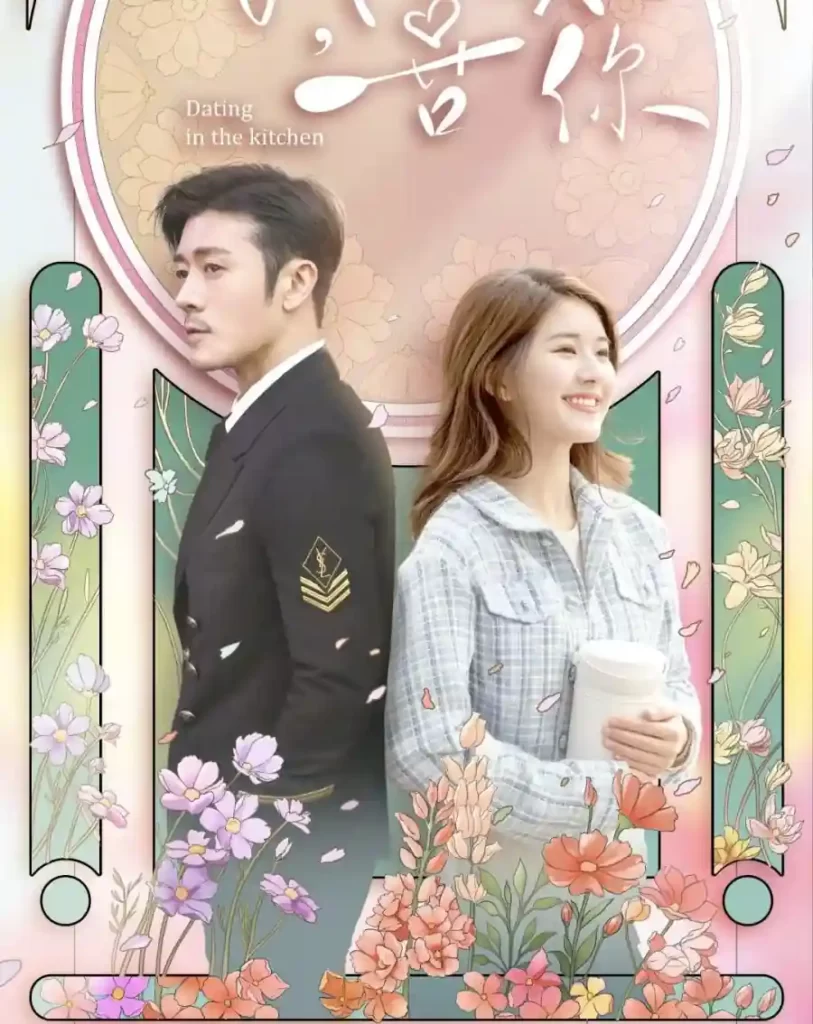 Gu Sheng Nan is a passionate commis at Zijing Hotel, where she unleashes her creativity through cooking.
Unfortunately, a misunderstanding causes her to clash with her new boss, the sharp-tongued CEO Lu Jin. 
Despite his initial disdain for the hotel, Lu Jin has a change of heart after trying one of Sheng Nan's dishes.
As a hardcore foodie, he's impressed with her culinary skills and recognizes her talent. 
As they bond over their shared love of food, they discover a connection that neither of them could have imagined, and this sets off a romantic love story like no other.
15. Midsummer Is Full Of Love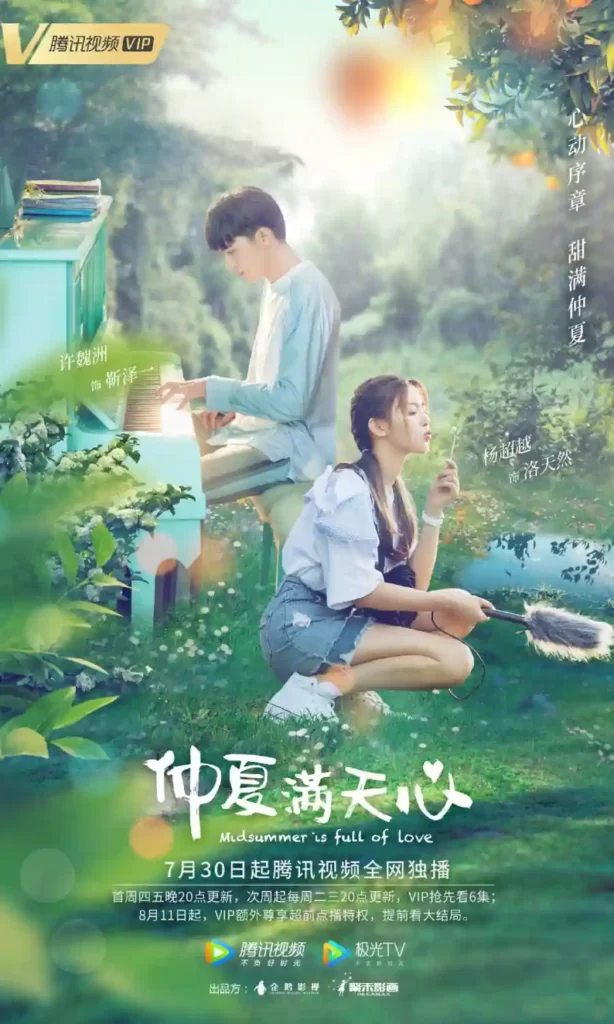 Luo Tian Ran has a dream: to make music that touches people's hearts. She is strong-willed, independent, and doesn't let anyone push her around, but her life changes when her friends make her move out of her house. 
Soon, she finds herself sharing a roof with Jin Ze Yi, a pop star who seems to have it all. He is rich and famous, but also rude and aloof, and he hides his true feelings behind a mask of arrogance. 
They clash at first, but they gradually discover their mutual passion for music.
The opposites in this amazing rich boy and poor girl Cdrama were literally the most perfect pairing I could have imagined. 
16. Well Dominated Love
Nie Xing Chen is the new assistant of Yan Jing Zhi, and she already knows how to deal with his difficult habits, even though they just met. 
He is a smart, wealthy, demanding, and handsome CEO with mild OCD who attracts many girls, while she is a cheerful and capable secretary who can cope with any challenge. 
Their journey to happily-ever-after is far from smooth, and with issues at the workplace to family problems, they're going to have to work extra hard for their happiness. 
17. Lucky's First Love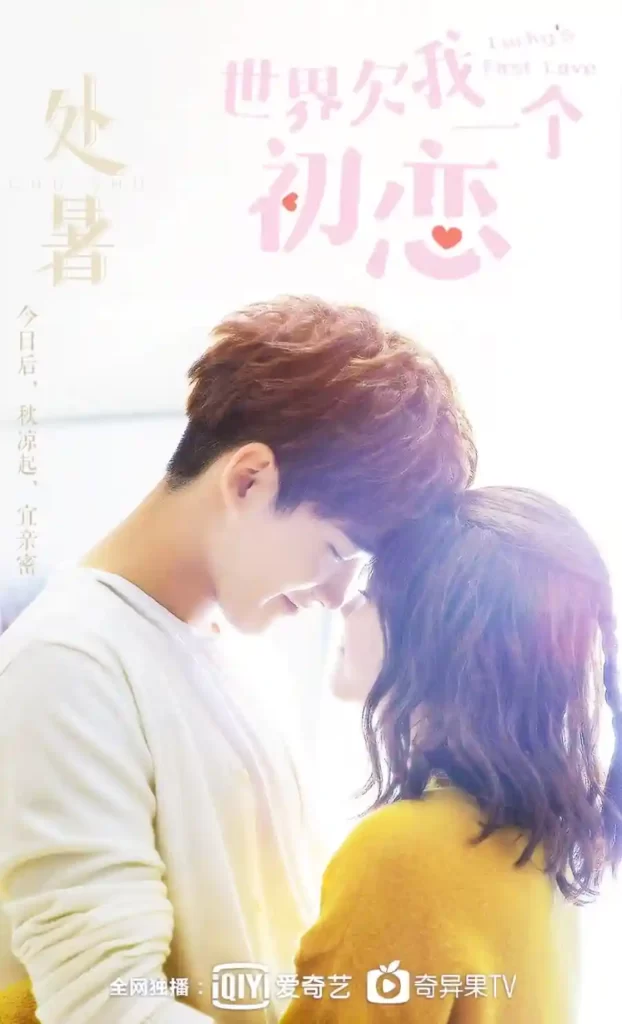 Xing Yun is a bright and creative sketch artist who lands a job at a gaming company where she meets Xia Ke, her boss who is smart, wealthy, and stubborn
She works hard to become a game designer, but also has to deal with her boss's tricky personality.
They argue a lot, but they also grow closer, and Xing Yun learns that falling in love is not as easy as playing a game.
This is another fantastic Chinese drama where a rich guy falls in love with a poor girl and is ready to work for their happy ending.
You'll enjoy this if you want a romantic office romance that will give you all the swoons. 
18. The Interpreter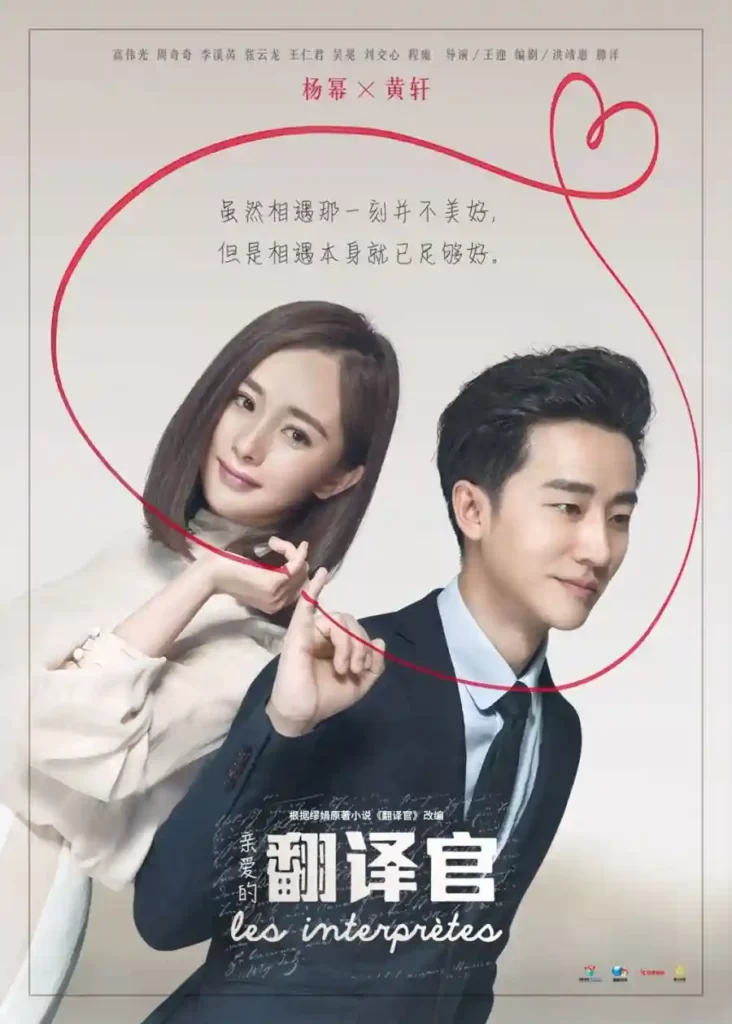 Qiao Fei is a French student who dreams of becoming an interpreter.
In Paris, she meets Cheng Jia Yang, a professional interpreter who mentors her, and although they start off on the wrong foot, she wins his respect with her talent and they start developing feelings for each other.
But their romance faces many challenges. For one, Qiao Fei's ex, Gao Jia Ming, is Cheng Jia Yang's brother. And, the both have past wounds, so they are cautious with their hearts.
19. Because of Love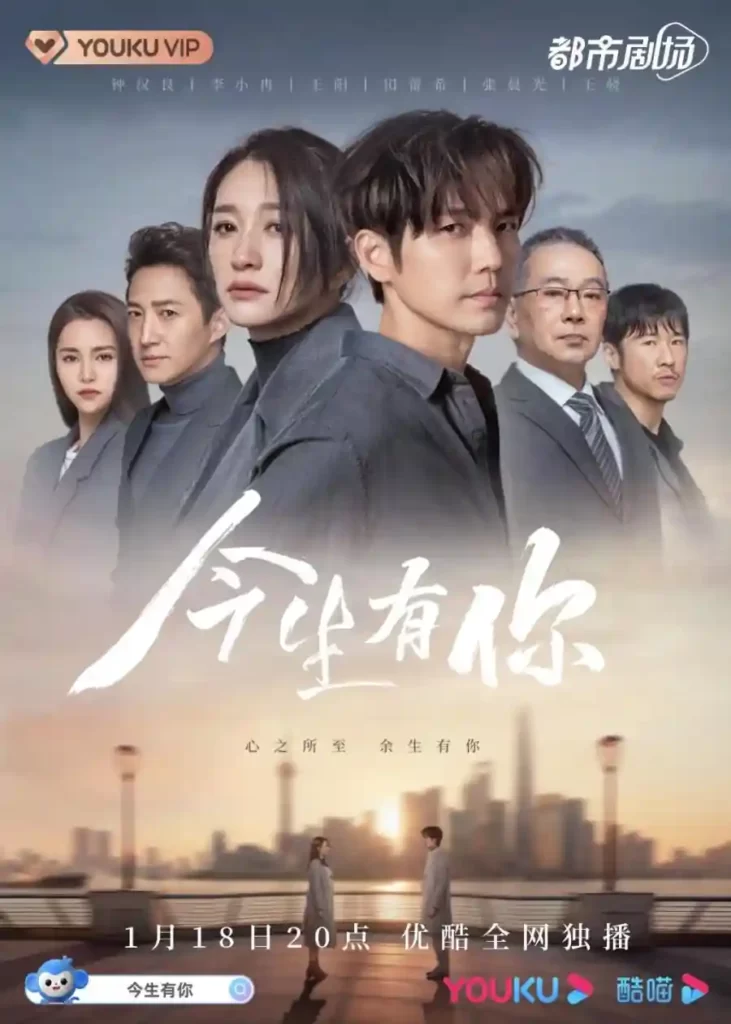 Tan Jing is raising her son Sun Ping alone. He has a heart problem that needs surgery. She lives frugally and works tirelessly to afford it. She is always positive and cheerful, and she makes sure her son is polite and smart.
Nie Yu Sheng is a heart doctor who has a project to save kids with heart issues. He picks Sun Ping as his first case. 
But he is shocked to see that Sun Ping's mom is Tan Jing, his former lover.
He is drawn to her again, and admires how brave and kind she and her son are, and this unexpected reunion leads the two to rediscover their feelings in this Chinese drama between a wealthy man and a poor woman. 
20. Find Yourself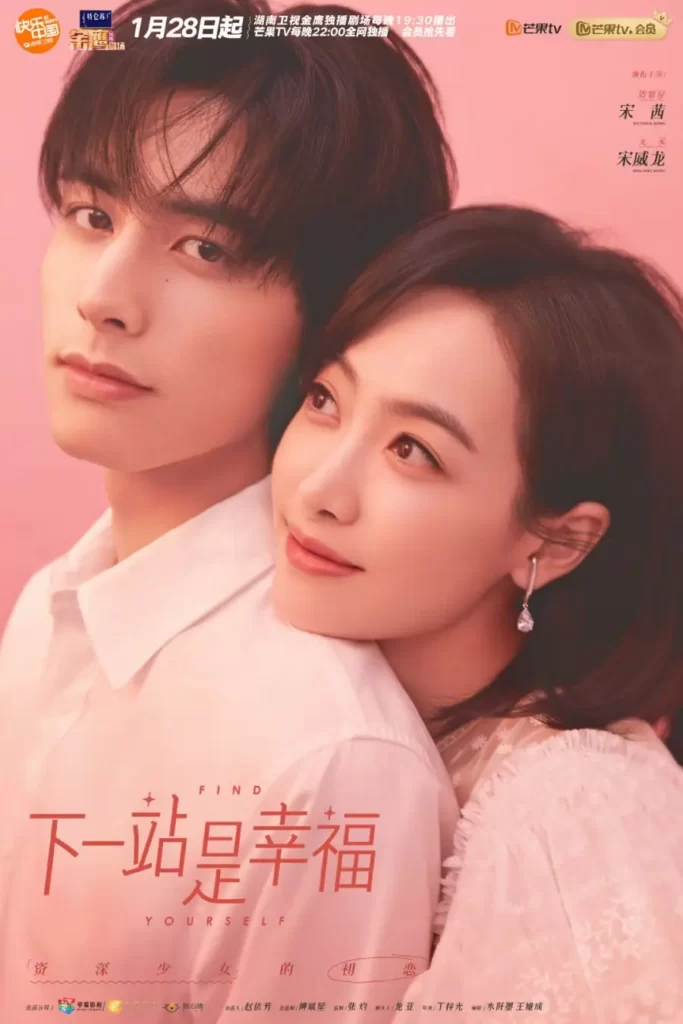 He Fan Xing loves her job and her boyfriend Yuan Song, who is younger than her. But her world turns upside down when her company is in danger of being bought and her romance faces pressure from society. 
She doesn't know what to do, until she crosses paths with Ye Lu Ming, an older, mature, and supportive coach who guides her through her troubles.
Now, He Fan Xing has to make a choice: to pursue her passion or to conform to the norms.
---
As you can see, the rich boy and poor girl trope in Chinese dramas is a classic formula for romance that never fails to deliver. 
If executed properly, it can create some of the most hilarious, dramatic, and heartwarming stories that will make you feel all the emotions. 
If you're looking for a new recommendation or this trope is one of your favourites, any Cdrama on this list is definitely going to deliver!
Here are some other posts if you're in the mood for a binge-watch:
■ 25 Must-Watch Chinese Romance Dramas That Will Leave You Breathless!
■ 21 Amazing Chinese Dramas On Viki That Are Worth Your Time
■ 19 Beautiful Chinese Historical Dramas On Viki That Will Mesmerize You